The most recent Gong Talk, titled 'Is your AI friend stealing your job,' became an immensely popular subject, given the rapid growth of AI and tools like ChatGPT. Held in partnership with Merrigong in the Music Lounge on 11 July, the event experienced overwhelming demand, resulting in a sold-out venue.
---
Dr Armin Alimardani, Dr Roba Abbas, Dr Aaron Burton and Dr Jack Yang, all addressed the topic from their varied perspectives and experiences. This included sharing concerns and ethical dilemmas, to wondering if we should all learn a trade as a career back up.
Host and moderator Tania Brown was prepared with a list of AI generated questions for the panel, including the threat of AI as demonstrated in popular culture with forces like Skynet and Hal 9000. However the audience kept the panel on their toes challenging the benefits and impacts of these tools on society and in the workplace, and a lively discussion ensued.
Key message was for the community to keep informed and educated on these tools and alert to the implications.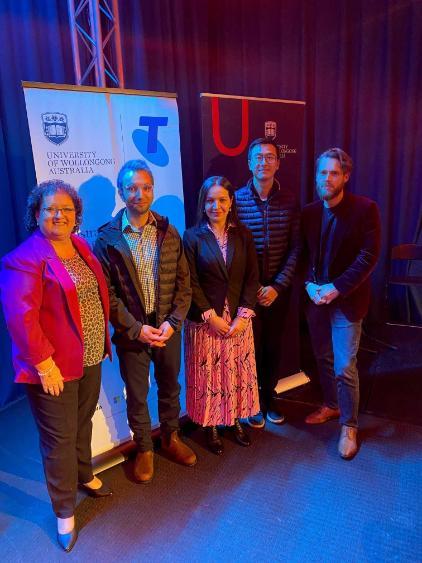 Gong Talks are an exceptional platform that brings the local community together with UOW experts to discuss topical issues. Mark your calendars for the next talk scheduled for 21 November at 7 pm, where the topic will soon be announced.
This Gong Talk was supported by the Telstra UOW Hub for AIoT Solutions. Its mission is to carry out world-leading research into and development of AIoT technologies by delivering innovative, cost-effective and fit-for-purpose AIoT solutions for communities, enterprises and governments. By nurturing an ecosystem that attracts and retains skilled professionals, the hub aims to enhance the adoption of AIoT technologies in the Illawarra