For Our Elders
---
National NAIDOC week celebrations are held across Australia in the first week of July each year to celebrate and recognise the history, culture, and achievement of Aboriginal and Torres Strait Islander peoples.
The 2023 National NAIDOC week theme was For Our Elders.
This year our WIC staff attended NAIDOC events throughout the Community. Our team provided opportunities for attendees to learn more about WIC, the University and entertained the kids with a football/basketball throwing competition.
The NAIDOC events and celebrations extended throughout the Illawarra. On the 3rd of July, the Shellharbour Community hosted an event that included a Welcome to Country, speeches from Elders, an address from the Lord Mayor of Shellharbour, entertainment and a BBQ lunch. On the 5th of July, the Shoalhaven family fun day was held in Nowra. This event saw massive crowds and our WIC staff enjoyed their photo opportunity with the National Parks and Wildlife mascot. Other NAIDOC events were held at Bellambi, Koonawarra, and Aboriginal Tent Embassy.
This year we were excited that our staff had opportunities to engage in Community NAIDOC events and celebrations. Only one family fun day was postponed due to weather. Keep your eye out for when the new date will be set for the Warrawong NAIDOC family fun day.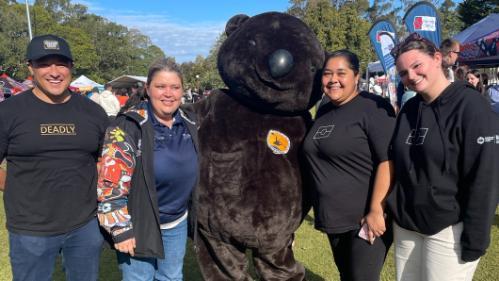 During NAIDOC week UOW also partnered with members of the local Community to host a Community launch of the Wollongong campaign for the YES23 vote. This forum provided an opportunity for the general public to become better informed around the upcoming referendum and included time for our audience to pose any questions they may have.