Katherine students taking leaps to enhance their futures on Business Innovation and Leadership Study Tour – 2023
---
Here at the Woolyungah Indigenous Centre, we had the absolute pleasure of hosting 17 Indigenous and non-Indigenous students from Katherine High School on their annual Business Innovation and Leadership Study Tour. The study tour aims to empower the students with self-belief, confidence and has effectively contributed towards a record number of students attaining Year 12 completion and their Northern Territory Certificate of Education and Training (NTCET).
These students courageously ventured all the way from a town in the Northern Territory. Leaving their parents and Communities, some for the first time to further develop their leadership skills and explore their post-school options as they edge close to completing their NTCET.
During their time here on campus, students participated in WIC's My Future Matters Program, where they were challenged to reflect on their personal values, defining success vs failure, and exploring what leadership is. As aspiring leaders, we asked the students to leave a message for our local students here in the Illawarra.
One student wrote:
"Dear Students,
Be Curious
Be Authentic
Be You."
Another wrote:
"Stay true to yourself and your morals. Be curious and ask questions. Lift yourself up."
These messages will be echoed throughout our school community, and we want to thank the students for their contribution in building their aspirations.
During UOW's Reconciliation Week Community event, the Katherine High School students participated in a UOW program taster, where students got an opportunity to get hands-on experience in Makerspace. UOW academic Jon Roberts and his team educated the students on how businesses in our community are using innovative technologies to progress and advance their business. Students were able create small tokens made from recycled plastics from 3D printed projects. Pictured to the right are some of the students creating these tokens, which ranged from kangaroos, smiley faces and many more.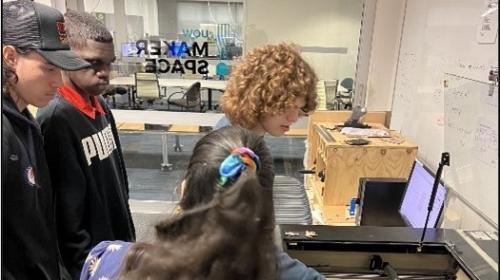 Students also participated in additional celebrations hosted by UOW before returning home to Katherine that afternoon.
WIC is excited to continue the relationship with schools looking to broaden their student's perspective on the myriad of possibilities beyond school life.