Motivation
Greater awareness of human impact on the environment (e.g., IPCC, 2013) has led to an increase in the use of statistical modelling for predicting environmentally sensitive scientific processes of interest. For example, climate models help us to understand Earth's atmosphere, particularly those aspects associated with global climate change, such as the carbon cycle. Predictions are often made for the mean or median of a spatial process but, for risk assessment, strategic planning, and policy development, prediction of "extremes," or "exceedances" are also of interest; see Figure 1 for an example of rainfall-related exceedance probabilities over Australia.
Here, our research in environmental informatics is concerned with the problem of simultaneously predicting exceedances for a spatially dependent scientific process at many locations concurrently. This entails two challenges: Predicting the location, extent, and possibly the persistence of the exceedance, and then quantifying the prediction uncertainty; see here for a description of our approach to uncertainty quantification for hierarchical models. Further research in this area is given by Cressie and Suesse (2020).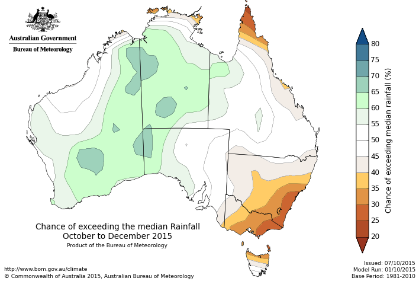 Figure 1. The chance (percentage probability) of exceeding the median rainfall for October to December, 2015. The probabilities are generated from the Predictive Ocean Atmosphere Model for Australia (POAMA), the Bureau's dynamical climate model. Image from Australian Bureau of Meteorology, retrieved 23 Oct, 2015.