#VaxTheIllawarra to support mental health research
First, they vaccinated the Illawarra. Now the community campaign will contribute to UOW's research on stress-induced mental illness
---
In August 2021 – in the midst of lockdown – the regional vaccination rates were still unsatisfactory, and the world seemed very small and isolated. For the Illawarra, it meant being cut off from other regions, which impacted families, businesses, employment and community spirit.
And that's when a group of community leaders, including the local powerhouse, Vicky Tiegs of the Waples Marketing Group and Olympian Emma McKeon, decided to launch an initiative called #VaxTheIllawarra, which had one aim: to reach the 80 per cent vaccination rate target as soon as possible.
#VaxTheIllawarra used the support of a raft of local heroes – business leaders and famous public personalities – to encourage people to get the jab and help ease the burden on the health system. The campaign was an overwhelming success, as it helped boost the region's vaccination rate from around 30 per cent to more than 90 per cent in just a few months, raising funds through corporate sponsorship in the process.
Now, the proceeds from the campaign will support a research program investigating the impact of stress on the development of mental illness.
Dr Natalie Matosin, a group leader of the Mental Illness and Disorders of Stress (MINDS) Lab at the University of Wollongong's (UOW) Molecular Horizons and Illawarra Health and Medical Research Institute (IHMRI), and her team, will receive $15,000 to further their research project.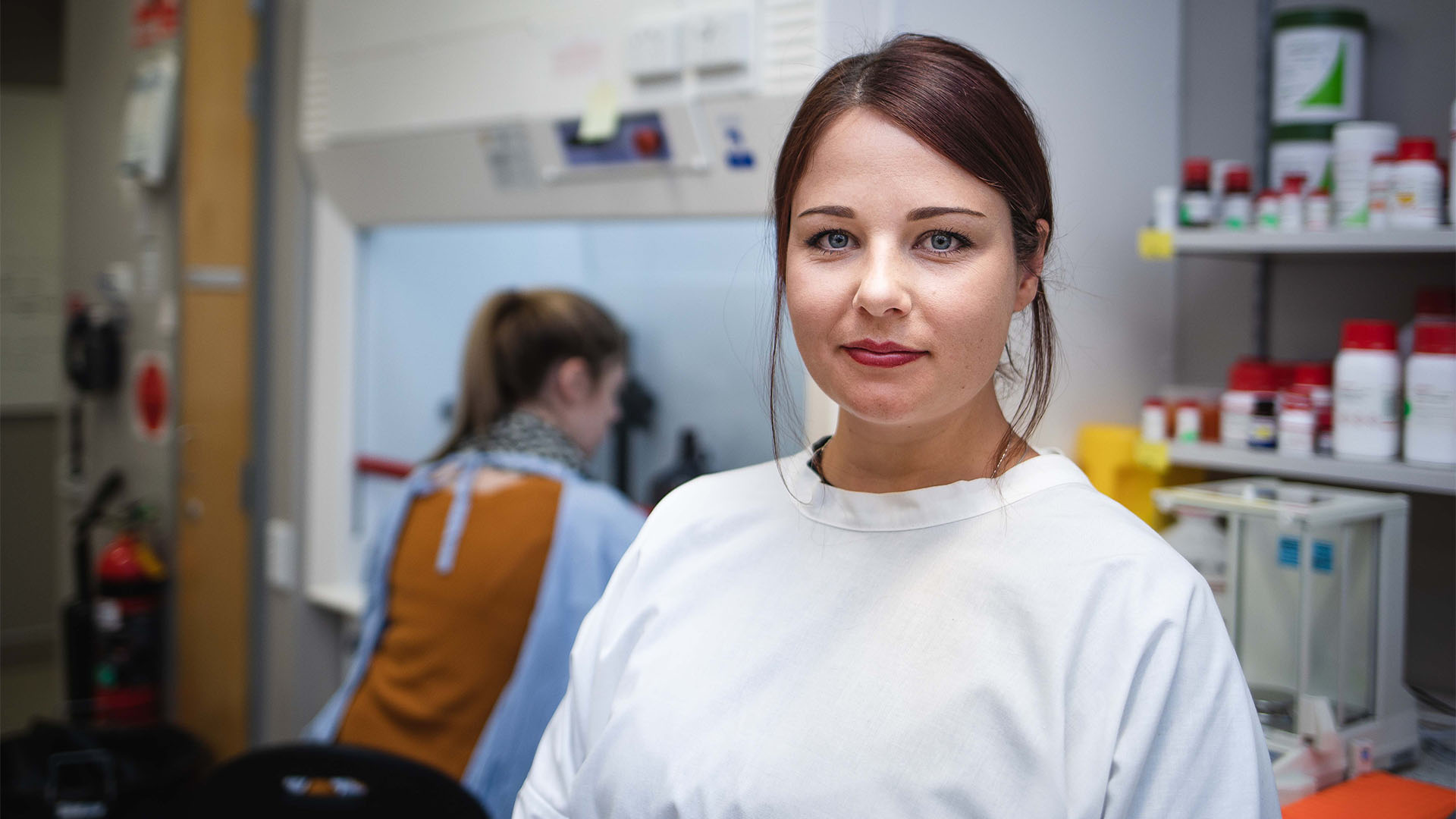 Dr Natalie Matosin in her MINDS lab
Affecting 1 in 5 people, in 2021, mental illness cost Australia $11 billion. The World Health Organisation predicts that by 2030, 1 in 3 people will suffer from some form of mental health condition. According to Dr Matosin, stress that overwhelms our ability to cope is a leading risk factor for mental illnesses such as depression and anxiety disorders.
"We've been experiencing dramatic world events, from the pandemic to wars and environmental disasters, which have exacerbated our stress levels, already high due to increasing pressures of caring responsibilities, job strains and social isolation," Dr Matosin said.
"These accumulated stressors are taking a toll; it's a silent epidemic impacting virtually every Australian's emotional and physical health."
Professor David Currow, UOW Deputy Vice-Chancellor (Health and Sustainable Futures), thanked the #Vaxtheillawarra committee for volunteering their time to help the Illawarra region get back on track post-pandemic.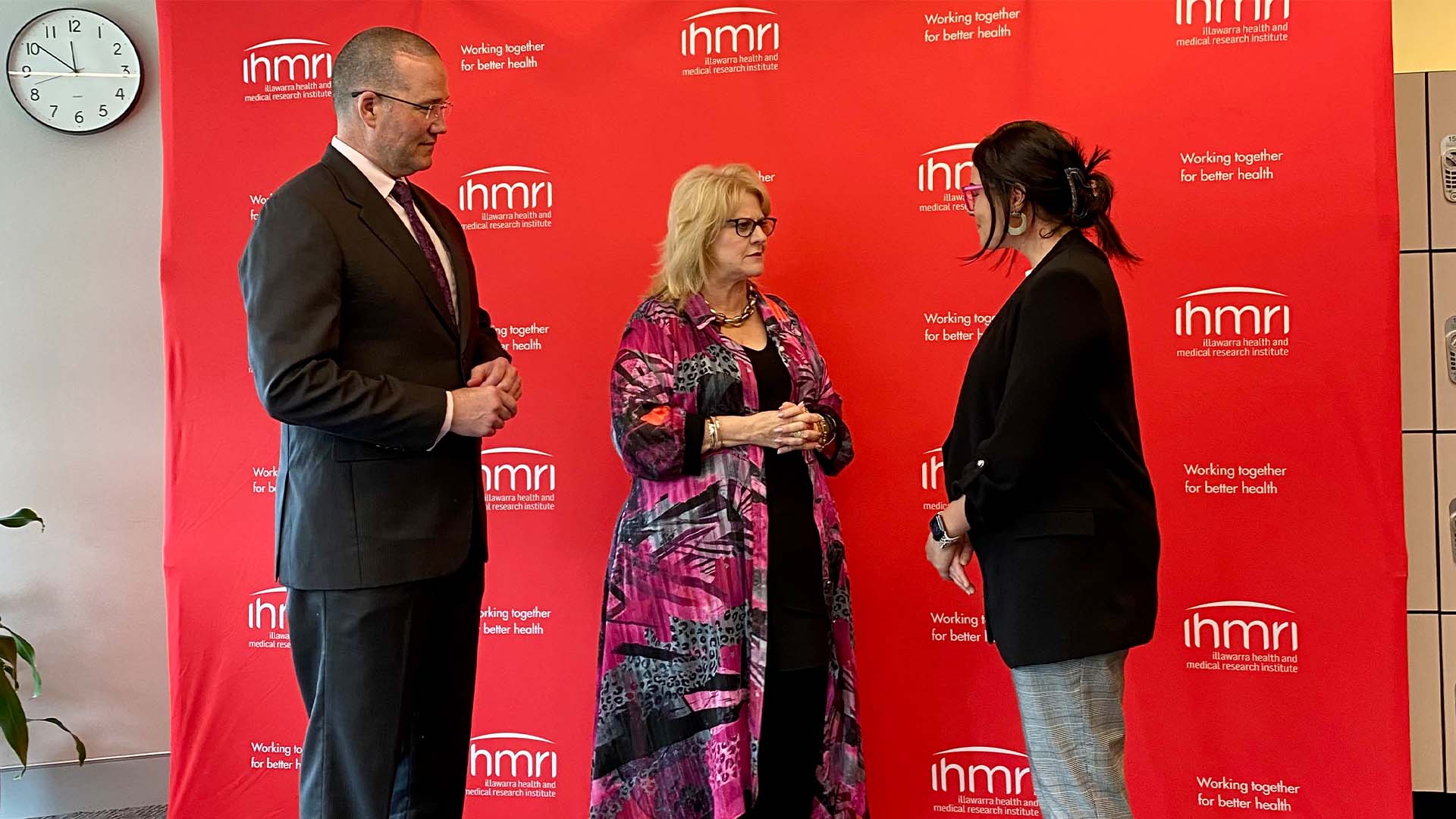 Professor David Currow with #VaxTheIllawarra's founder Vicky Tiegs and Dr Natalie Matosin
"Vaccination was our way out of lockdown. It ensured businesses could safely reopen, people could go back to work, students back to school and loved ones back together while the burden on our health system started to ease off. And #VaxTheIllawarra played a pivotal role in uniting our community and assisting with driving vaccination rates in the region."
"At UOW, we're proud to have been part of this campaign. Because the University is not just an educational institution, we're here to make a difference by supporting the best research and training the region's future leaders," Professor Currow said.