Australia-India Council grant to test neurosurgery device
Invention to treat brain tumours, Parkinson's disease, epilepsy and other neurological disorders
---
University of Wollongong (UOW) researcher Professor Michael Lerch has been awarded a $179,000 Australia-India Council grant by the Department of Foreign Affairs and Trade (DFAT) to conduct pre-clinical assessment on a novel medical device for neurosurgery.
An expert in the design and development of sensors and instrumentation for application in radiation medicine, Professor Lerch is Head the School of Physics at UOW and Deputy Director of the Centre for Medical Radiation Physics.
Professor Lerch and his team will conduct pre-clinical testing at UOW on the device, which was invented and patented in India by Neutactic India, and subsequently, perform clinical procedures on patients in select government hospitals in India.
The Neutactic device overcomes key limitations of existing devices in performing neurosurgery procedures, such as radiofrequency ablation of brain tumours, deep brain stimulation for the treatment of Parkinson's disease, epilepsy and other neurological disorders.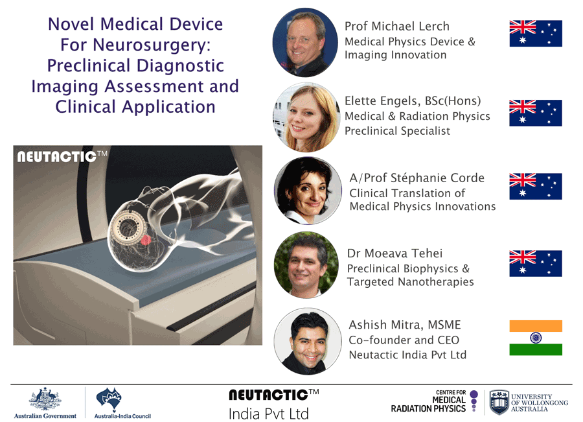 Image courtesy: Department of Foreign Affairs and Trade
The device offers a readily accessible alternative for stereotactic interventions in children under three years of age, where currently established devices cannot be used. Stereotactic radiosurgery is a very precise form of therapeutic radiation that can be used to treat abnormalities in the brain.
"We intend to utilise the novel form factor of the device to perform diagnostic imaging studies at the University of Wollongong," Professor Lerch said.
"The studies will enable scientific assessment related to stereotactic neurosurgical procedures related to brain tumour diagnosis and treatment."
Mr Ashish Mitra, an inventor of the Neutactic device, added "The diagnostic imaging studies performed at the University of Wollongong will pave the way for conducting clinical procedures on patients using the Neutactic device in India, particularly in hospitals where access to conventional stereotactic equipment is limited."
The project is supported by the Australian Government through the Australia-India Council of the Department of Foreign Affairs and Trade.
Further information about the grant is available from the DFAT website:
https://www.dfat.gov.au/people-to-people/foundations-councils-institutes/australia-india-council/grants/australia-india-council-grant-recipients-2020-21#aic-2020-208