November 27, 2020
Top students delighted to be named New Colombo Plan Scholars
Federal Government initiative enables students to study, intern in the Indo-Pacific region
Three University of Wollongong high-achieving students have been named as New Colombo Plan Scholars and will be studying in the Indo-Pacific in 2021, it was announced today (Friday 27 November 2020).
Molly Lasker, Holly Gregory, and Kathleen Taylor will each travel to a different location as part of the Federal Government's prestigious New Colombo Plan, which supports Australian undergraduates to study and undertake internships in the region.
The aim is to create strong relationships between Australia and Indo-Pacific nations, with a number of UOW students taking part in the initiative since it launched in 2014.
Professor Paul Wellings CBE, Vice-Chancellor of UOW, congratulated the three students on their success.
"I am delighted to see such high-achieving students selected to represent the University of Wollongong and Australia," Professor Wellings said.
"It's a wonderful opportunity for the students to expand their minds and gain a once-in-a-lifetime experience studying and working in a new place and a new culture.
"I extend my congratulations to Molly, Kathleen and Holly. I am sure they will benefit immensely from this experience and I wish them every success."
Molly Lasker, Vietnam
Molly Lasker, who is studying a Bachelor of Social Sciences, with a major in Human Geography and minor in Indigenous Studies, will spend nine months in Ho Chi Minh City in Vietnam in 2021. She will attend the University of Social Sciences and Humanities, where she is aiming to learn more about the country's approach to public health.
"I was considering Japan and Vietnam, but I became interested in studying in Vietnam after watching the country's response to the coronavirus. I think there is a lot to learn from Vietnam's approach to public health and the way the community bands together and helps each other out," Molly said.
The second-year student was delighted to find out she was selected to be a New Colombo Plan Scholar, but said it highlights how important social sciences are to the community.
"I think I'm still in shock. I'm excited that I can be a social science student taking part in New Colombo and travelling to Vietnam. There is such a focus on STEM subjects, and I'm looking forward to showing others that the social sciences are just as important as degrees in the hard sciences and mathematics."
Holly Gregory, Cook Islands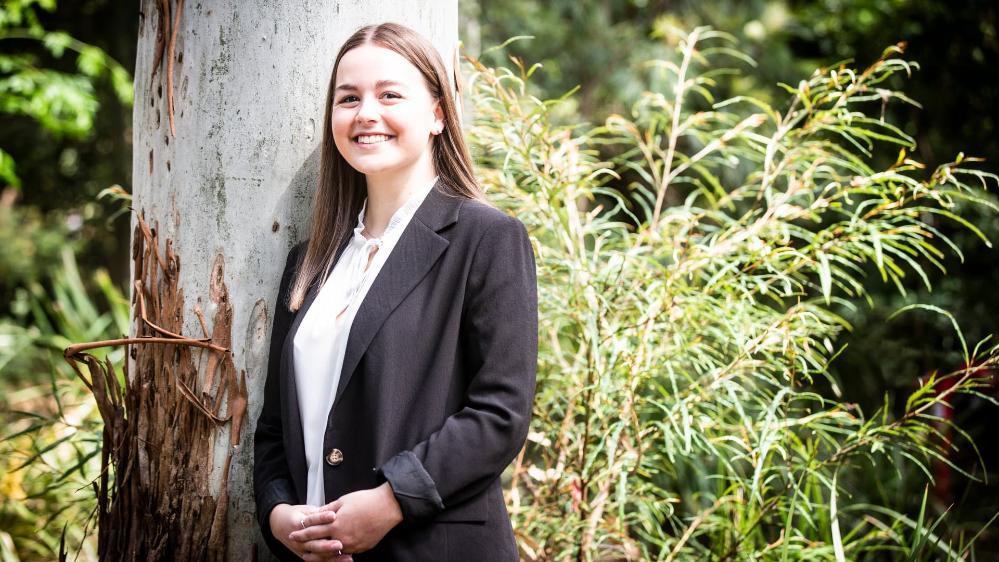 Holly Gregory, who is studying a Bachelor of Commerce (Dean's Scholar), majoring in Marketing, was drawn to the Cook Islands as the location of her New Colombo Plan Scholarship.
Her interests lie in marketing and tourism, and Holly is hoping to learn as much as she can in the South Pacific paradise.
Holly will spend six months at the University of the South Pacific's Cook Islands Campus.
"I've loved to travel from a young age. I've been very fortunate to be able to do that throughout my life. One of the reasons I was drawn to the New Colombo Plan was the chance to study in places like the Cook Islands, which is not offered by other scholarships," Holly said.
"I'm really interested in the importance of marketing to tourism, so I'm looking forward to learning more about that and hopefully interning with the tourism department of the government of the Cook Islands.
"Having the opportunity to study at the University of the South Pacific Cook Islands would be incredible as it would allow me to learn more about their culture and gain key insights into tourism in the South Pacific.
"Being able to learn how a country like the Cook Islands promotes themselves would be invaluable. Through my time their I hope to develop my skillset and capabilities and will aim to strengthen the relationship between Australia and the Cook Islands."
Kathleen Taylor, Fiji
Kathleen Taylor is a Yuin women who is currently studying a Bachelor of Communication and Media, however, next year, she will expand her studies to include a double degree Bachelor of Arts, majoring in Indigenous Studies and minoring in Sociology. It is for that second degree that Kathleen secured a spot in the New Colombo Plan, which will enable her to spend up to a year in Fiji at the University of the South Pacific.
Kathleen is the first Aboriginal student from UOW to have been named a New Colombo Plan Scholar. The second-year student was thrilled at the opportunity and said Jaymee Beveridge from Woolyungah Indigenous Centre and her lecturer, Dr Kate Bowles, were instrumental in helping her to discover and apply for the program.
While in Fiji, Kathleen will study how the South Pacific nation has incorporated traditional knowledge into its university system.
"The University of the South Pacific has adapted the Western-style university structure by creating a framework that really supports the Indigenous students' cultural needs. I admire their continual efforts to celebrate Fijian culture within an educational space," Kathleen said.
"At UOW only 2.22 per cent of students identify as Aboriginal and/or Torres Strait Islander but Indigenous retention rates are still much lower than non-Indigenous students. Therefore, I believe there is so much to learn from our Fijian brothers and sisters regarding improving the tertiary education experience for Indigenous students.
"I'm looking forward to bringing that knowledge back to Australia, and looking at how we can incorporate Indigenous culture and knowledge systems into our universities."