June 14, 2019
Ngarruwan Ngadju Research Centre opens at UOW
Researchers focus on health, wellbeing of South Coast Indigenous Communities
A University of Wollongong research team now have a place to call home.
The team of eight, led by Indigenous Health Professor Kathleen Clapham, have been working at the Australian Health Services Research Institute (AHSRI) at Innovation Campus.
The researchers look forward to working from the new centre, launched on Friday, 14 June.
"It gives us an identity," Professor Clapham said.
"Rather than being the team that works in the corner of AHSRI, we are the Ngarruwan Ngadji: First Peoples Health and Wellbeing Research Centre."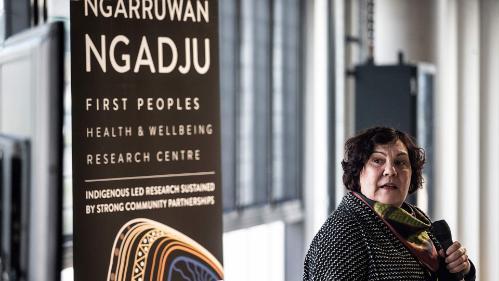 So what does Ngarruwan Ngadju mean?
"Ngarruwan is the sea, the salt water over a long distance, it connects our communities down the coast, it connects us with our international partners," researcher Dr Marlene Longbottom said.
"Ngadju is fresh water, Kath is a fresh-water woman. The name represents all of our team, it's also about the sustenance that water provides us; water is life."
The team's research focuses on the health and wellbeing of South Coast Indigenous communities. They put a microscope on services which are making a positive impact in the Illawarra, the Shoalhaven, Batemans Bay and Bega. They aim to identify what's working well, and bring evidence to light in the broader community.
"We're saying our communities have strengths, they have capabilities and abilities," Dr Longbottom said.
"How do we scaffold that, support that with our institutional knowledge and how do we transfer that knowledge so they can then do their own research and evaluation?"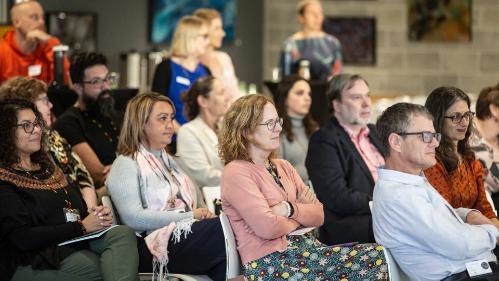 Researcher Layne Brown has been evaluating a program run by the Coomaditchie United Aboriginal Corporation at Kemblawarra. The program works with kids at risk of being suspended or leaving education. It supports cultural teaching and provides academic, living and social skills. It connects young people with their family and their community.
"We're looking into that (program), why does it work, what's the difference between this and school?" Mr Brown said.
The team also addresses issues of inequality, such as Indigenous life expectancy and suicide rates.
"To start to explore the conundrum of the inequalities which exist, let's look at the root causes of those," Dr Longbottom said. "Let's not try to blame individuals, let's look honestly at the history of Australia and our region, let's look at the structures that sustain the inequalities."
Media Resources
Images and/or video from the launch will be available as soon as possible after it concludes via Dropbox.
Professor Clapham, Dr Longbottom and Mr Brown will be available for interview via the UOW Media Office (contact details below).
Media Contacts
Rebecca Fist, Media and Public Relations Officer, UOW
T: +61 2 4221 4823 | M: +61 447 271 553 | E: rfist@uow.edu.au
UOW Media Office, T: +61 4221 4227 | E: media@uow.edu.au