New 24-hour movement guidelines to keep kids and teens happy and healthy
One-hour of physical activity, less than two hours of recreational screen time recommended for 5-17 year olds
---
No more than two hours of sedentary recreational screen time a day, and at least 60 minutes of moderate to vigorous physical activity are among the recommendations of the new Australian 24-Hour Movement Guidelines for Children (5 to 13 years) and Young People (14 to 17 years).
The Guidelines are launched Thursday 4 April in Canberra by Australian Minister for Sport Senator the Hon. Bridget McKenzie and University of Wollongong (UOW) physical activity expert Professor Tony Okely.
While the Guidelines advise limiting sedentary recreational screen time, they draw a distinction between recreational screen time and the use of electronic media for educational purposes. The Guidelines also call for parents to be mindful of setting a good example when it comes to their own screen-based activities.
The Guidelines are based on the best available evidence, and were developed by experts from across Australia and are designed to give parents and carers practical advice on healthy daily practices for children and adolescents.
They recommend children and young people participate in a range of physical activities, get good quality sleep, and limit screen time and prolonged sitting in order to optimise their physical and mental health and development, emotional regulation and social behaviour, and academic achievement and cognition.
Professor Okely, Director of Research at UOW's early childhood teaching, research and community engagement initiative Early Start, said that while the Guidelines recommend at least 60 minutes of moderate- to vigorous-intensity physical activity, more is better.
"If I could recommend a 'magic pill' to promote health among children and young people it would be physical activity. It has positive effects on all areas of health. Importantly, it's fun to do, you can do it with friends, and you feel great afterwards," Professor Okely said.
Moderate- to vigorous-intensity physical activity can include organised sports, dancing, walking to and from school, going to the gym, swimming, and active play and recreation. In fact, any movement that uses large muscle groups and makes your heart beat faster.
Recent data indicates that only one quarter (22 per cent) of young people meet the physical activity guideline. Around 40 per cent of children and 15 per cent of adolescents met the sedentary recreational screen time guideline of less than two hours per day. Around three-quarters (76 per cent) of 9-11 year olds met the sleep guideline of 9-11 hours per night.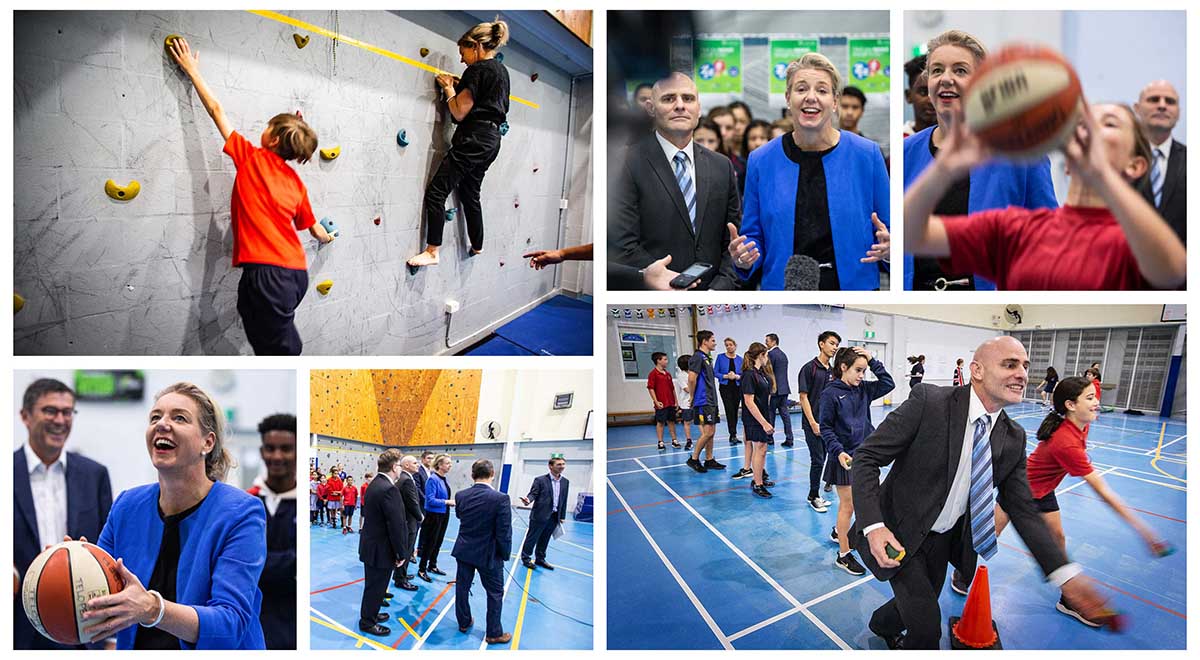 Minister for Sport Senator Bridget McKenzie and Professor Tony Okely at the 'Australian 24-Hour Movement Guidelines for Children and Young People' launch at Telopea Park High School in Canberra. Pictures: Paul Jones, UOW
Since the previous Guidelines were released in 2012, the use and popularity of hand-held technologies such as iPads and other tablets has boomed, while smart phone apps – especially ones targeting children and young people – have proliferated exponentially.
"It's important to clarify that the screen time that the guidelines speaks to is recreational screen time. It does not refer to using electronic media for educational purposes," Professor Okely said.
"The evidence shows that too much recreational screen time when you are sedentary (sitting or lying down) is associated with poorer health outcomes – and a negative relationship with obesity, psychosocial health and cognitive development in particular. It can also compromise the quality of sleep if it's done too close to bedtime or during the night.
"It's important for parents, children and adolescents to establish consistent boundaries around what they engage with and how long they do it for – and we encourage them to engage in positive social interactions and experiences when using electronic media recreationally."
With regard to sleep, children (5-13 years) are recommended an uninterrupted nine to 11 hours of sleep a night. Those aged 14 to 17 should aim for an uninterrupted eight to 10 hours of sleep a night.
"Good quality sleep is vitally important. Shorter sleep duration appears to be associated with obesity, poorer emotional health and cognitive development and poor quality of life/well-being," Professor Okely said.
The new Guidelines are the first for these age groups to cover the full 24-hours, acknowledging that physical activity, sedentary behaviour and sleep are all interrelated. Children and adolescents that are physically active will get good-quality sleep, and those who get good quality sleep will have the energy to be active.