June 2, 2015
Startup incubator leads gender equality mission
Forming support networks for women and lowering the financial barriers to investment has enabled UOW-backed startup incubator iAccelerate to achieve gender equality targets.
The tech industry and startup sector has a well-documented gender imbalance. Large players such as Google and Apple have openly declared their intention to reverse the trend.
Yet, since its inception in 2011, part of iAccelerate's core mission has been to create opportunities for the untapped potential for women to participate equally in all aspects of entrepreneurial endeavours.
And it is succeeding.
CEO Dr Elizabeth Eastland said that in 2015 females made up just under half of its 34 current startup companies, including scholarship holders and other program participants, while females made up four out of six of the iAccelerate management team, including the CEO.
This is despite the fact there is a shortage of females pursuing technology-based education. Women account for fewer than one in five domestic students enrolled in information and communications technology (ICT) degrees in Australian institutions and make up a similarly low proportion of the ICT workforce.
"While these are terrific statistics, iAccelerate remains very vigilant in ensuring that our intake of applications continues to represent good gender balance and question when it does not," Dr Eastland said.
"Not only does female representation on founding teams provide diversity and increased ability to succeed, it also very often brings deep customer understanding, which is the critical aspect of startup company success."
Dr Eastland said iAccelerate had in place four programs specifically aimed at encouraging female entrepreneurship and investment in the startup sector: the iAccelerate Entrepreneurial Women's Breakfast Series, the iAccelerate Kids' eClub, lowering the minimum investment required for female wholesale investors to enter the iAccelerate Seed Fund and a female scholarship program.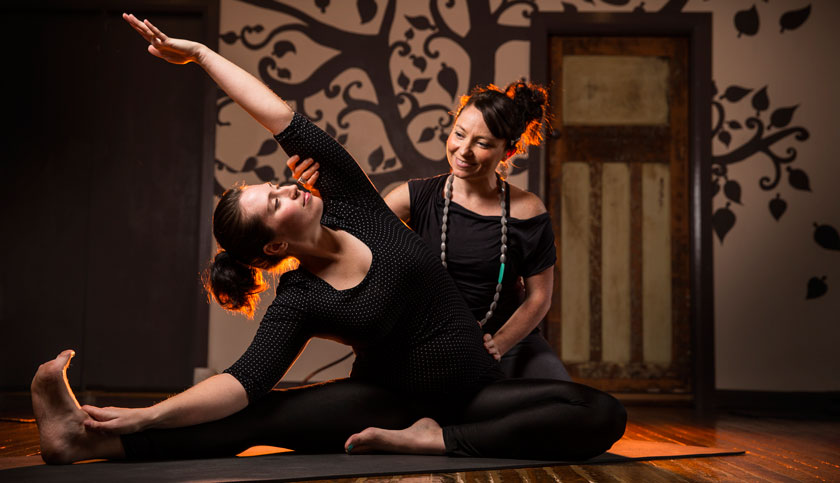 Deb Young, right, has found support and guidance for her startup at iAccelerate.
A $10 million seed fund was launched last year in partnership with Artesian Venture Partners.
"The seed fund would normally require a minimum investment from wholesale investors of $100,000," Dr Eastland said. "To encourage female investment, we have lowered the limit for female wholesale investors to $25,000.
"This has brought immediate interest from the market and a number of women have shown interest in investing whereas they otherwise would not."
The breakfast series provides a forum to discuss the challenges women entrepreneurs have encountered and share lessons they have learned while the Kids' eClub supports women who would otherwise not have the chance to attend critical networking activities.
"Considering the dearth of women in entrepreneurship in the past, this outreach will double the pipeline of successful companies coming into iAccelerate," Dr Eastland said.
Deb Young, founder of startup Stretch and Glow Yoga, said being part of iAccelerate had exposed her to great opportunities, strong support, guidance and a community where people are engaged with making a difference.
"Growing up, I never dreamed I would be involved in business and define myself as an entrepreneur - I thought that stuff was for other people," she said.
"I am grateful to have let that self limiting thinking go, because it has meant I can be proud of putting something out there and not worrying about what people might say."
Ms Young said he wanted to inspire other women to take a similar journey.
iAccelerate's mission of appropriate female representation is evident in all aspects of its operations, including its marketing imagery, events, programs as well as a clear statement of intent on its website.
Applicants to iAccelerate front a pitching panel, which must have at least one female entrepreneur.