November 14, 2014
iSee the future of online interaction
Interactive video collaboration software is making online interactions a more life-like experience.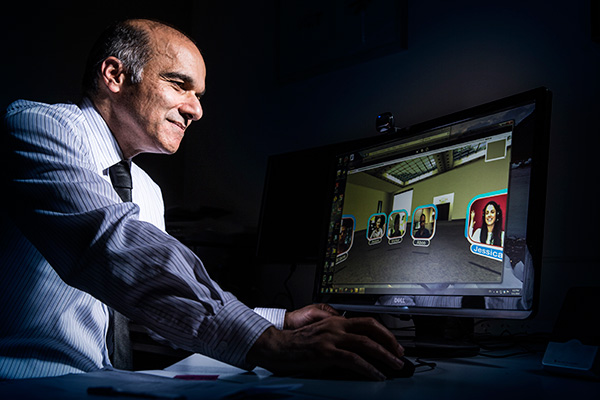 Professor Farzad Safaei from the ICT Research Institute demonstrates the online video collaboration program iSee.
The sophisticated video conferencing platform called iSee, developed by UOW researchers, can stream multiple webcams in a virtual environment where participants can move around, form groups, converse and share content.
Australian school students in a world-first event recently used it to participate in a national face-to-face exhibition of their major artworks, without leaving their schools in New South Wales, Queensland, Tasmania and Western Australia.
The research on iSee platform began in 2008 by researchers at the UOW, led by Professor Farzad Safaei from the ICT Research Institute, with the support of the Smart Services CRC . iSee became a startup company in 2013 and now offers the platform to customers.
Professor Safaei said many video conferencing programs currently available are difficult to use and require strict and highly artificial social protocols for online meetings, for example, one person talking at each time.
"This is not representative of natural human communications, where typically a number of simultaneous conversations can take place" he said. "We saw a need to create a communication system where large numbers of people could collaborate simultaneously."
In the iSee environment each user appears as a 'me-vatar'. Much like avatars in online gaming, the 'mevatars' represent the user in a virtual space.
While avatars are typically an alter ego or fantasy character, mevatars stream the user's webcam into an immersive setting in real time, enabling authentic face-to-face interactions.
To overcome bandwidth constraints the system is designed to stream only the video and audio streams that are relevant to the perspective of each user at each moment.
"If a user turns around or walks away from the group, the system stops streaming their image, just as you would not see the person in real-life conversation," Professor Safaei said.
"We also use directional audio. As a person moves away from a group the volume of that conversation drops relative to distance. If there are multiple conversations in the room the user can join a conversation by approaching the group, just like you might do at a cocktail party or a work function."
"By streaming to each user only the video and audio in their area of interest, iSee uses up to 70 per cent less bandwidth that other systems."
Professor Safaei said iSee was well suited to use in corporations for conferencing, collaboration and training. Education providers could enrich the learning experience for students in remote areas and even provide additional classes to overcome the tyranny of distance as well as cost.
The interactive art exhibition took the concept of 'immersive art' to a new level.
Through iSee the students created a virtual art gallery where participants could wander throughout, pause to appreciate individual pieces and discuss works with those around them display their works.
The virtual art gallery is being offered through the Transforming the Education Digital Supply Chain project (TtEDSC).
TtEDSC project manager Ian Quartermaine told The Australian the aim of the virtual art show was to create collaboration between students and teachers at independent schools around the country.
"It is bringing students together and teachers together that would never be together normally and have conversations,'' he said.
Mr Quartermaine told The Australian the plan was to offer the virtual art gallery concept up to the whole of the independent school community in Australia.
Media contacts
iSee: Jessica Sullivan, +61 407 758 080
UOW: Grant Reynolds, Media & PR Officer, +61 417 010 350 or grantr@uow.edu.au.