November 5, 2014
Indigenous health project shares in $9million of ARC funding
Projects to boost Indigenous health and examine the history of IVF among latest funded by ARC.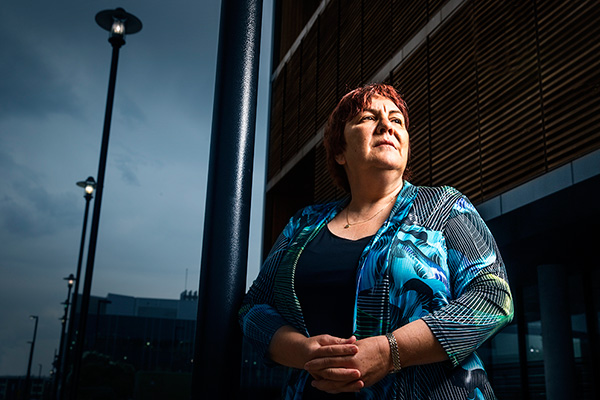 Professor Kathleen Clapham was awarded a $317,000 Discovery Indigenous grant (one of only ten such grants awarded nationally). 
Projects to boost Indigenous health and examine the history of IVF, build resilient communities after bushfire disasters and develop radar-imaging techniques to 'see' through walls are among the latest UOW research projects to be funded by the Australian Research Council (ARC). 
Minister for Education the Hon. Christopher Pyne MP today (5 November) announced 17 Discovery projects, five Discovery Early Career Researcher (DECRA) awards, one Linkage Infrastructure award, and a Discovery Indigenous grant for UOW, totalling $8.9 million.
Deputy Vice-Chancellor (Research) Professor Judy Raper said she was delighted by the ARC grant success at UOW.
"This year the ARC has invested in 24 projects across all of our disciplines, which reinforces the breadth and depth of research in our faculties and institutes at UOW," she said.
"I would like to congratulate all our researchers who have once again attracted funding for projects crucial to diverse sectors in the Australian community. From ethnographic analysis of community resilience in the face of devastating bushfires to the development of radar imaging techniques to allow us to 'see' objects behind walls, there is so much exciting work being done by passionate academics at UOW," Professor Raper said.
Professor of Indigenous Health Kathleen Clapham, from the Australian Health Services Research Institute in the Faculty of Business, has been awarded a $317,000 Discovery Indigenous grant (one of only ten such grants awarded nationally) to determine cultural appropriateness of methods used in Aboriginal health services research.
The project will examine the perspectives of health services researchers, Aboriginal consumers and policy-makers to develop a framework for appraising, designing and undertaking research in the context of Aboriginal health service delivery.
The Australian Government's Closing the Gap Strategy has recognised the need to improve the evidence base to underpin more effective and efficient health services for Aboriginal Australians. This study closely supports Closing the Gap through its focus on the improved rigour of qualitative research in Aboriginal health contexts in order to produce high quality evidence.
"Focus Group Discussions are a common way to gather qualitative data in this discipline but little research has been done to determine whether they are appropriate tools in these contexts. The study will have a very practical outcome by developing guidelines for the planning and delivery of health services which are accessible, acceptable and appropriate to Aboriginal people," Professor Clapham said.
Enjoying the largest share of UOW's Discovery grant funding is the Faculty of Engineering and Information Sciences (EIS) receiving funding for nine projects worth $2.98 million, with four of those projects awarded to the School of Mathematics and Applied Statistics.
In Mathematics, one of the projects will aim to analyse equations as practical applications in physics and mathematical biology; another two pure maths projects will be headed by Professor Aidan Sims. The Director of UOW's Mathematical Sciences research cluster will lead both three-year pure maths research projects, worth a combined total of $656,000.
"The latest funding for the mathematical sciences at UOW is the result of a real team effort," Professor Sims said.
"It is fundamental-level pure research of this sort that drives the technology of the future. These two projects continue our world-leading research into operator algebras, the mathematics used to understand quantum physics," he said.
According to Minister Pyne, positive investment in research funding is crucial for building a strong nation.
"The Australian Government has committed to building a world-class education and research sector as one of the five pillars of a stronger, more productive and prosperous Australia," he said.
Media contact: Elise Pitt, Media & PR Officer, UOW, +61 2 4221 3079, +61 422 959 953, epitt@uow.edu.au.
FULL LIST OF UOW'S SUCCESSFUL ARC PROJECTS:
DISCOVERY INDIGENOUS
Prof Kathleen Clapham, Dr Angela Dawson, Dr John Daniels: $317,000, Re-Focussing Qualitative Research: Improving the efficacy, rigour and relevance of focus group discussions in Aboriginal health service contexts (Re-Focus).

DISCOVERY EARLY CAREER RESEARCHER AWARDS. UOW researchers were awarded 5 DECRAs, totalling $1.75M.
Dr Christine Eriksen: $353,773 - Bushfires, Faith and Community Cohesion: building a resilient Australia
Dr Zheng Liu: $355,801 - First-principles Design and Characterisation of Topological Materials
Dr Rute Santos: $357,000 - Effects of Reducing Sitting on Toddlers' Executive Functions: Cluster RCT
Dr Ziqi Sun: $373,536 - Bio-inspired Multifunctional Inorganic Nanostructured Interfaces
Dr Guomin Yang: $315,000 - Leakage-Resilient and Quantum-Secure Authenticated Key Exchange Protocol

DISCOVERY PROJECTS: UOW researchers were awarded 17 Discovery Projects, totalling $6.4M.

Prof Abdesselam Bouzerdoum, Prof Moeness Amin; $495,000 - Enhanced Through-Wall Imaging Using Bayesian Compressive Sensing
Prof Noel Cressie: $402,500 - Spatio-Temporal Statistics and its Application to Remote Sensing
Dr Guy Davidson: $124,790 - American Literacy Celebrity and Contemporary Identity
A/Prof Markus Hagenbuchner, Dr Dylan Cliff, Dr Stewart Trost: $286,424 - Modelling active Play in Preschool Children Using Machine Learning
Prof Zhengyi Jiang, Dr Dongbin Wei, Dr Jingwei Zhao: $368,200 Micromanufacturing and the Mechanics of Novel Composite Micro Drills
Prof Sandra Jones, Prof Rodney Croft: $289,201 - Alcohol advertising to Women in Australia
Prof Weihua Li, A/Prof Jianchun Li: $266,300 - Adaptive Base Isolation Using Innovative Magnetorheological Elastomers
Prof Vera Mackie, A/Prof Sarah Ferber, Dr Nicola Marks: $518,953 - IVF and Assisted Reproductive Technologies: The Global Experience
A/Prof James McCoy, Dr Glen Wheeler, Dr Ben Andrews: $450,800 - Higher Order Curvature Flow of Curves and Hypersurfaces
Prof Ian McLean, Dr Siobhan McHugh, Ms Margo Neale: $122,259 - A New Theory of Aboriginal Art
A/Prof Todd Mitchell, Prof Stephen Blanksby: $434,700 - Developing Next Generation Technologies for Unmasking the Lipidome
Prof David Officer, Dr Pawel Wagner, Dr Klaudia Wagner, Prof Dermot Diamond, Prof Keith Gordon, Dr Larisa Florea: $394,700 - The Development of Chemopropulsion-based Fluidic Transport Systems
Prof Aidan Sims: $345,300 - Equilibrium States and Fine Structure for Operator Algebras
Prof Aidan Sims, A/Prof David Pask, Dr Roozbeh Hazrat: $310,700 - Groupoids as Bridges Between Algebra and Analysis
Prof Kiet Tieu, Dr Hongtao Zhu, Prof Liping Wang, Dr Shanhong Wan: $455,300 - A New Adaptive Composite Phosphate-Polymer Lubricant for Hot Metal Forming
Prof Antoine van Oijen, Prof Nicholas Dixon: $778,791 - Function Dissection of the Bacterial Replisome
Prof Colin Woodroffe, Prof Colin Murray-Wallace: $384,700 - Sedimentary Processes on Sandy Coasts in Southern Australia

LINKAGE INFRASTRUCTURE EQUIPMENT AND FACILITIES
Prof Shi Xue Dou, Dr Germanas Peleckis; Prof Xiaolin Wang; Dr Jiabao Yi; Prof Yiu-Wing Mai; Dr Luhua Li; Prof Roger A Lewis; Prof Ying I Chen; Prof Geoffrey M Spinks: $420,000 - New generation cryogen-free Physical Property Measurement System.