December 8, 2014
Governor of Jakarta launches PetaJakarta.org project
PetaJakarta.org, a big data project mapping instances of flooding in Jakarta, Indonesia, was publicly endorsed by DKI Jakarta Governor Basuki Tjahaja Purnama via Twitter during the project's launch on 2 December.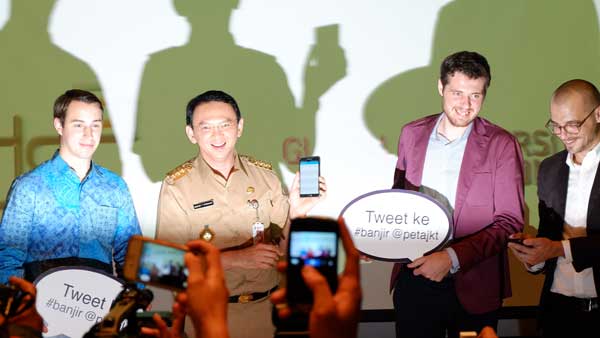 DKI Jakarta Governor Basuki Tjahaja Purnama (second from left) sent the first tweet in Jakarta with Mark Gillis from Twitter (left) and lead researchers Dr Tomas Holderness and Dr Etienne Turpin.
Dozens of local and international journalists, from local news media giant Kompas to the Wall Street Journal, turned out for the project launch, dramatically boosting the project's profile.
"The need [for PetaJakarta.org] is clear: Jakarta is rapidly urbanizing and has long struggled to combat perennial floods that can cripple movement and business in the city of more than 9 million residents. The problem has become more intense as sea levels rise, Jakarta slowly sinks and weather intensifies," Sara Schonhardt wrote for the Wall Street Journal.
Twitter's Head of Academic Partnerships, Mark Gillis, an early advocate of the initiative, said Twitter had thrown its support behind lead researchers Dr Tomas Holderness and Dr Etienne Turpin because of the project's potential.
"We awarded the University of Wollongong one of our first-ever Twitter Data Grants because the PetaJakarta.org program is an innovative use of Twitter data to address the serious problem of flooding for millions of people. Jakarta is an ideal testbed as it has one of the highest concentrations of Twitter users in the world to create a high-quality real time signal for BPBD's disaster management systems. It showcases how Twitter data drives positive social change and how Twitter empowers people to play an active role in improving response times and increasing public safety during emergencies."
Following the launch, Mr Gillis published a blog post, which was shared by @Twitter to more than 33.5 million followers.
How Twitter data helps @petajkt track flooding in real time around Jakarta to save lives: https://t.co/HlYH0jUEsa @TwitterData

— Twitter (@twitter) December 3, 2014
The media's vast coverage of the project is helping lead researchers Dr Etienne Turpin and Dr Tomas Holderness get the word out to those whose flood-related tweets will become valuable data.
"It is very important that we reach users in Jakarta to let them know about the project; because we use a viral method to achieve our 'big crowdsourcing' of flood data, the endorsements from the DKI Jakarta Governor and @twitter are big gains for the project and our outreach strategy," Dr Holderness said.
The overall aim of the project is to understand and promote resilience to both extreme weather events as a result of climate change and to long-term infrastructure transformation as a process of climate adaptation.
SMART Infrastructure Facility Research Director Professor Pascal Perez, who travelled to Jakarta for the launch, said the project isn't about passively collecting flood data but about taking action.
"We don't need big data, we need smart data, and the smartest sensors we have are people. By partnering with the Jakarta Disaster Management Agency (BPBD DKI Jakarta) and Twitter, we are empowering citizens to report flood problems, while helping the government develop open-source tools to understand and use this information in real-time. By working together to actively crowd-source flood information, we are creating citizen social media as a civic responsibility that drives climate adaptation."
Director of BPBD DKI Jakarta, Bambang Musyawardana, said PetaJakarta.org complements the agency's existing response systems and will empower Jakarta's citizens by enabling them to report floods directly to the agency.
"PetaJakarta.org is enabling us to respond faster in flood situations and to help save more lives. Simultaneously, citizens can warn each other about flooding and navigate around the city more safely. We encourage more people in Jakarta to tweet during the floods so that the PetaJakarta.org map can be more valuable for the city government and the public safety of our citizens."
PetaJakarta.org is a key UOW Global Challenges project helping to address the challenge of Sustaining Coastal and Marine Zones and is further supported by Australian National Data Service.
Related stories
Media contact: Jacqueline Wales on jwales@uow.edu.au