November 14, 2014
Geography students in first field intensive to India
Academics from the Indian Institute of Science and the Dakshin Foundation visited UOW last month to finalise details of a new Social Sciences subject launching this summer.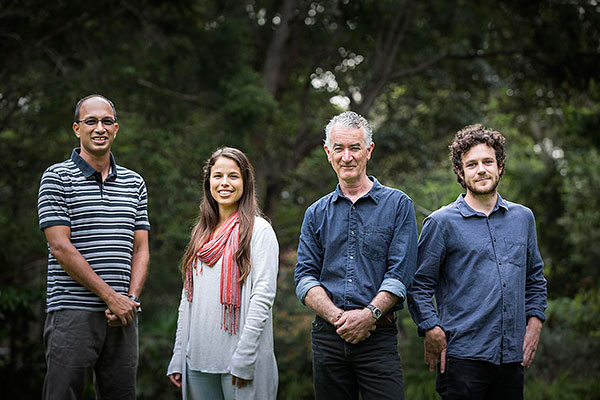 Right to left: Evan Curtis, Michael Adams, Lauren Smith and Kartik Shanker who are part of the group travelling to India.
The subject, 'Uncertain Islands: Geographies of Change in the Andaman Archipelago', will see ten students travel to India early next year to work with Indian researchers to investigate social and environmental change in the Andaman Islands. 
Associate Professor Kartik Shanker of the Indian Institute of Science believes the islands provide a unique location for fieldwork. 
"The archipelago offers excellent opportunities for human environment research and teaching with diverse and spectacular coral reef and rainforest ecosystems, and a unique socio-political history of colonisation, assimilation and resistance," he said. 
Meera Oommen, a doctoral student from the Dakshin Foundation, accompanied Professor Shanker on the trip, and will use the fieldwork as an opportunity to continue research into local hunting traditions on the islands. 
Ms Oommen and her Indian colleagues have an ongoing research collaboration with UOW's Associate Professor Michael Adams, who will be leading the pilot program. 
Professor Adams, of the Department of Geography and Sustainable Communities, was recently awarded a $21,500 AsiaBound Mobility grant, which will provide individual travel grants for the students in the subject. 
Both Professor Adams and Professor Shanker are strong advocates for learning outside the classroom. 
"Experiential learning is not just an alternate way to widen academic understanding, it's a fundamental educational necessity that aids in the development of responsible international citizens," Professor Shanker said. 
Evan Curtis, one of the students attending is excited by the opportunity he has to take part in the subject. "This offers a rare chance to step outside the confines of typical undergraduate study by providing an intensive first taste of research," he said. 
"The life experience to be gained from visiting the Andamans and working alongside local researchers will be invaluable." 
The program is a collaboration between UOW, two Indian NGOs, the Dakshin Foundation and the Andaman and Nicobar Islands Environment Team. 
Professor Adams and the ten UOW students will travel to India in early February next year.