Budding artists display work at graduate exhibition
Creative arts students show off their talent and out of the box thinking at end of year exhibition.
---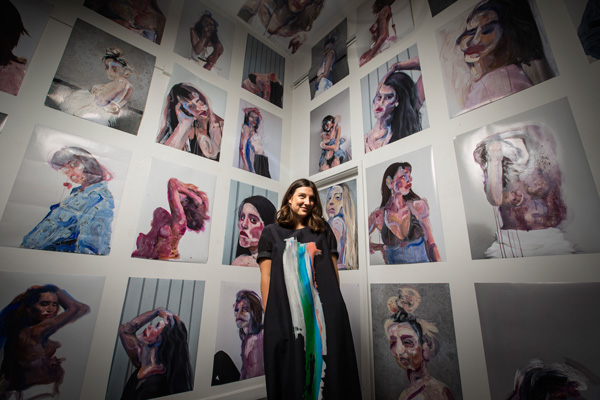 Young artist Jessica Cochrane.
Before they put on their gowns and caps, creative arts students got to show off some of the work they'd produced as students at UOW for the end of year graduate exhibition.
The exhibition, MADE IT, comprises a wide range of by creative arts students in the fields of visual arts, graphic design, communications and media, and digital media.

Artist Karen Paterson.
Professor Sarah Miller, Head of the School of the Arts, English, said MADE IT showcased the many skills creative arts students develop throughout their degree, from the practical and technical to the conceptual and creative.
"MADE IT celebrates graduating students achievements to date, and anticipates their success in the future. For graduating students, the occasion of their graduate exhibition provides a significant occasion marking for many, the transition from the structured and resourced life of a student, to the new adventures waiting for them beyond the institution."
Jordan Milburn (pictured below), 22, from Finley, said he primarily works with acrylic paint but his preferred medium is watercolour or pen.
"It depends on my mood. Watercolour is a serene medium, requiring time, stillness and fluidity. I love how it is so transparent and liquid, each brush stroke is like a deep breath, purposed and deliberate. Pen is more brash, no mark can be erased and the lines etch themselves onto the page so that each stroke becomes a record of process and learning. I use pen when i want haste and expression, when the construction of image seems more vital than the image itself."
Design student Daniel Cvetkovski (pictured below), 21, from East Hills in Sydney said his major work, Clique, is also the beginnings of a business he hopes to bring to life one day.
"Clique' is a virtual workspace for business owners, entrepreneurs, and anyone with great ideas to share. It's an alternate online workspace that allows users to collaborate with people with various skill sets while overcoming the difficulty of trying to meet with people or clients face-to-face."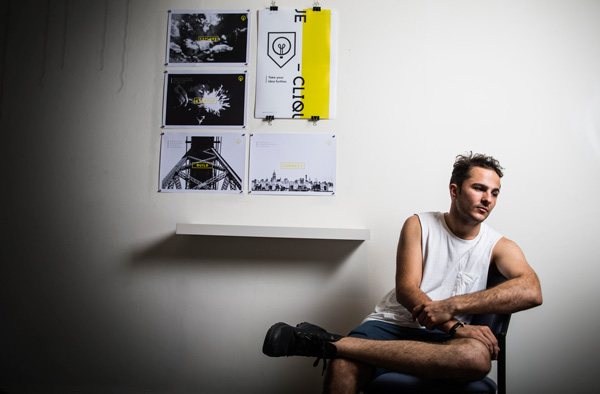 Visual arts student Melissa Spagnolo (pictured below), 24, from Wollongong, prefers to work with paint because it can be manipulated in many different ways on various surfaces. Melissa says she loves art and children, so has applied to study teaching.
"As a result of my varied interests, I have also applied for a Masters of Primary Education- a love for both art and children might complement each other. I also have aspirations to undertake various volunteer opportunities- possibly working with disadvantaged children overseas."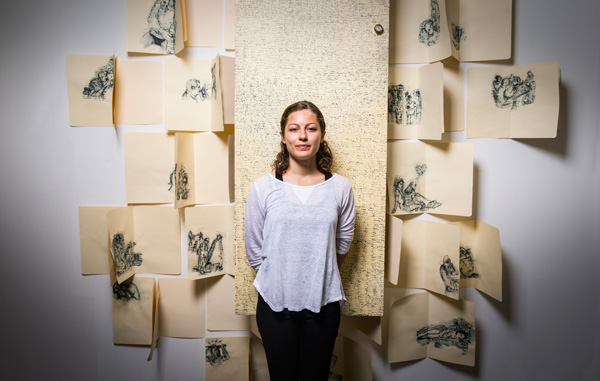 Shanelle Oliver (pictured below), 20, from Picton, is a sculptor with ambitions to further his education by enrolling in a Master of Teaching with the goal of being a teacher who maintains a profile as an artist by exhibiting in local galleries.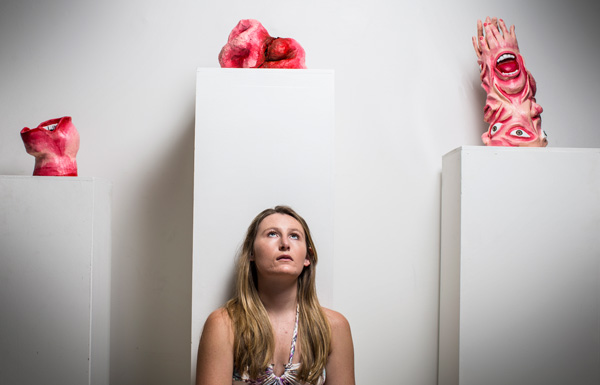 "The particular artwork that I have exhibited in the graduation show, is a mixed media piece of clay and painting, and expresses my emotions, feelings and experiences with suffering stress, anxiety and panic attacks, during my academic years. This is a condition that is experienced by many students in universities and higher education. These are stressful times for students and they often do not receive or find treatments and support. Many neglect that they are experiencing mental health issues. I wanted to demonstrate my particular outlet for dealing with my mental health issues, and also communicate the message to others that they if they do not seek treatment, that they should at least find an outlet. My outlet is making and creating art, in particular using the clay to twist, pull, punch, bend, etc., to one demonstrate what my ideas, and two as a way to release my stress and anger from my system."
Twenty-three-year-old Vanessa Rees (pictured below), from Wollongong, has just completed a bachelor of Creative Arts, majoring in Graphic Design and is planning to travel through Europe before returning home to land her dream job in a design studio.
"My design work uses a strong colour palette and illustration to engage with the audience. I am inspired by the designer Noma Bar and the online design community which showcases the enormous amount of talent worldwide."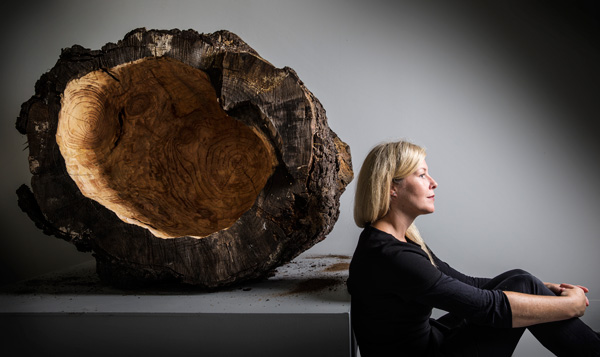 Young artist Nina Young.