When Professor Yerbury AM learned that his family suffered from the genetic form of motor neurone disease (MND), a fatal disease that affects motor neurones in the brain and spinal control, he gave up his successful career as a professional basketball player to study biological sciences at the University of Wollongong (UOW). Now, he's dedicated to finding a cure for MND.
---
In 2016, Professor Yerbury was diagnosed with MND and deteriorated quickly. By 2018, he was immobile and only able to communicate through eye/computer recognition. But Professor Yerbury isn't letting this stop him. For more than a decade, he has led a successful research team at UOW who are finding critical breakthroughs to grow our understanding of MND.
Professor Yerbury says that thanks to donations made to the MND Research Fund, his research team is working on understanding the processes disrupted in MND on a molecular level and examining potential treatments.
"Our work has led to the lab developing several new exciting treatments to potentially treat MND, including new drug combinations and gene therapies aimed at removing and reducing molecules that contribute to MND," says Professor Yerbury.
"A particularly exciting new development in our lab is looking at converting healthy nerve cells into replacing the motor nerve cells that are lost in MND. This is something that we might have thought to be impossible 10 years ago and something out of science fiction. However, our lab is harnessing techniques at the cutting edge of science to make this possible," he adds.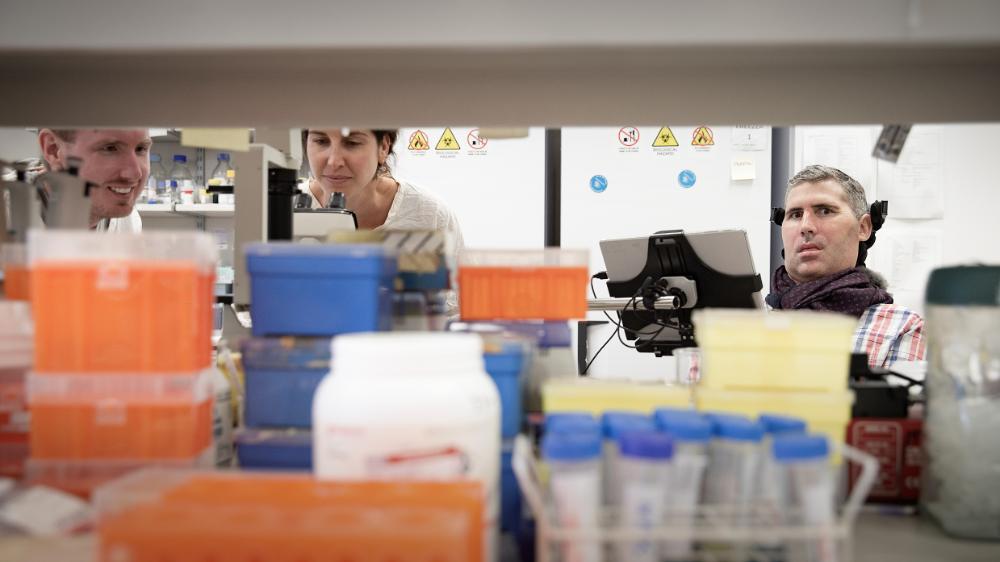 Professor Yerbury explains how his team has made significant strides in therapeutic development research.
"We've developed therapies that can slow disease progression in the lab. We're continuing to optimise our therapeutic approach to ensure its safety and effectiveness before we hope to begin moving it towards clinical trials.
"We're also focused on moving towards using a multi-treatment approach as a therapeutic strategy for MND. We've uncovered multiple biological processes that contribute to MND and corresponding treatments.
"We now believe that targeting multiple components may be the key to successfully treating MND."
Professor Yerbury says that his team is also looking at converting nerve cells in the body that are not affected by MND into replacing the nerve cells that are lost and cause paralysis.
"I hope that this approach will restore muscle function for people with MND who already experience muscle paralysis to a significant extent."
Professor Yerbury is one of almost 2,100 Australians and nearly 300,000 people worldwide living with MND. His research impact is recognised across the world. He was awarded the 2022 UNSW Eureka Prize for Scientific Research – Australia's most comprehensive national science award. Professor Yerbury says it was an enormous honour to receive the award.
"It's not only recognition for me, but those that have supported my work over the past two decades. I've had the privilege to work with brilliant scientists both internationally and here in Wollongong which has helped develop and shape my ideas. I've also been fortunate to be supported by dedicated students and researchers that work tirelessly in the lab.
"The Eureka Prize is also a recognition of the Wollongong and MND community that has generously supported my lab's research to turn these ideas into results. Most of all, I couldn't have achieved any of this without the continual support of my family who has been there on this journey with me since day one."
Professor Yerbury explains how the financial support from donors ensures his research can continue.
"It helps us purchase the materials required to develop and validate our scientific ideas. It also helps me support my team of young scientists, who are the future of Wollongong-based MND research. Without the community's support, our research progression is disrupted, delaying the time to find a cure for MND.
"I can't thank the Wollongong, UOW, and international community enough for supporting our research. Each donation takes us one step closer to finding better treatments and ultimately a cure. We are thankful that our supporters have embarked with us on this journey to end MND."
To find out how you can support Professor Yerbury and his team to make MND a treatable condition, visit our MND Research Fund webpage.