Sarah Vogel has been in France researching which nanoparticles would be the most useful in treating brain cancer using a new treatment regime being developed by the Targeted Nanotherapies Team (TNT) of the Centre of Medical and Radiation Physics (CMRP) at the University of Wollongong (UOW).
---
For more than two months, Sarah and her colleagues worked with their French collaborators manufacturing various nanoparticles and testing their suitability for use with Microbeam Radio Therapy (MRT) and its application in targeted nanotherapies to treat brain cancer.
The treatment uses the MRT in conjunction with the Australian synchrotron, located in Melbourne, which produces light radiation 5000 times faster than what is delivered in a hospital setting, and when filtered through a specially designed collimator, can target with pinpoint accuracy the location of a tumour without impacting on surrounding healthy tissue.
It's an opportunity that was made possible through the Scholarship AINSE ANSTO French Embassies (SAAFE) program with the Australian Institute of Nuclear Sciences and Engineering (AINSE) and a generous, anonymous $100,000 donation to the TNT (UOW School of Physics/CMRP) which has been leading the research into this revolutionary new treatment protocol.
The donation was made to fund the UOW research that aims to improve brain cancer survival rates and patient quality of life through targeted multimodal therapies.
"The donation was very generous," Sarah said.
"It was encouraging to have someone who didn't know anything about us think we were doing solid research that could contribute to society and support us in this way.
"Attracting funding for research is very competitive and now that we have some, it will hopefully make it easier to get our research in front of the general public and hopefully get more."
Sarah said the generous donation not only helped to send her and one of her colleagues to France but assisted them in purchasing the essential equipment which was needed to continue with their research including animals, training, materials for specialised biological assays, and the use of highly accurate microscopes and other critical lab equipment.
"It's all the little things that add up which make research so expensive," she said.
The research team, led by Dr Moeava Tehei, head of the TNT said to date his team has produced astonishing results, but limited funding restricted their progress.
"Without this generous gift, our research team would need at least twice as long to complete the research project goals. This support will help us give brain cancer patients not only a brighter future but also a better quality of life," Dr Tehei said.
The team is investigating ways to spare healthy brain tissue during treatment while selectively targeting the cancer cells or tumours. The research also involves developing new treatment options that could reduce the total number of radiation treatments, increase the likelihood of destroying treatment-resistant brain cancer cells, improve healthy tissue recovery after treatment, and reduce cognitive and physical side effects.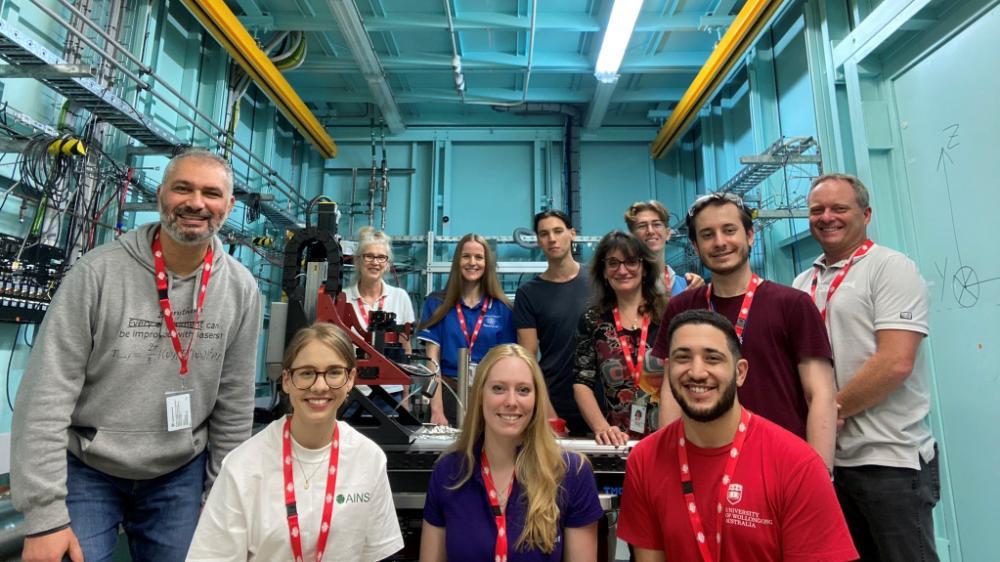 Image: UOW research team
In her UOW competition-winning three-minute thesis presentation, Sarah explained how the MRT and the use of nanoparticles are used to pinpoint the exact location into which radiotherapy should be applied, reducing the chance of destroying healthy brain tissue.
"It's using a knife-like beam to specifically target the tumour site," she said.
"And using this method, tumours can be treated with just one shot (15 Gy), whereas other treatments compromise of daily doses of radiotherapy, for many weeks."
At just 25, Sarah never thought she would find herself doing world-changing medical research.
She actually thought that after completing her degree in medical and radiation physics at UOW she would gravitate towards teaching until she took on a research subject in her final year.
"I found I really enjoyed it and I continued on with it through the summer break, ended up doing my Honours based on that research, and am now completing my PhD," she said.
"I'm a very practical person and in research, I am learning new skills.
"A lot of my days are spent in a biology lab and in France, I have been in a chemistry lab, so I am working in four or five different scientific disciplines.
"Multidisciplinary research like this is the way of the future and it is engaging and very interesting."
She said when she first became involved in the project, she knew nothing about nanoparticles or MRT or even much about brain cancer.
"It's not something that is talked about in mainstream media," she said.
"Brain cancers are not as common as other cancers like breast cancer and are very difficult to treat which often deters research funding."
The results of the current research, which is now testing the treatment on rats, have been better than expected.
So far 25 per cent of the rats on which they have been testing the treatment have survived, well above the general survival rate of other more conventional treatments.
"The (five year) survival rate for brain cancer, especially glioblastoma, is about four-five per cent," Sarah said.
"But this research is not just about curing brain cancer, it is also about improving quality of life, so while our results are amazing in terms of survival statistics, it's not the only thing we are looking for at the end of the day.
"This therapy uses only one fraction, compared to 30-40 fractions for up to 60 Gy of radiation in more conventional treatments so it is not only lengthening life expectancy but improving quality of life as well."
Sarah said she only has six months left to complete her PhD and is now in the process of writing it up.
Her long-term plan is to continue with the research, and she said the team is planning on trying different nanoparticles to decide which are going to be the most effective.
The team is working closely with the Australian Synchrotron in an effort to move towards trials in larger animals and hopefully to human clinical trials.
"The synchrotron was built with a hospital attached so the research can be done on site," she said.