The saying "it takes a village" has never been more relevant. When COVID-19 brought the world to a stand-still in early 2020, the knock-on effect of the global shutdown hit the tertiary sector and its students hard.
---
As all non-essential businesses were forced to close, the impacts were felt almost immediately. Many international students' casual jobs vanished, leaving them with little or no source of income. Fortunately, thanks to the generosity of UOW staff and the kindness of charities and the community, it wasn't long before the students received a much-needed lifeline.
The Faculty of Business and Law (BAL) reacted quickly to provide support to international students based in Sydney. The team worked with the Student Accommodation and Support Division (SASD) and the University's Sydney Business School (UOWSBS) to call the students and conduct welfare checks.
Erin Snape, Senior Manager, International Engagement at BAL, recalled how tough it was for many of the students who had only recently arrived in Australia and were new to UOW. It quickly became apparent that they needed extra support.
"They didn't have a sense of community, they hadn't had the chance to build that, some of them were feeling isolated and didn't know where to access help. They were worried about things at home and they were worried about their job losses, after hospitality all closed down," she says.
Erin and her colleagues responded quickly by initiating a food drive. They asked staff to donate what they could, not only to provide practical support but also to assure students they would not be left alone and destitute. To reach the students spread across greater Sydney, they established food collection points, initially at Redfern train station, Parramatta and Liverpool, and later in Strathfield and Blacktown.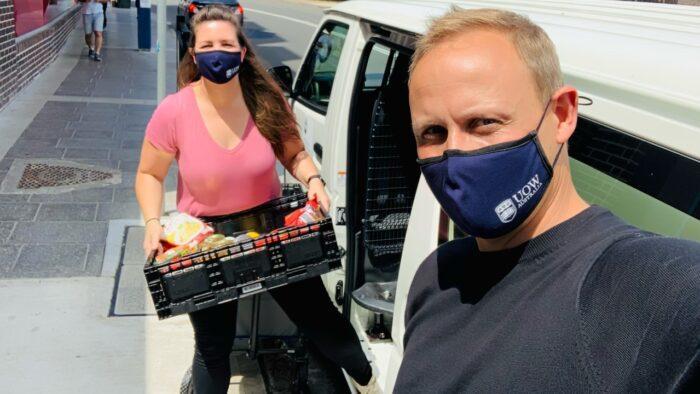 Deliveries for Sydney-based students
Days later, Erin heard about further student support initiatives in other faculties and divisions at the University, as well as outreach from local charitable organisations. All of these independent initiatives then merged to form the Food+ With Care Program based at UOW's Wollongong campus.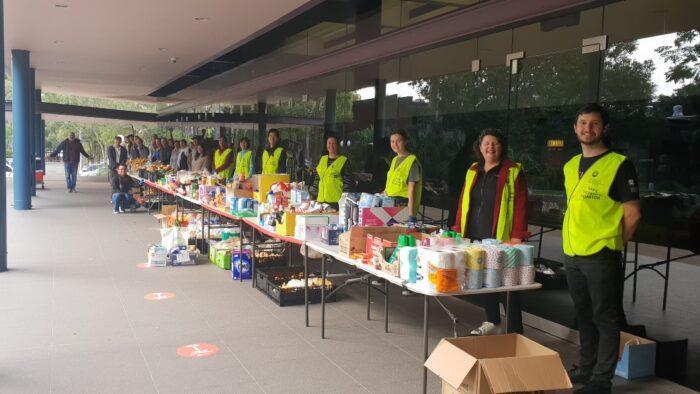 Staff and community volunteers
"We were working almost immediately with some of our community partners who had already started providing food to the students, but they were doing it outside the campus on the side of the road. So we decided, if we could all get together, we could make a bigger difference to the students," Erin says.
In May 2020, the University, its staff and community partners established a market where students could fill their shopping bags with food and other essential items. These much-needed supplies were donated by local churches and charities, including Turbans 4 Australia, the International Christian Church, Shining Star Foundation, Rotary Clubs of Corrimal and West Wollongong, Indian Australian Cultural Association, Shellharbour Community Church, Need a Feed, Keiraview Uniting Church and the St Vincent de Paul Society.
In addition to the Wollongong market, UOW staff based in Wollongong, Sydney and Liverpool campuses still continue to work tirelessly to deliver food packs to students across Sydney, regardless of which campus they attend.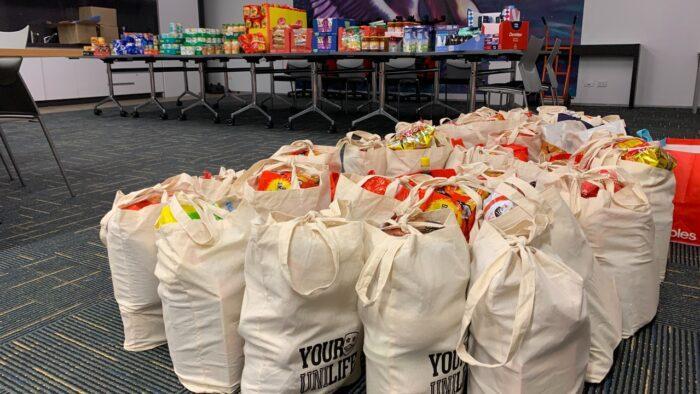 Pantry packs for students in need
Since March 2020, when the pandemic first hit, Turbans 4 Australia supplied cooked meals and more than 100 food hampers per day to international students at a number of Australian universities across Sydney, Melbourne, Brisbane, Canberra and here at Wollongong.
"Seeing people with a smile on their face and for them just to know people care about them brought the biggest tick of approval for us," says Amar Singh, President of Turbans 4 Australia.
"A lot of people have come back to us and they've said if it wasn't for you guys, we wouldn't have been able to afford this food…everyone deserves to be able to put food on their table," he affirms.
Back on campus, University staff complemented the outstanding efforts of such generous community partners. Staff not only devoted countless volunteer hours but also purchased more than 1500 pantry packs from the Wollongong campus IGA and donated money to the COVID-19 student hardship fund, raising more than $150,000. All funds raised helped purchase food and other essential items, supporting more than 4000 students over 28 weeks.
In December, the Food+ With Care team's humanitarian efforts were recognised in the International Community Engagement Award – Business and Community category of the '2020 Study NSW International Student Awards'.
Sarah Lisle, Lead Student Programs (International) at UOW, expressed the team's gratitude at being acknowledged for the award but stressed it was a collaborative effort.
"Food+ With Care is such a great example of people power in action. No one organisation has the resources to do this, but by pulling together and collaborating with community partners, we have been able to support our students through this incredibly tough time."