Longevity of philanthropic giving can make a sustained impact on the lives and futures of many. 2020 marked a key milestone for several dedicated UOW donors. Their contributions stretch back decades and blaze a trail towards a better tomorrow.
---
Bowling the long game
What began with a serendipitous conversation at the original UOW Shoalhaven campus has turned into 25 years of valuable support from Bomaderry Bowling Club for financially struggling students.
The Club's Board was undertaking an eight-week management course with the late former Shoalhaven Campus Manager, Dr Ray Cleary, when talk turned to the difficulty faced by many of the region's students in accessing and completing tertiary studies. Club Secretary Manager, Garry Wilbraham, was stunned to learn that the illusion of university as the sole domain of the gifted and fortunate was, for many, far from reality.
"Ray told us of many stories of professional people struggling through their studies, having a casual job, working in clubs trying to support themselves through university," Garry recalls.
"He suggested that the Board could start a scholarship program and guaranteed that the investment would be a great return to the community."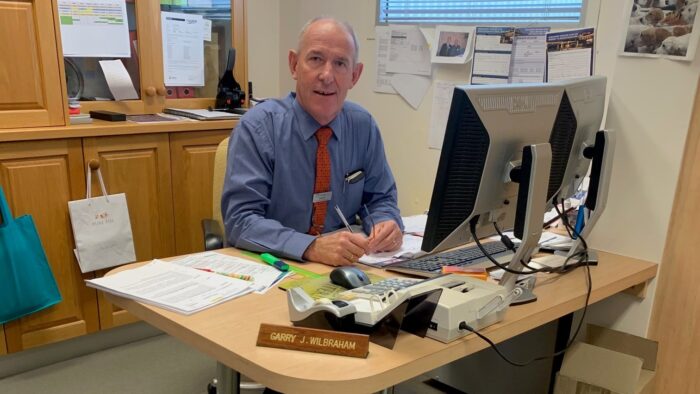 Bomaderry Bowling Club Secretary Manager, Garry Wilbraham
Thus, with agreement from the Board, the Bomaderry Bowling Club Community Scholarship was established in 1995 to help students from Bomaderry – and in subsequent years, right across the Shoalhaven – realise their educational dreams.
Since then, more than 50 UOW scholars from the Shoalhaven region have benefited from the annual scholarship which awards one student $1,000 each year for the duration of their degree. At any given time, the Club supports three students in different years of their degree. For these grateful students, the gift has relieved the financial pressure of accommodation, travel, living and study expenses, thus enabling them to focus more fully on their education.
The experience has been overwhelmingly positive for the Club, with the Board seeing first-hand how recipients have thrived.
"We have attended many graduation ceremonies, witnessed the students become professionals, and received letters and emails of thanks for their support," Garry says.
"The relationship with the University of Wollongong has made us think differently and appreciate what it takes to get a degree."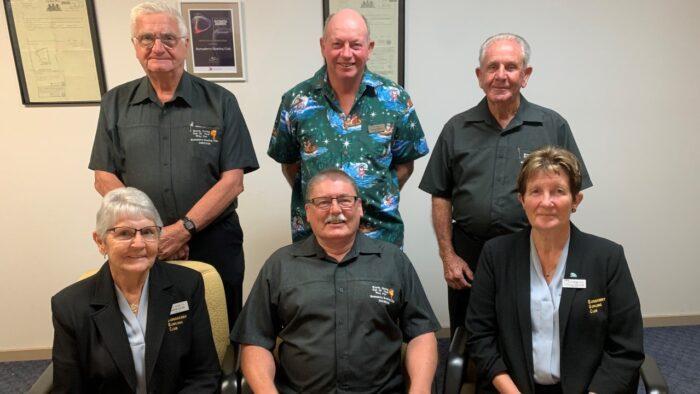 Bomaderry Bowling Club: Standing (L-R) Vice Chairman – Derek Raymond, Treasurer – Craig Jeffery, Director – Allan Kimpton. Seated (L-R) Director – Judith Croft, Chairman – Peter Ingram, Director – Carolyn Mitchell
The astonishing power of books
From humble beginnings akin to a car boot sale around 25 years ago, the much-loved Alumni Bookshop has become one of UOW's most treasured resources, offering a vital support for students experiencing socio-economic disadvantage.
The Innovation and Main Campus Alumni Bookshops, open to the broader community to donate and purchase pre-loved books, are run entirely by dedicated volunteers from the UOW Alumni Campus Chapter. Proceeds of all sales fund scholarships and awards for students, aiming to assist students in need and recognise academic excellence.
To date, the Alumni Bookshop has raised almost $300,000. Every year, it funds two undergraduate equity scholarships valued at $2,000 yearly over three years, along with 22 excellence prizes of $200 each. Thus far, more than 30 students facing hardship have benefited from scholarships and more than 160 prizes have been awarded across all faculties.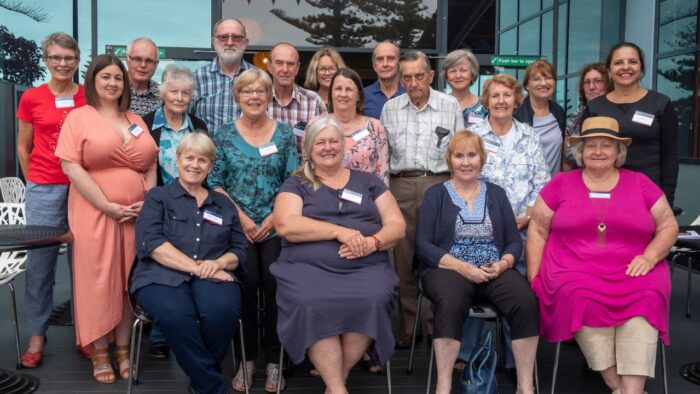 The Alumni Bookshop volunteers
UOW Alumni Campus Chapter Chair, Chris Thompson (a Fellow of the University since 2017, for extraordinary volunteer contribution), has assisted the bookshop for more than 10 years. During this time, bookshop sales have grown considerably through outreach programs, stalls at campus market days and events at several UOW campuses as well as at community events, conferences and exhibitions.
"Many volunteers work for the love of being among books while doing good for students and the University, selling affordable texts and books for all, and supporting scholarships and awards," Thompson explains.
"It's been so rewarding to hear from past students and their families who have benefited from scholarships simply by being able to follow their career aspirations. Some of them have gone on to become academics and UOW staff."
Hampered by COVID in 2020, Thompson says that the Alumni Bookshop is looking to future expansion in giving.
"We've been investigating how best to establish a research award to assist postgraduate and early career researchers in their inspiring work."
Education and opportunity for all
During her almost 40 years as a teacher focused on special education, Bronwyn Vickers witnessed first-hand the transformational power of learning.
"Education is just so empowering; it unlocks so much, even things we didn't realise needed unlocking," says Vickers.
"Every student's journey is unique, but we all have a shared purpose. I entered the profession later than most. There was no roadmap. But I truly felt that putting my heart and soul into my work and the wider community would make a real difference to the lives of students and teachers I had the privilege of working with."
Throughout her long career in the sector, Bronwyn balanced her passion for teaching with a vast array of volunteer and advocacy roles, all with a common thread: lifting others up and supporting them to achieve. For the last 10 years, Vickers has donated to UOW's Transforming Futures Scholarship program, which awards $3,000 per year over three years to students experiencing socio-economic disadvantage to help them realise their potential.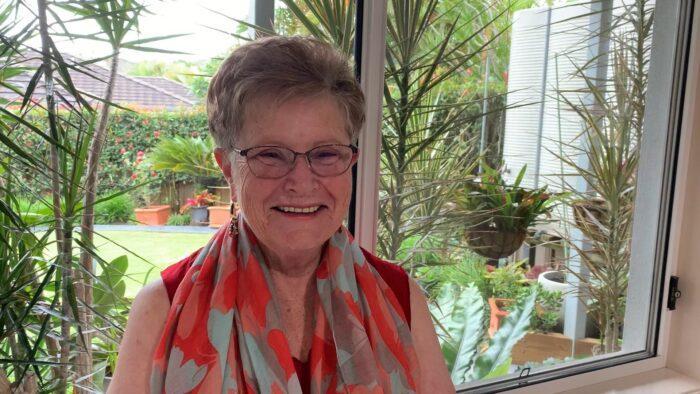 Bronwyn Vickers
"I could see how beneficiaries had been able to break out of cycles of disadvantage and create intergenerational change. The program championed those who needed a boost, someone to believe in them and ease the financial barriers they faced," she recalls.
More than 150 students in need have benefited from the equity scholarship since 2008, with 10 new students awarded annually. UOW hopes to expand the program to support 20 students per year.
"I truly believe this program isn't just very worthwhile, it's bringing real change and I feel a genuine part of that. Though now retired, I'm determined to continue my support of this program for the rest of my life," Vickers pledges.
Foundation for the future
When the Movement Disorder Foundation (MDF) reluctantly began to wind up its charity operation in 2017, its Board was keen to ensure its work would live on. Having partnered with UOW since 2014 on scholarships supporting students in engineering and medicine, the relationship offered a compelling opportunity to continue its mission.
"Our values and goals are aligned, and it seemed a logical home for our legacy to continue," explains Associate Professor Roland Bigg, chairperson of MDF.
"We've always been focused on assisting medical research that helps people with disability, particularly by devising engineering and bioengineering solutions. UOW has a strong global reputation in those areas, and we were also impressed by the support provided to students with disability."
In 2017, MDF donated a landmark $1.35 million to UOW to establish the Movement Disorder Foundation Scholarship in perpetuity, aiming to significantly improve the daily lives of people living with disability. The Scholarship, valued at $7,000 per year for up to four years, is awarded biennially to five students with physical disability.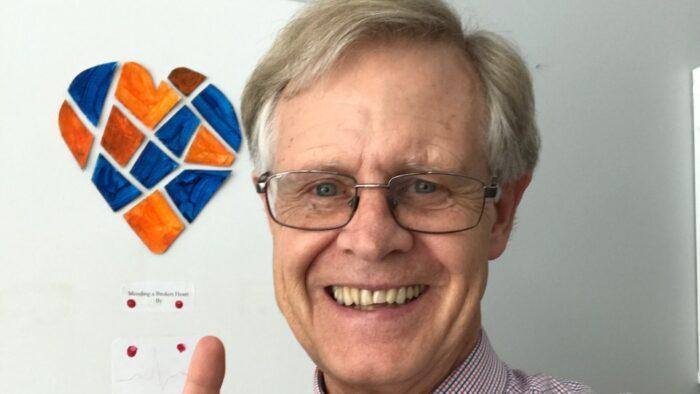 Associate Professor Roland Bigg
The second round of 10 MDF scholars commenced under the program in 2020. They are an impressive cohort of aspirational, community-minded students overcoming significant barriers to achieve. Though engineering and medical studies are a primary focus, the scholarship is open to all disciplines as part of a broader vision to create a transdisciplinary network of innovators.
MDF has also helped establish a medical research scholarship and fund which supports international collaboration, including the ground-breaking BrainGate project.
"To know that MDF's mission will continue in the long term via the good work of the University and the scholars is very reassuring," Associate Professor Bigg says.
"While it may be 10 to 20 years before we start seeing the impact being made by today's scholars, for now it's wonderful to be able to help these students to achieve in their courses."