Susie Alderman always approached her time at university by saying yes to as many opportunities as possible, whether it was work experience, volunteering or travel. This optimistic, adventurous spirit has guided her well as she settles into her new home and job in the Top End.
---
The Bachelor of Communications and Media/International Studies (Dean's Scholar) graduate recently moved to Darwin to commence a new role in person after spending the past few months working remotely while her travel plans were delayed with border closures.
As she looks back on her studies and moves forward into the world, Susie says she is incredibly grateful for all that UOW provided her with and feels well equipped to embark on her professional career.
During her final year of study, she was awarded the 2020 Honorary Chapter Scholarship and one of only three finalists shortlisted for the prestigious Robert Hope Memorial Prize, in recognition of her commitment to community engagement and passion for social activism.
Susie says she was honoured and grateful to be part of the Honorary Chapter Scholarship Program.
"My reception of the Honorary Chapter Scholarship came at a particularly vital time, as we were all navigating the new world in which we found ourselves in the wake of a COVID-19 outbreak. Having lost almost all my casual employment, and being financially independent from my parents, this scholarship relieved a significant amount of financial pressure, in turn allowing me to continue to pursue my volunteering passions, and work in building such communities in areas I see priceless and instrumental for the benefit of society," Susie shares.
"To the donors I would like to extend my heartfelt thanks and appreciation. As a student, it is not only highly appreciated to be recognised for your hard work and determination, but to also receive financial backing to continue to your studies cannot be underestimated. Being a student is expensive and at times very financially stressful, so to have had the opportunity to receive some support meant I could continue to pursue my university experience to the fullest."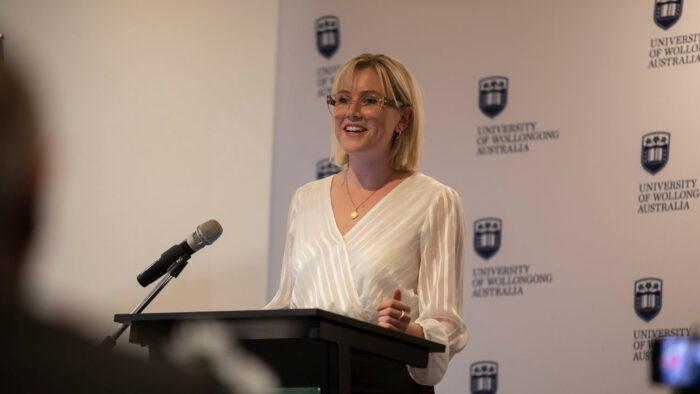 This scholarship opportunity along with her own personal motivation and positive attitude have opened many doors, with 2021 presenting a new tropical adventure.
"Moving to Darwin has been an incredibly exciting time, and has brought a whole range of new experiences, people and perspectives into my life. This job (as an International Marketing and Communications Officer at Charles Darwin University) has brought together my two major study areas perfectly and allows me to engage with a huge range of unique stories in a creative and challenging setting," Susie says.
Outside of paid work, she has continued her active involvement with the organisation Camp Quality – a non-profit organisation that helps children with childhood cancer as well as their siblings – now volunteering with a new group of people in the Northern Territory.
"I have always said yes to volunteering opportunities," Susie says. "Immersing myself in the university community has been really rewarding.
"With Hidden Harvest, I started as a volunteer and then became their Communications and Media Coordinator. I have always had a really strong passion for environmental sustainability.
"Climate change and issues like sustainability can often feel daunting and out of our control, but the responsibility for saving the world should not fall on the individual. It needs to come from small, everyday changes. My passion is trying to find fun and interesting ways to contribute to a greater cause."
Susie's achievements throughout her degree are even more impressive considering the health struggles she has faced. At the age of 14, she was diagnosed with an inoperable brain tumour. During her time at UOW, Susie underwent four major brain surgeries, which she says severely impacted her studies.
"The support offered by the University in helping me stay on track with my degrees has been greatly appreciated," she says. "Having a lived experience of disability and still making it to the end of my degree, with such an amazing experience and results, demonstrates the support offered by UOW for other students who might be experiencing any kind of difficulties."
Susie explains the experience of having a brain tumour has utterly shaped her life and the way she sees the world. She is resilient and empathetic, and firmly believes that life is too short to not pursue what you love.
"I'm excited by what the future of my life might hold and hope that my impact on society is positive and tangible. At this point in my life, I don't have a crystal-clear image of what that might look like, but I'm excited to see how my life unfolds as I continue to grow and discover myself as an individual.
"Whether it's through an exciting career, or a fulfilling continued involvement in community and volunteering, I hope that at the very least I can make one person smile each day."