August 10, 2023
Revitalising Hope: UOW Team Joins Efforts to Restore Tanzanian Girls' Dormitory
UOW and staff students journeyed 40 hours to Babati, Tanzania, restoring a girls' dormitory, bringing safety, hygiene, and hope
On June 25, 12 amazing UOW students hailing from an array of disciplines including Social Work, Psychology, Primary Education, PDHPE, International Studies and Electrical Engineering made the 40-hour flying and driving trek with me (Katrina) to Babati, Tanzania.
Accompanying the team was;
David Walker, former UOW Humanitarian Engineering Discipline Lead.
Daniel Zanatta a UOW Engineering Alumni who aided the project through his engineering capability and financial donations from his employer
and a thoroughly generous young lady, Dani, who I hope I can convince to become a student of UOW one day.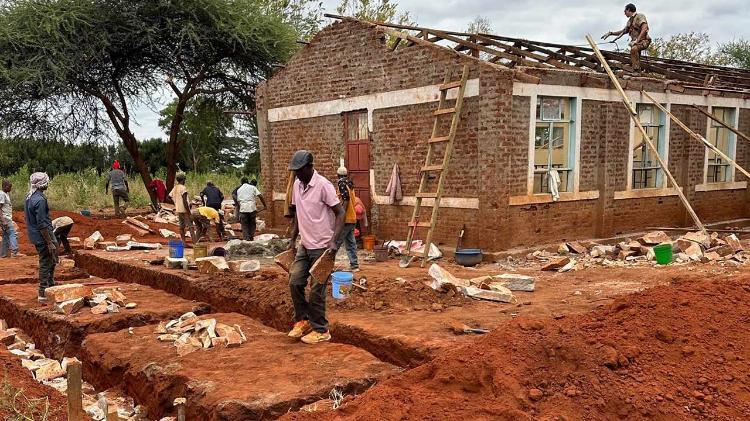 The project which had been in the wings since before COVID was the culmination of a partnership with the ASSH Faculty and Australian NGO So They Can. In March 2019, Professor Lisa Kervin and I had the privilege of being introduced to the very resource poor but rich in spirit Manyara Primary School. We were taken on a tour of the school, and it was at this moment where our hearts were broken and minds made up – this would form part of a future immersion project for UOW students.
The task was for our group to work with local staff of So They Can, The District of Babati, Manyara Primary School staff and students and community stakeholders to deliver a renovated girls' dormitory. These girls – approximately 120 in total, share a space that has enough beds for 50 meaning that sometimes 3 and 4 to a bed was the norm and where that bed may not have been equipped with a mattress, and where less than a third had access to mosquito net coverage despite this being a malaria area. We knew going in that this was a huge task but such a worthy one.
"I was most grateful that we worked with local stakeholders to deliver something that would have a long-lasting impact for Manyara Primary School and for the students that come long after the current ones have graduated"
Harry, 3rd year Engineering student
Ably prepared via a 2-day intensive and through readings curated by the superbly experienced Associate Professor Susan Engel from the School of Humanities and Social Inquiry the students have been proud ambassadors of UOW. Not only have our amazing students contributed their time and talents, they personally paid to be involved and were also responsible for raising funds to make sure the projects could be paid for. Thankfully we managed to secure some support for them through a UOW Bequest from Cynthia Brew who had the insight to know that international experiences are so valuable and enriching. I give a shout out also to Kate Bowles our ADI who was also able to provide support to our students via a UOW Travel Grant.
By the time we left our project site (8 days after we arrived) we had worked collaboratively to deliver an array of improvements including:
a repaired roofing structure;
new roofing sheets;
new guttering, which for the first time was actually connected to a water tank;
the installation of 3 new water tanks, including the installation of a solar-powered pump,
the removal of old ceiling sheets which had been harbouring a nasty squatter – bats;
the installation of a fence around the dormitory protecting the girls from the lions, hyenas and elephants that have been known to roam the school grounds;
the repair of broken windows;
the laying of a concrete slab providing for a foundation for the outdoor area at the rear of the dormitory;
the procurement of enough mattresses and mosquito nets for each bed;
and the relocation of a shipping container on site to allow for additional storage or a place for the girls to study in the future – the feat of getting this monstrous structure onto the site has certainly turned the hair of many of our group to grey.
Jordie a 4th year Primary Education student said
"the experience was one of the most special in my life. I learnt so much. Especially to be more grateful for what I have, and not to worry so much about what I don't have."
I am really proud of the work that we were able to do in our short time, but I am most proud of the way the students were so keen to learn from those around them, and make sure that what we did at the school was sustainable and delivered real and lasting impact.
If anyone is interested in supporting future projects such as these, please consider contributing via a tax-deductible donation. You can visit UOW Giving, to donate, be sure to select the Tanzania Education Program Fund.
There are too many people to thank, but I will just finish by thanking Senior Professor Sue Bennett for believing in the project, Susan for being willing to be on the team, Lisa for being a visionary, Dave for being a wonderful human, So They Can for being an awesome partner, our drivers Adam, Latao and Jackson for being willing to step in and help in so many different ways and for our students for just being inspirational. Oh and the community of Manyara Primary School who gifted us a goat by way of saying thanks, a huge honour indeed.
Katrina Gamble
ASSH Faculty Executive Manager