May 3, 2022
Husband and wife both honoured with Emeritus Professorships
Professor Shi Xue Dou and Professor Hua Kun Liu recognised for immense contribution to materials science research at UOW
Husband and wife team – Distinguished Professor Shi Xue Dou AM and Distinguished Professor Hua Kun Liu AM – were both awarded Emeritus Professorships after extraordinary lives, extraordinary careers and an extraordinary contribution to the University of Wollongong (UOW) that does not end with formal retirement.
The couple have been married for 55 years, so it seems fitting that they would be honoured on the same day, Monday, 2 May, in the same afternoon graduation ceremony at UOW's Wollongong campus.
Born into poverty in a remote village of north-eastern China, Professor Dou has described the hardship of his youth as "beyond comprehension".
"My mother often warned me, 'If you just want to play and waste your time you will regret for all your life'," Professor Dou said.
"So, my life-long motto is to be an endeavour, fighting very hard all the way from primary school to PhD study overseas with very a small percent that can get through each step."
The crowning glory of Professor Dou's career was to be the founding director and guiding light of the Institute for Superconducting and Electronic Materials (ISEM) from 1994 until 2019.
Professor Liu founded the internationally renowned energy materials research program within ISEM and has developed a national and international outstanding and most influential group.
Both Professor Dou and Professor Liu – midway through their respective second term as Distinguished Professors – retired early in September last year in order to allow the University to spend their salaries on research.
"When COVID-19 suddenly struck two years ago some young contract fellows faced jobless threat," Professor Dou said.
"We decided to relinquish two years and four months' salary package of $1m to save some researchers' jobs."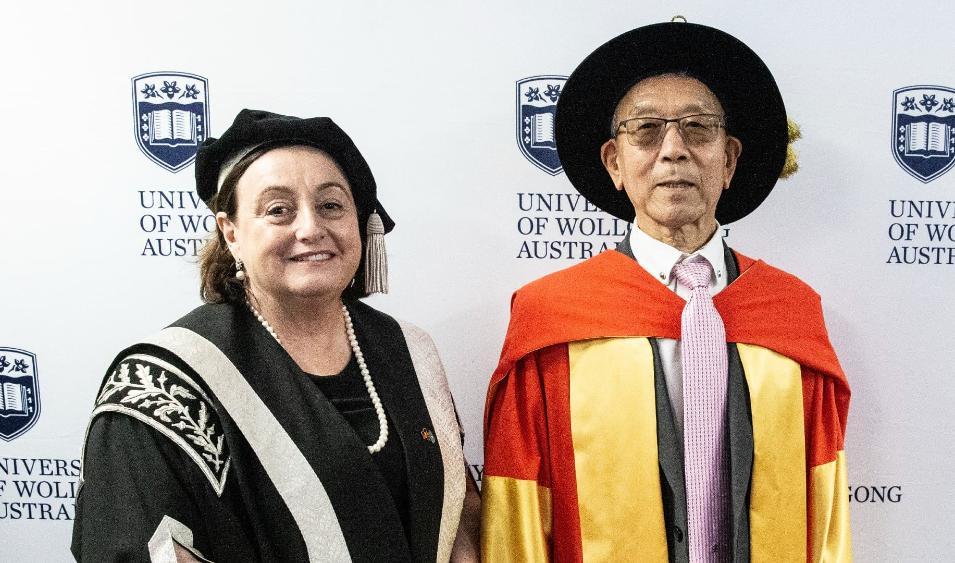 UOW Vice-Chancellor Professor Patricia Davidson with Emeritus Professor Shi Xue Dou.
They both continue to work, for free, almost full-time for the UOW.'
ISEM has been an astonishing success since it was founded, contributing:
46 per cent to UOW's Nature Index Ranking score,
50 per cent of its top 1 per cent highly cited publications (2017- 2020),
83 per cent of the highly cited researchers (2020) to UOW,
educated 240 PhDs to completion, among which more than 100 won national-level talent plans (including 80 ARC Fellowships).
Professor Dou has focused his research on energy storage materials and electronic materials, as well as their applications for commercialization and industry transformation.
His pioneering work in this field has had a significant and sustained impact on both the scientific community and industry.
"My father repeatedly taught me that 'Always try to give more to others than you get from'," Professor Dou said.
"In John F Kennedy's famous words: 'Ask not what the country can do for you –ask what you can do for the country'. This spirit has been throughout my life.
"My wife and I got the best love and support from our parents and people from two countries while we cannot return all to them, however we have passed their love to our next generation including our fellows and students."
A survivor of China's Cultural Revolution in the 1960s, Professor Liu grew up in a professional family in north-eastern China.
After graduation, she was sent to work in rice paddies and in an oil refinery as part of a campaign for re-education of intellectuals.
"I remember that it was so cold both day and the night and we had very little heating in the university farm," she said.
Professor Liu and Professor Dou came to Australia to work at UNSW in 1986, before they were head-hunted by UOW.
"Although UOW was smaller, we were promised more space and the freedom to do our research. It was a good move," she said.
UOW Vice-Chancellor Professor Patricia Davidson with Professor Hua Kun Liu.
Since joining UOW in 1994, Professor Liu has played a significant role in raising the profile of Australia's research in energy storage materials.
During her time at UOW, she has mentored, supervised and co-supervised 95 PhD students, 40 Postdoctoral Fellows and numerous visiting Fellows to completion.
Working in lithium-ion battery development, Professor Liu's energy materials research group became one of the top research groups in the world in that field.
Leading pioneering work on new battery systems she was awarded four successive highly competitive Australian Research Council (ARC) Australian Professorial Fellowships from 1994-2010.
Her team's research developed significant breakthroughs in the development of innovative technologies for a new generation of clean energy applications, aimed at achieving high energy density, high-power density and long cycle life lithium-ion batteries for electric vehicles.
As well as fundamental investigations into the electrochemical and physical properties of energy materials, she successfully commercialised several innovations, applied in industry, from her laboratory
Professor Dou and Professor Liu have been married for 55 years.