March 8, 2020
Celebrating women researchers: Vanessa Cavanagh
In the lead up to International Women's Day on March 8, each day the Global Challenges Program is profiling one of the many brilliant women we work with to celebrate their contribution to knowledge, and to celebrate all women who have contributed to creating a better, more equal world.
Vanessa Cavanagh, PhD Travel Scholarship Winner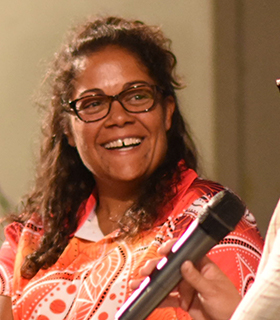 Vanessa Cavanagh is an associate lecturer in the Faculty of Social Science and was awarded a PhD Travel Scholarship by Global Challenges in 2018.
A proud Bundjalung and Wonnarua Aboriginal person, Vanessa's research interests are in Australian Indigenous Geographies, with her PhD focused on Aboriginal women's engagement in cultural burning practices in NSW. She is passionate about empowering Aboriginal women to participate in caring for Country activities, and Indigenous leadership.


What does it mean to you to be a female academic, and as a part of the Global Challenges Program?
Global Challenges assisted my research through a travel grant which I used to go to the NAISA conference in NZ in 2019. This was great to attend because it was full of brilliant Indigenous people from around the world who are doing research, many working within their communities similar to myself.
In terms of what it means to me, I am able to advocate for Aboriginal women to be heard in caring for Country activities especially cultural burning which is my area of research. It also is important for my kids and younger family members to see me doing this as a role model. My daughter is nine and she is saying that she wants to be a scientist and look after the Earth when she grows up. Its important that we show our kids and others that research can provide solutions to global problems.


Why are more women needed in this space and why should more women become researchers?
Women are important everywhere. From my experience and observation Aboriginal women are very underrepresented in research as well as in caring for Country roles. It is also a way that we can have influence, to make the changes we need for an equal society.


What makes you passionate about your research area?
I have been working to empower Aboriginal women in caring for Country roles for a long time but I hadn't realised that I was doing that, it wasn't what I set out to do. I worked in bush regeneration when I was young, then I worked in NSW National Parks and Wildlife Service for years from field based roles to women's heritage, joint management and research. All my work has lead me towards the research that I am doing now, promoting Aboriginal perspectives and leadership in caring for Country.


What does "Each for Equal" mean to you? What do you think needs to be done to ensure this?
Systems of governance need to reflect society. Equality means creating spaces at all levels (including in decision making) specifically so that all facets of community are represented, respected and heard.


Do you have an achievement in your career that you are most proud of?
I am most proud of the eight Aboriginal Riverkeeper Team trainees, who I was able to guide during my time as the Aboriginal Riverkeeper Team project manager. Each of them have gone on to work in various roles, mostly in caring for Country. Completing the Aboriginal Riverkeeper Team project was a highlight because it meant encouraging young Aboriginal people in the environmental conservation sector.


Who inspires you?
Mostly my older family members inspire me: mums, aunts, grandmothers, cousins, who have life experiences that are beyond the challenges that I've faced. Things like racism, prejudice, exclusion, yet they keep showing up and advocating for their families and communities with humility and love. I'm also inspired by my nieces and my kids, knowing that they are watching and learning is very motivating for me.