December 1, 2022
Celebrating five years of research excellence
Showcase 2022 presented outstanding contribution that UOW research makes to the economy, society and the environment
The concept of 'Knowledge Exchange' is a short phrase describing a complex process in which university research becomes the products and services of tomorrow. For the industry and community, it means smarter healthcare solutions, more efficient buildings, a cleaner environment and a wide array of other technological innovations that ultimately improve our lives.
In the last five years, the University of Wollongong (UOW) has generated over $32 million in commercial research income according to (UOW) Innovation and Commercial Research Unit (ICRU) reports. The University also had 32 patents granted and launched six spinout companies that have gone on to raise more than $50 million in investor capital. Meanwhile, UOW's iAccelerate incubator program has helped many more start-up companies find their feet as part of a thriving innovation ecosystem that continues to grow in the Illawarra.
To celebrate the outstanding contribution UOW researchers have made to the Illawarra industry and community, today (Thursday 1 December), ICRU have hosted Showcase 2022, an event presenting the best ideas and research collaborations from across the University.
Dr Paul Di Pietro, UOW Dean of Research Knowledge Exchange and Translation, said that although commercialisation is about bringing new products or services to market, which is often associated with financial gains, Showcase 2022 was a celebration of the outstanding work of UOW researchers and their impactful collaborations.
"We have so many hard-working, dedicated and passionate researchers who are experts in their fields and want to make a difference. Today, we wanted to take stock, identify our exemplars, many of whom are quiet achievers, and acknowledge them and their work in a meaningful way," Dr Di Pietro said.
Professor David Currow, UOW Deputy Vice-Chancellor (Health and Sustainable Futures) and Interim Deputy Vice-Chancellor (Research and Innovation), congratulated UOW researchers and collaborators on their achievements.
"Research impact is what really counts. It's a key contribution that the University makes to the environment, our economy and society beyond our contributions to the broader body of knowledge of academic research output. I am very proud of everyone making these impacts," Professor Currow said.
The first part of the event was the Formal Showcase, which featured a series of presentations on successful research and industry partnerships, and a case study in community impact, delivered by Brett Connellan, the inspirational Kiama shark attack survivor. Brett shared his rehabilitation story, which was supported by UOW physiology researcher James Forsyth and how he has begun to give back to UOW's research community through his contributions to the Surf Flex Lab.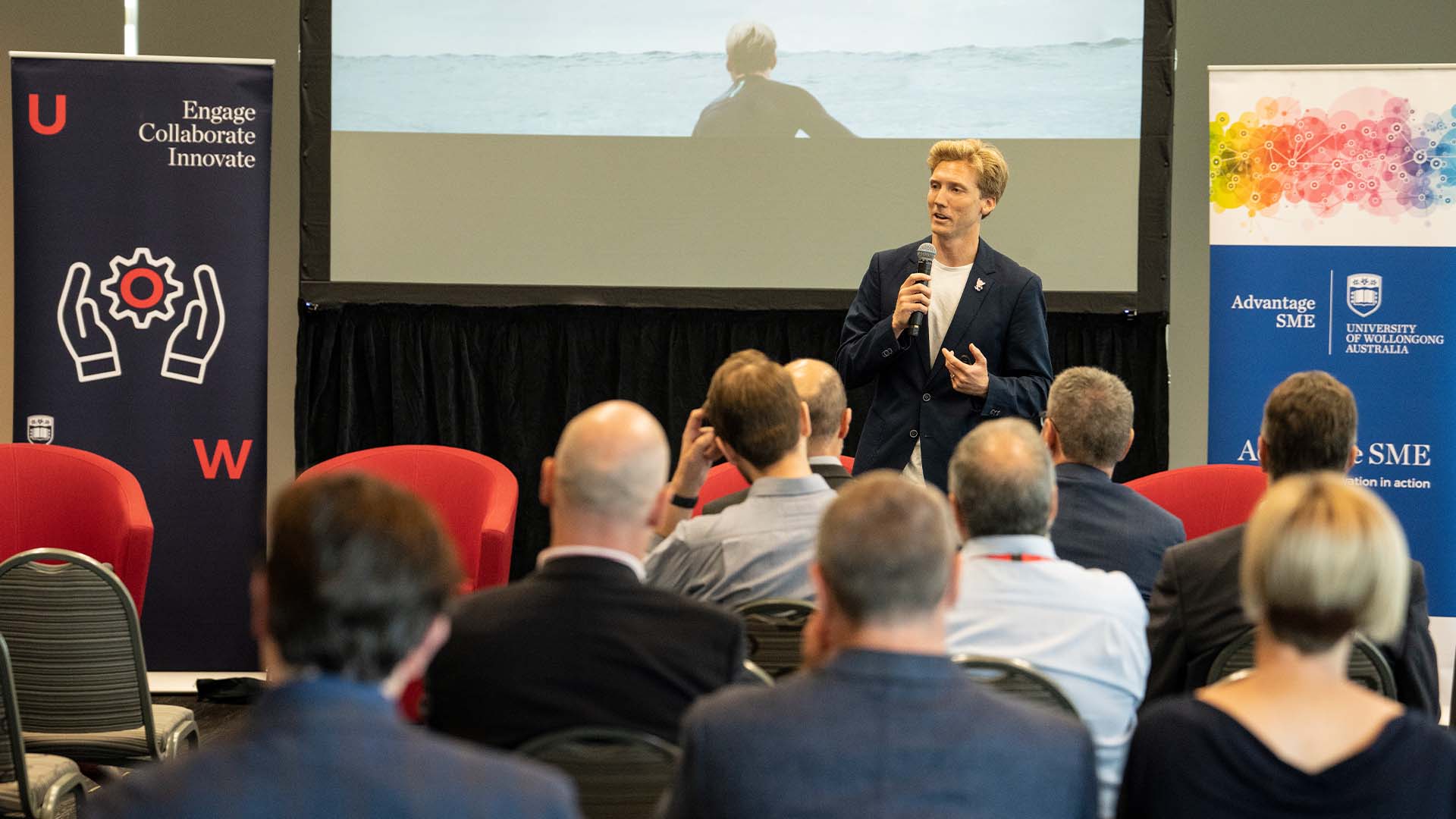 Brett Connellan, the inspirational shark survivor, talks to the Showcase 2022 audience about his rehabilitation journey.
During an awards ceremony, UOW's Best Advantage SME and Best Commercialisation projects were recognised, and outstanding academic researchers and staff celebrated.
In the first category, award recipients included Professor Stuart Johnstone, Dr Amy Chan and Associate Professor Steven Howard for contributing to the project Grow Your Mind, a social and emotional wellbeing program for pre- and primary school-aged children, educators and families. The UOW research team assisted Grow Your Mind with a randomised controlled study involving primary school teachers and students as participants.
Professor David Officer received a nod for helping IRT Resource Technologies apply their edge-functionalised graphene materials for applications in the highly conductive formulation used for sensing sheets.
The third recognition award went to Dr Shiva Pedram, Dr Sal Sanzone and Dr Grace Kennedy for collaborating with Vantari VR, a med-tech start-up focused on developing virtual reality training systems for medical students and practitioners.
In a second award category (Best Commercialisation Project), Professor David Officer was again recognised, this time for the development of Edge Functionalised Graphene (EFG) and its successful commercial application in partnership with Sicona Battery Technologies.
Professor Stuart Johnstone received an award for Focus Pocus, a software that helps children with ADHD improve attention, memory and impulse control skills. This project came to life through a collaboration with a Japanese partner, NeuroSky, a manufacturer of (EEG) Mindwave headsets.
Finally, Professor Gerhard Swiegers was awarded for developing novel catalyst systems for hydrogen production in partnership with Hysata.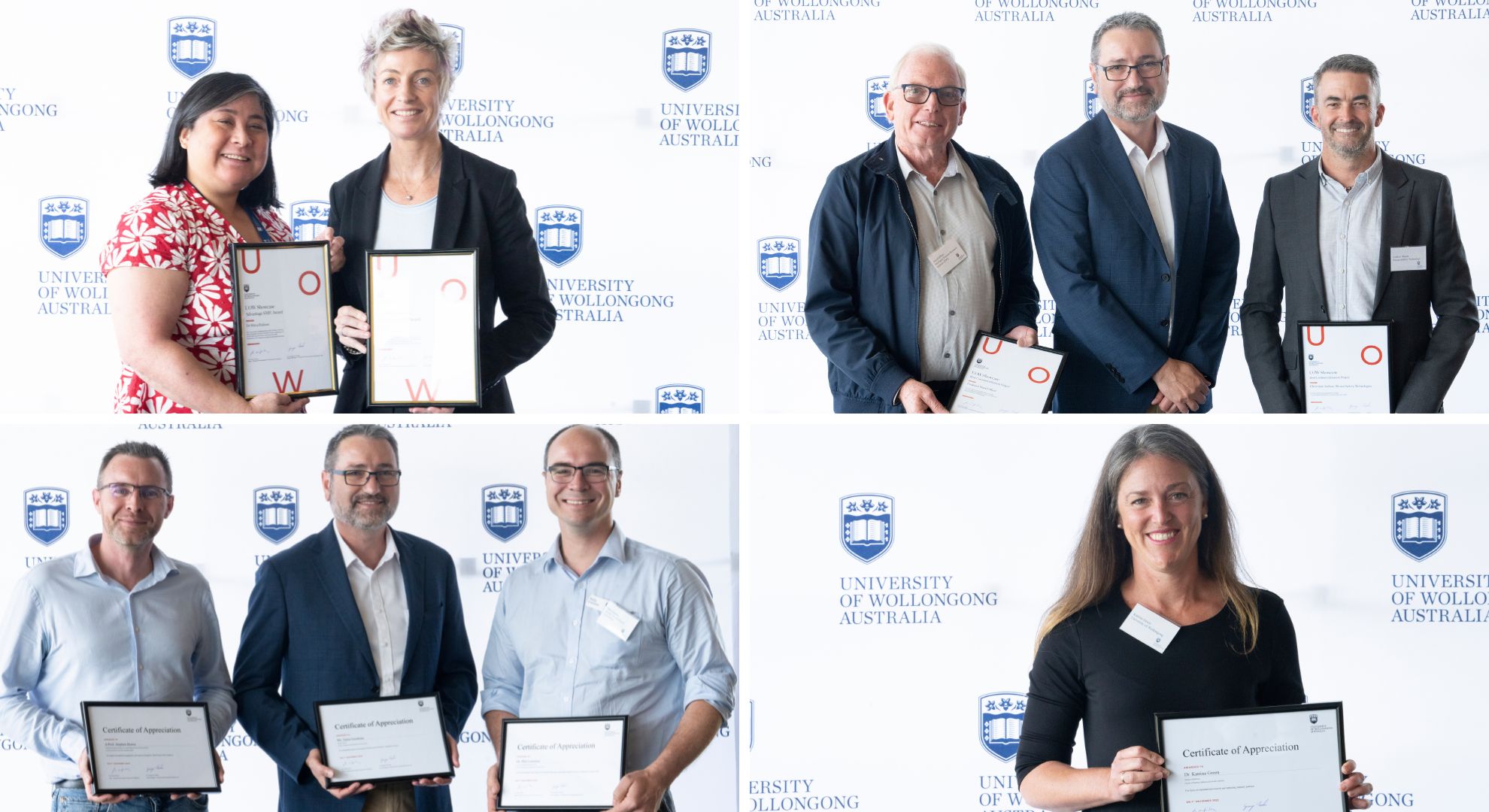 Some of the outstanding researchers and staff who were awarded and recognised during the Showcase 2022 event.
The Community Showcase, which run in the second part of the day in the IC Atrium, welcomed friends and family to share in the festivities. Visitors enjoyed interactive science exhibits from the UOW Science Space and booths featuring UOW research partnerships in robotics, Virtual Reality (VR), sustainable buildings, 3D printing and tissue engineering.