UOW academic awarded research grant to improve communication with people with dementia
Associate Professor Lyn Phillipson recognised by the dementia centre for research collaboration
---
The Dementia Centre for Research Collaboration (DCRC) has awarded University of Wollongong (UOW) Associate Professor Lyn Phillipson a research grant for a project which helps enhance communication between people with dementia and their care providers.
The Implementing Research Evidence into Practice Grant, worth $50,000, is intended to support the implementation into practice of an existing dementia product or program that has previously been developed and piloted.
Professor Phillipson's project Adaption, implementation and evaluation of the 'Talking Mats for Supported Home Care Planning' intervention for people with dementia focuses on training and studying the use of 'Talking Mats' within two aged care providers to promote greater engagement of people with dementia in the active planning of what supports they want from their 'consumer directed'care packages.
Talking Mats, developed by speech and language pathologists at the University of Stirling in Scotland, are a visual tool to aide thinking and provide support for people with communication difficulties to express their views about things that matter to them. The mats can be physical or digital and use picture symbols to help people communicate. They can have a positive impact on the quality of life of people with dementia.
Associate Professor Lyn Phillipson and Dr Louisa Smith use a Talking Mat.
Professor Phillipson, an award-winning public health academic in the School of Health and Society, says she is delighted to be awarded the DCRC grant.
"I'm honoured to receive this grant and about the potential of Talking Mats to enhance communication between people with dementia and their Home Care Package providers," Professor Phillipson said.
"I am one of only a few accredited Talking Mats trainer in Australia and this grant allows me to use my role to promote their use to aid care planning and improve care outcomes for people with dementia who receive Home Care to help them stay at home.
"It can be really challenging for people with dementia to communicate their preferences, especially regarding their care, and Talking Mats provide a way to do this.
"We already have evidence from research that Talking Mats can enhance the ability of people with dementia to communicate – so the challenge now is how we can support Talking Mats to become part of the toolkit used in the everyday practice of home care providers."
The research project will specifically explore what barriers and enablers exist to make Talking Mats part of aged care providers everyday care planning practices – and what benefits are experienced from their use by people with dementia, their carers and the providers.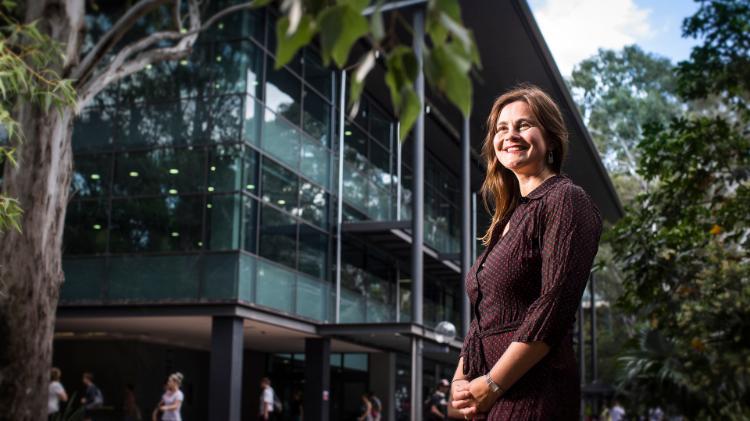 Associate Professor Lyn Phillipson.
Professor Phillipson was one of seven grant recipients of the Implementing Research Evidence into Practice Grant 2020.
Funded by the Australian government, the DCRC's primary research focal points within the broader topic of dementia research are prevention, assessment and diagnosis, intervention and treatment, living with dementia and care.
Professor Belinda Goodenough, Dr Kate Williams and Dr Louisa Smith (UOW), Dr Craig Sinclair (USNW), and Prof Lee-Fay Low (USyd) are investigators on the research team. Whiddon, Bluehaven Care and Talking Mats Ltd are also partners in the research project.