July 16, 2014
Iconic 1960s OZ magazine now available online
UOW digitises iconic alternative magazine that caused a furore throughout Sydney in the 1960s.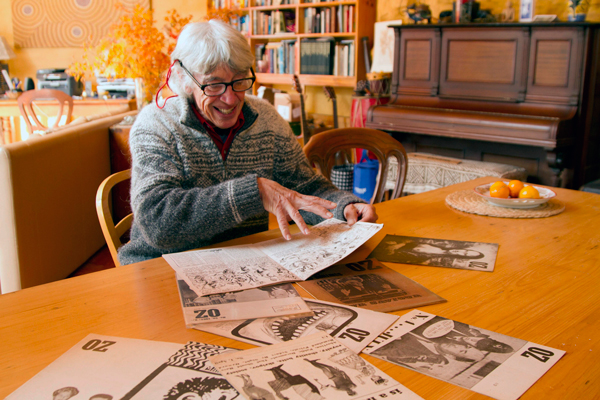 Richard Neville with copies of OZ Sydney.

Available online via UOW's Research Online open access digital archive, people of any age can delve into a time capsule of content from Australia in the 1960s from anywhere in the world.
When the first edition of OZ hit the streets of Sydney on April Fools' Day 1963, readers were confronted with a frank conversation about the then illegal act of abortion. With each subsequent edition, filled with controversial and satirical coverage of the day's issues and events, the magazine pushed the boundaries in an era of social change in Australia.
"I think we were coming to a time when there was a shift of some sort and the more that shift began to show itself, the more other people got interested in what was going on," founder and co-editor of OZ, Richard Neville, said.
Over a period of seven years, OZ earned itself a reputation as an underground publication where youth used their words and artwork to express dissent toward social and cultural conservatism. On more than one occasion, the editors were charged with obscenity.
"There was a general climate of growing cultural and political dissent [in the 1960s] that OZ fitted into but what it added was a scatological sense of humour, and it did that quite brilliantly," UOW history and politics lecturer Dr Anthony Ashbolt said.
As a resource for historians, researchers, or those who just wish to reminisce, OZ magazine, resurrected in a digital format, provides a snapshot of a tumultuous time from an alternative point of view, and a portfolio of some of Australia's endearing creative minds, including artists Martin Sharp and Garry Shead, author Bob Ellis, and art critic Robert Hughes.
 "UOW Library is the only library in the world that has the complete digitised set of OZ," Margie Jantti, Director of Library Services, said.
"The world now has the opportunity to be introduced to OZ."