Health Minister meets Illawarra's women in science
NSW Health Minister Jillian Skinner MP visited the Illawarra Health and Medical Research Institute (IHMRI) based at UOW today (Thursday 4 December) to meet with four young female researchers at the cutting edge of their fields.
---

NSW Minister for Health and Minister for Medical Research, Ms Jillian Skinner tours IHMRI's headquarters, laboratories and Clinical Research and Trials Unit. She is pictured with NSW Member for Kiama, Mr Gareth Ward, and members of IHMRI's Illawarra Born Study. 
Ms Skinner, who is also the NSW Minister for Medical Research, met with Dr Kara Perrow, Dr Sheridan Gho, Dr Sarah Loughran and Dr Michelle Townsend to hear about their research on breast cancer drug discovery, an innovative medical device, a world-first sleep study investigating the effects of mobile phone use on children and the first longitudinal study to examine the health of Illawarra-born babies and their families.
IHMRI Acting Executive Director Professor Brett Garner said it was an outstanding opportunity to showcase the translational potential of medical research undertaken at IHMRI.
"Minister Skinner experienced first-hand the breadth and depth of research undertaken in the Institute, which included studies on childhood development through to development of nanotherapeutics for breast cancer treatment," he said.
"IHMRI clearly demonstrated that substantial research momentum that has developed in a relatively short period of time since the Institute opened in July 2009."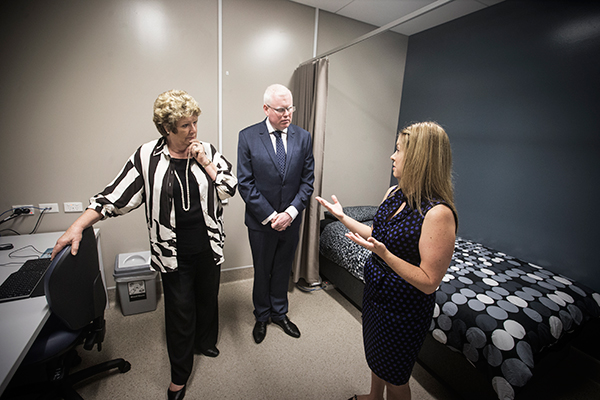 Ms Jillian Skinner (left) with Mr Gareth Ward and UOW researcher Dr Sarah Loughran.
Dr Michelle Townsend, in conjunction with Scientific Director, Professor Brin Grenyer, are leading  a unique study to examine the health and wellbeing of three generations of Illawarra-born families to determine the developmental origins of health and disease in the region. Currently in the feasibility phase, the 'Illawarra-born' study will survey parents about prenatal development, parenting choices, baby health and their own physical and mental health, as well as monitor blood levels and examine DNA markers of chronic health conditions.
Dr Kara Perrow leads the Targeted Cancer Therapeutics Laboratory at IHMRI, where researchers are developing a new generation of targeted anti-cancer drugs. Her work is the first to look at combating the breast cancer tumour biomarkers, uPA and HER-2, which play a key role in promoting aggressive tumour growth. Current medicines only target HER-2, leaving a proportion of surviving breast cancer cells that are uPA-positive, which go on to metastasise.
Dr Sheridan Gho, from Breast Research Australia based at UOW, is  developing an innovative 'Lymph Sleeve' to relieve the symptoms of breast cancer-related lymphoedema which is a build of lymphatic fluids in the arms that can lead to swelling, heaviness, pain and discomfort. The sleeve is woven with intelligent fabrics that act as artificial muscles to massage patients' arms. 
Dr Sarah Loughran, from the Australian Centre for Electromagnetic Bioeffects Research, is investigating how radio frequency emissions from mobile phones, base stations and WiFi affect child and adolescent development, healthy ageing, depression, thermoregulation and general health. At IHMRI Dr Loughran will soon begin recruitment for the world's first sleep study investigating the effects of mobile phone radiation on children.