On Djiringanj Country, UOW Bega Valley has a proud connection with local Community
Sharing culture at Graduation
The 2023 UOW Bega Valley Graduation was opened with an Indigenous ceremony led by Djiringanj women and children. The Djidjarns, local Djiringanj choir, sang in Djiringanj language to celebrate the student's educational journey and success. Djiringanj Elders Glenda Dixon and Ellen Mundy said the Indigenous Ceremony had been the first of its kind at a University Graduation Ceremony in Bega. The Djiringanj Elders and women worked with UOW Bega's Indigenous Student Success Advisor, Emma Stewart, to collect ochre and create cultural necklaces and earrings on country at Mogareeka. These were presented by the Elders to the three Indigenous graduates after the formal proceedings in the Bunaan ring located within Littleton Gardens, Bega.


"Recognition of the Djiringanj people, community and culture is important. We want to encourage Aboriginal students and community to feel safe and comfortable to study at UOW. We want a good relationship between Aboriginal and non-Aboriginal people. Working with UOW Bega is creating meaningful reconciliation and positive change for our community" – Aunty Ellen Mundy, Local Djiringanj Elder.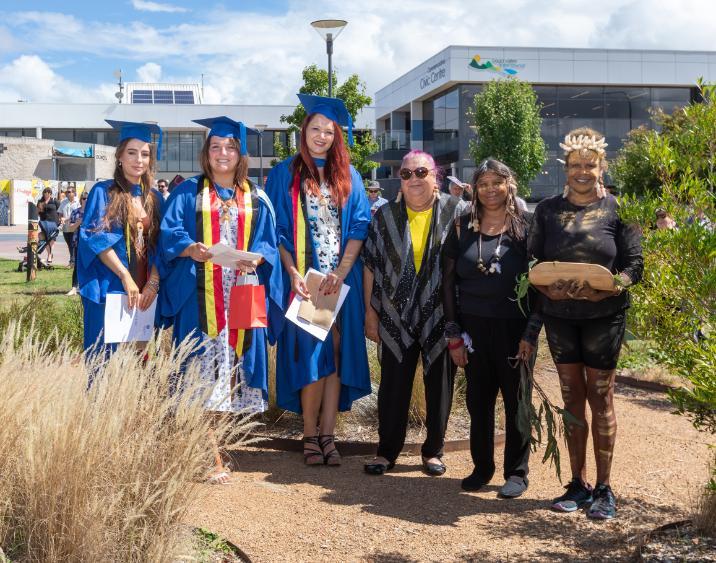 UOW Bega 2022 Indigenous Nursing graduates Charlotte Smith-Bull, Briony Ferris & Kayla Crofts with Aunty Glennda Dixon, Aunty Ellen Mundy & Bronwyn Luff
The story of Bega
In 2022 a collaborative community project began with local Djiringanj Elders, Aboriginal community members and UOW Bega staff, envisioning to create a cultural safe space at the entrance of the campus.
After consulting, listening and learning from Local Elder Aunty Ellen Mundy, and Djiringanj artist Bronwyn Luff, "My Dreaming Track of Knowledge with Community and Elders" was created, an artwork depicting the story and cultural significance of the Bega Valley.
Aunty Ellen Mundy has shared 11 words in local Djiringanj language, which have been shared within a teaching resource and website for local community to learn more about Djiringanj culture and the significance of Bega. These words, their pronunciation and the cultural significance depicted within the artwork is shared below.

"My Dreaming Track of Knowledge with Community and Elders" by Bronwyn Luff
My Dreaming Track of Knowledge with Community and Elders
Artist: Bronwyn Luff, Djiringanj and Ngarigo descendant.
Elder and Knowledge Holder: Aunty Ellen Mundy Djiringanj and Ngarigo descendant.
Burnagga
The Tree Iguana (Burnagga) is one of the local totems and a sign of water being nearby.
The Sun
The sun represents the female energy because the sun generates and gives birth. Giving good energy to the land and community.
The wattle
The wattle is a sacred food source and was used for flour or medicines.
Bega Valley
Bega Valley is a sacred valley to many tribes on the South Coast as well as up on the Monaro. Bega is a meeting place where tribes had big gatherings and ceremonies.
Bunan Rings
The centerpiece of the artwork represents ceremonial bora rings, in local language known as bunan rings. Ceremony is the time of teaching lore and gaining knowledge for young men and women to be initiated into manhood and womanhood. So it's like going to universities or college today.
The bogong moth
The bogong moth known as cori in Ngarigo language was a food source that the community used during ceremony.
The tree
The tree represents knowledge, family connection and history. Bega has many scar trees or carved trees which recorded and connected cultural knowledge and significant events.
The walking tracks
The walking tracks represent our Elders and community sharing their knowledge in our yarning circles and bunan rings.
Remember means Bunja
Think is Bundjala
Answer, Burraaali
Grow, Dhuri
Talk, Gumung
Strong, Mundar
Sit, Bagama
Get up, Badjga
Camp, Coonjee
Give, Bindi
Tall, Burnung
Djiringanj Language
| Word | Meaning |
| --- | --- |
| Bunja | Remember |
| Bundjala | Think |
| Burraaali | Answer |
| Dhuri | Grow |
| Gumung | Talk |
| Mundar | Strong |
| Bagam | Sit |
| Badjga | Get up |
| Coonjee | Camp |
| Bindi | Give |
| Burnung | Tall |
The artwork, stories and language depicted in this project remains the cultural and intellectual property of Aunty Ellen Mundy and Bronwyn Luff. Schools and community groups wishing to utilise these words and resources are warmly invited and encouraged to contact Bega Lands Council to organise knowledge sharing events with local elders.
Thank you to Aunty Ellen Mundy, Aunty Glennda Dixon, Bronwyn Luff, Erika Luff & Marcus Mundy, cultural knowledge holders and valued friends of UOW Bega Valley. Thank you to cultural connector Emma Stewart, UOW Bega Valley Indigenous Student Success Advisor.