Vice-Chancellor proud of University's immense success in research, teaching, and business partnerships
---
One of Australia's most influential university leaders is keen to feel the sand beneath his feet during retirement, but Professor Paul Wellings CBE will not be spending all his time at Wombarra Beach.
The University of Wollongong's (UOW) fourth Vice-Chancellor and Principal is stepping down from the role after almost a decade at the helm, but Professor Wellings' immense knowledge of the policies shaping research and higher education, both national and internationally, will continue to be instrumental, particularly in the Federal Government's recently established University Research Commercialisation Scheme Taskforce.
"But I don't want to overload myself after working for 40 years and I want to enjoy some time at the beach," he says with a smile.
Professor Wellings leaves an enduring imprint on UOW, having guided the investment of more than $870 million in transformative initiatives and successfully steered the institution in new directions. During his tenure, UOW expanded its national campus network with the South Western Sydney Campus in Liverpool and its international footprint with campuses in Hong Kong and Malaysia.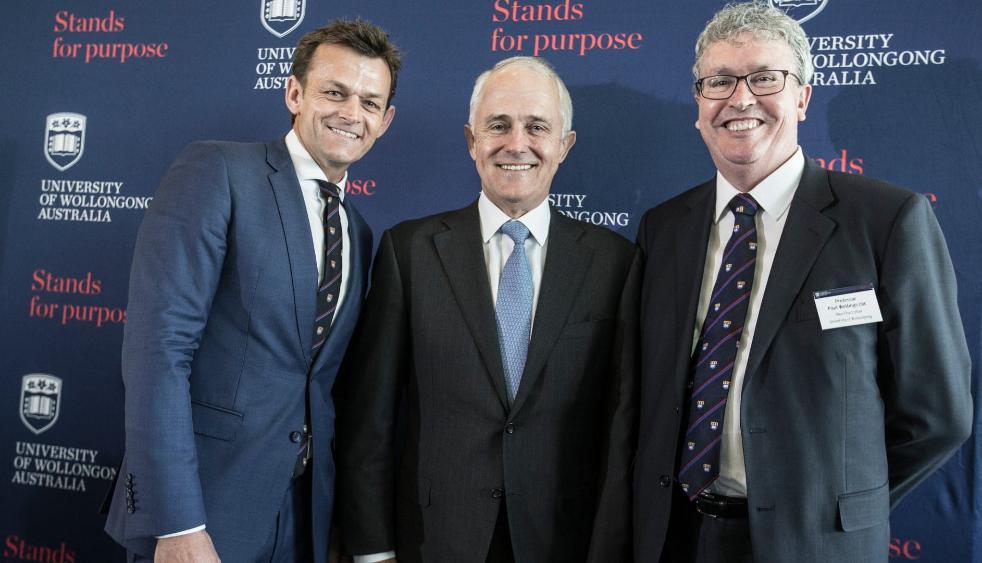 Former Australian Test cricketer and UOW Ambassador Adam Gilchrist, with former Prime Minister Malcolm Turnbull and Professor Paul Wellings at the announcement of Molecular Horizons in Canberra in 2016.
Professor Wellings drove the establishment of groundbreaking new research and teaching facilities including the Sustainable Buildings Research Centre, Early Start, SMART Infrastructure Facility, the Sciences Teaching Facility, the Jillian Broadbent Building, and Molecular Horizons. He has also overseen the establishment of the iAccelerate start-up business incubator and accelerator at the Innovation Campus as well as the launch of the global football partnership between UOW and the Tottenham Hotspurs.
"Running a university is like running a relay race, the baton keeps getting passed on," he says.
"When I started here [succeeding third Vice-Chancellor Professor Gerard Sutton AO in January 2012], the University was superbly run and had a long list of accolades, so I think trying to lift its research profile while maintaining the student experience was the broad target I set out to do."
And it is a target Professor Wellings has achieved. Under his leadership, UOW has climbed from being ranked in the top 2 per cent of universities globally to now be placed in the top 1 per cent. In addition, his passion for research has been reflected in the University's research performance and strengthened reputation.
"The amazing thing is we've been able to build up our research capacity while also building the quality of our education environment and expanding our distinctive offshore portfolio," Professor Wellings says.
Clockwise: Professor Paul Wellings (far right), with past and future UOW Vice-Chancellors Emeritus Professor Gerard Sutton AO, Professor Patricia Davidson, artist Guy Warren, Emeritus Professor Ken McKinnon AO at the launch of the Guy Warren exhibition in May; launching the Sciences Teaching Facility at UOW in 2015; Professor Paul Wellings with UOW Chancellor Christine McLoughlin for his last Council Meeting this year; and with UOW alumni Jake Trindorfer at an AIME event in 2019. Photos: Paul Jones
Other initiatives he is extremely proud of include the creation of UOW's Global Challenges Program, the University's work in gender equality, and the reorganisation of the Illawarra Technology Corporation (ITC) into UOW Global Enterprises.
"Global Challenges was a really satisfying thing to do as we were able to build something from scratch that became world-class very quickly," Professor Wellings says of the interdisciplinary research space which has also significantly increased community and partner engagement.
The Global Challenges Program now takes a lead role in the University's comprehensive contribution to the UN's Sustainable Development Goals throughout its research teams, and supports the next generation of research leaders. The program provides a staggering eight-fold return in funding on investment.
With regards to UOW's leadership in gender equality, Professor Wellings says the University had been closely monitoring the work of Athena SWAN in the UK for some time before becoming one of the first Australian universities to take part in the program. He adds that recent changes to the University's superannuation system will have a big impact in providing vital support to the University's female staff into the future.
"Meantime, ITC was working but Global Enterprises is now brilliant, and I'm particularly proud that we've been able to sustain UOW College while also growing a very distinctive offshore portfolio," he says of the initiative which delivers on UOW's ambition to be a global network through the development and operation of offshore campuses and pathways to university.
"We've done well to keep going at a fair clip on lots of initiatives."
Professor Wellings adds that he is grateful to the University's alumni, supporters and other donors who have been core to its capacity to impact positively on society. UOW's Advancement Division was established soon after Professor Wellings arrived at the University. He says the fastest growing aspect of the University is its alumni and that 2020 was the first year the Advancement Division had raised $10 million in gifts to UOW.
It hasn't just been within the confines of UOW that Professor Wellings has earned plaudits for his intellect, energy and drive. At the same time, he has championed the Australian university sector's role in creating new knowledge to transform communities and industries. As part of this, he has helped drive programs that have increased UOW's links with small- and medium-sized enterprises (SMEs), along with other partnerships within its communities. As such, the University has greatly diversified its portfolio of activities and successfully responded to the needs of employers. This is reflected in UOW being ranked in the top 200 universities in the world for the quality of its graduates.
Professor Paul Wellings with then Minister for Social Sciences Scott Morrison at the opening of Early Start in 2015. Photo: Paul Jones
The Nottingham-born environmental scientist began his academic life more than 40 years ago, at King's College in London. Educated at the universities of London, Durham, and East Anglia, Professor Wellings moved to Australia in 1981 to take up a role as a research ecologist at the CSIRO. His first leadership roles came when he was appointed Assistant Chief of the Division of Entomology in 1994 before becoming the Division Chief the following year.
He quickly learned the workings of government and the importance of "working with the grain of the wood rather than against it" when, in 1997, he was seconded to the Australian Federal Government's Department of Industry, Science and Tourism as the Head of Science and Innovation Division. In 1999, he became Deputy Chief Executive of CSIRO and he remained in that role until 2002, when the lure of academia drew him "home" to Lancaster University – one of the UK's leading research universities.
With a keen interest and deep understanding in the development of higher education and research policy, Professor Wellings was appointed to the board of Universities UK in 2006 and was chair of its European Policy Committee. He was also a board member of the Higher Education Funding Council for England and Chair of its research and innovation committee. He remained Vice-Chancellor at Lancaster until 2011, when he returned to Australia to become Vice-Chancellor at UOW in January 2012.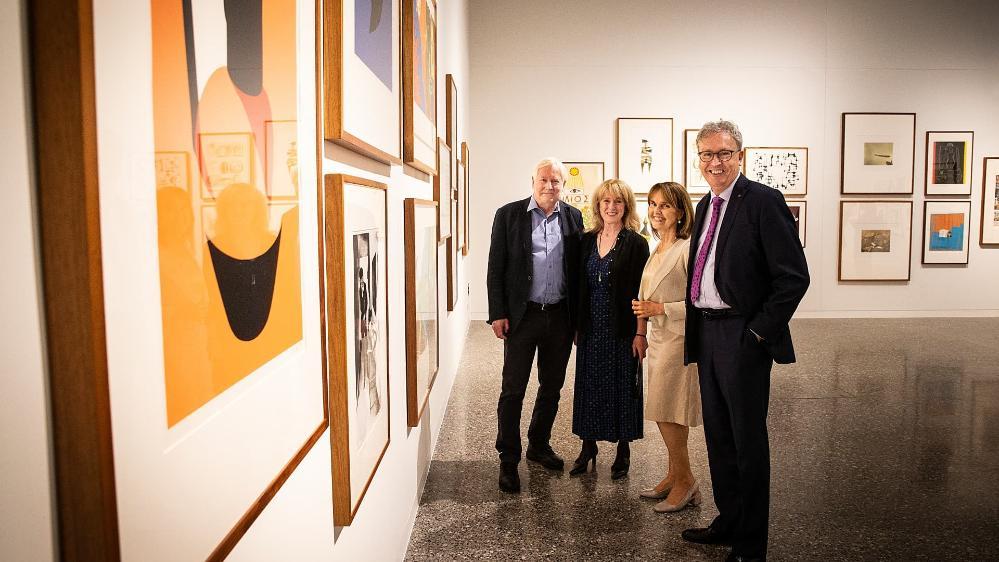 Dr Douglas Kagi, Heather Bolton, Dr Annette Wellings, and Professor Paul Wellings at the Douglas Kagi exhibition at UOW. Photo: Paul Jones
Professor Wellings was appointed Commander of the British Empire in 2012 for services to higher education and has made significant contributions to state and federal bodies as an advisor on such issues as research infrastructure, performance funding and sustainable growth of the higher education sector. He received an Honorary Doctor of Science from Lancaster University in 2014 and an Honorary Doctor of the University from the University of Surrey in 2019.
In 2019, the Australian Financial Review named Professor Wellings as one of the five most influential people in education after his pivotal role in a federal ministerial higher education funding review. He has also been described as one of a handful of Australian vice-chancellors who work well with government.
Professor Paul Wellings with former NSW Premier Mike Baird at the announcement of UOW South Western Sydney in Liverpool in 2016. Photo: Paul Jones
Professor Wellings has extensive board experience as a Director of the Australian Nuclear Science and Technology Organisation (ANSTO), the Australian Centre for International Agricultural Research (ACIAR), and the Cumbrian Rural Regeneration Company. Among his many memberships, he currently serves on The Global Foundation and the Sir John Monash Foundation boards and was appointed to the recently established Commonwealth Government's University Research Commercialisation Scheme Taskforce.
Professor Wellings leaves behind an immense legacy at UOW. In recognising his outstanding leadership and contribution to the institution, the University Council dedicated the landmark Molecular Horizons building in his honour when it was opened on 30 April.
Clockwise: Professor Paul Wellings with NSW MP John Barilaro and former UOW Deputy Vice-Chancellor (Research and Innovation) Professor Judy Raper, at the launch of the Desert Rose Solar Decathlon in 2018; with Wollongong Lord Mayor Gordon Bradbery; at the unveiling of the sculpture Genesis, with artist Gaby Porter and former UOW Chancelllor Jillian Broadbent in 2018; with the Honorable Michael Kirby at UOW in 2021, during the unveiling of the Rainbow Stairs. Photos: Paul Jones
He is confident the University's growth in initiatives and reputation will continue now that he has passed the baton on to fifth Vice-Chancellor Professor Patricia Davidson, pointing to the Health and Wellbeing Precinct at the Innovation Campus and the continued expansion of the South Western Sydney Campus at Liverpool as significant items on the agenda.
"One of the great things about universities is that they are always shaped by the 18-year-olds who come through every March, so our attitudes are always very contemporary and it causes us to change our teaching," Professor Wellings says.
"I feel confident we've landed in the right spot by focusing on developing T-shaped graduates [graduates who combine knowledge with an ability to collaborate across different disciplines are in high demand]."
Professor Paul Wellings with the Honorable Anthony Roberts MP at the opening of iAccelerate in 2016. Photo: Paul Jones
The concept of T-shaped graduates at UOW emerged during the development of its 2030 and Beyond strategic paper. The paper identified the importance for UOW's graduates to be global change-makers characterised by a T-shaped capability profile, reflecting their deep disciplinary knowledge and strong global collaboration skills.
Professor Wellings says one of the challenges now is for the University to make the most of the remote learning that was established during the COVID-19 pandemic and to make it distinctive and desirable for the long-term.
"And the trickiest thing is sustaining the research side. The funding is reduced as a result of the collapse of the surplus of international numbers," he adds.
"The government is going to have to think carefully with how it intervenes."
Former UOW Chancellor Jillian Broadbent with the late fashion designer Carla Zampatti and UOW Vice-Chancellor Professor Paul Wellings. Photo: Alex Pike
He believes the Federal Government's Job-Ready Graduates Package has been the "biggest change to university funding since 1987", but cautioned that universities needed to plan its implementation carefully through to January 2024. He adds that as the pandemic gets under control it will be important for universities to gauge the exit velocity of the Australian economy – is there potential for the country to develop the capacity to be a world leader in a new industry, such as it was with the car components industry in the 20th century?
Throughout his tenure at UOW, Professor Wellings has steered the University to lead positive change to its communities by maximising regional assets. He believes the University has done well to respond to the needs of employers.
The Paul Wellings Building at UOW is home to Molecular Horizons.
He says one of the defining characteristics of the Australian university sector is its ability to create new knowledge, with university research strengthening the country's innovation system and helping to transform industries.
"The innovation framework is now around new industries and new jobs, and universities need to do more in the entrepreneurship space," he says, adding that he is looking forward to sharing the benefits of UOW's close relationships with industry through the University Research Commercialisation Scheme panel.
"Engaging with SMEs (small- and medium-sized enterprises) is part and parcel of academia now."
Professor Wellings and his wife Dr Annette Wellings are settled in the Illawarra. He says his home in Wombarra is in an extraordinary beautiful location and provides a good base between Sydney and Canberra so he can remain active in advisory roles and memberships relating to higher education and research.
UOW Chancellor Christine McLoughlin, Governor-General David Hurley, UOW Vice-Chancellor Professor Paul Wellings, and Distinguished Professor Antoine van Oijen at the Molecular Horizons Building launch. Photo: Paul Jones