For Scalapay, the fast-growing Australian e-commerce company, the world is its oyster, but the Illawarra is its home
---
For years, morning trains from various Wollongong suburbs have been going towards Sydney, brimming with professionals on their way to work. But the pandemic changed how people perceive successful, balanced life. And the Illawarra's major city, stretched between the ocean and the escarpment, has gained gravitas.
For Johnny Mitrevski, co-founder and CTO of the successful buy-now, pay-later company Scalapay and University of Wollongong (UOW) alumnus, the Illawarra has always been home.
Born and bred in Shellharbour, Mitrevski proudly calls himself a child of the public education system. In 2000, he graduated from UOW with an engineering degree, specialising in telecommunications. Upon graduating, Mitrevski landed a job in an international company called Nortel Networks, which operated from the UOW campus.
"I spent over a decade commuting to the University and then to work, probably half of that time on local trains," he admits.
For all entrepreneurial spirits from the Illawarra trying their luck in the tech space, Nortel Networks was the best place to get their work experience.
"At that time, around 20 years ago, Nortel was the number one telecoms company in the world. I feel that they've been a seed for a lot of innovation in the Illawarra and a great platform for many people to meet and exchange ideas," Johnny says.
At Nortel, he met his current right-hand man and another UOW engineering graduate, Justin Urbanski. Even though he grew up in Western Sydney, Justin's links to the Illawarra were strong enough (his dad was from Wollongong) to have him move here.
"I knew I wanted to do something with computers, and UOW has always been famous for engineering, so I did a degree in computer engineering. And then I joined Nortel where I bumped into Johnny, and we just kept bumping into each other ever since, sometimes on the busy trains to Sydney and back," Justin says.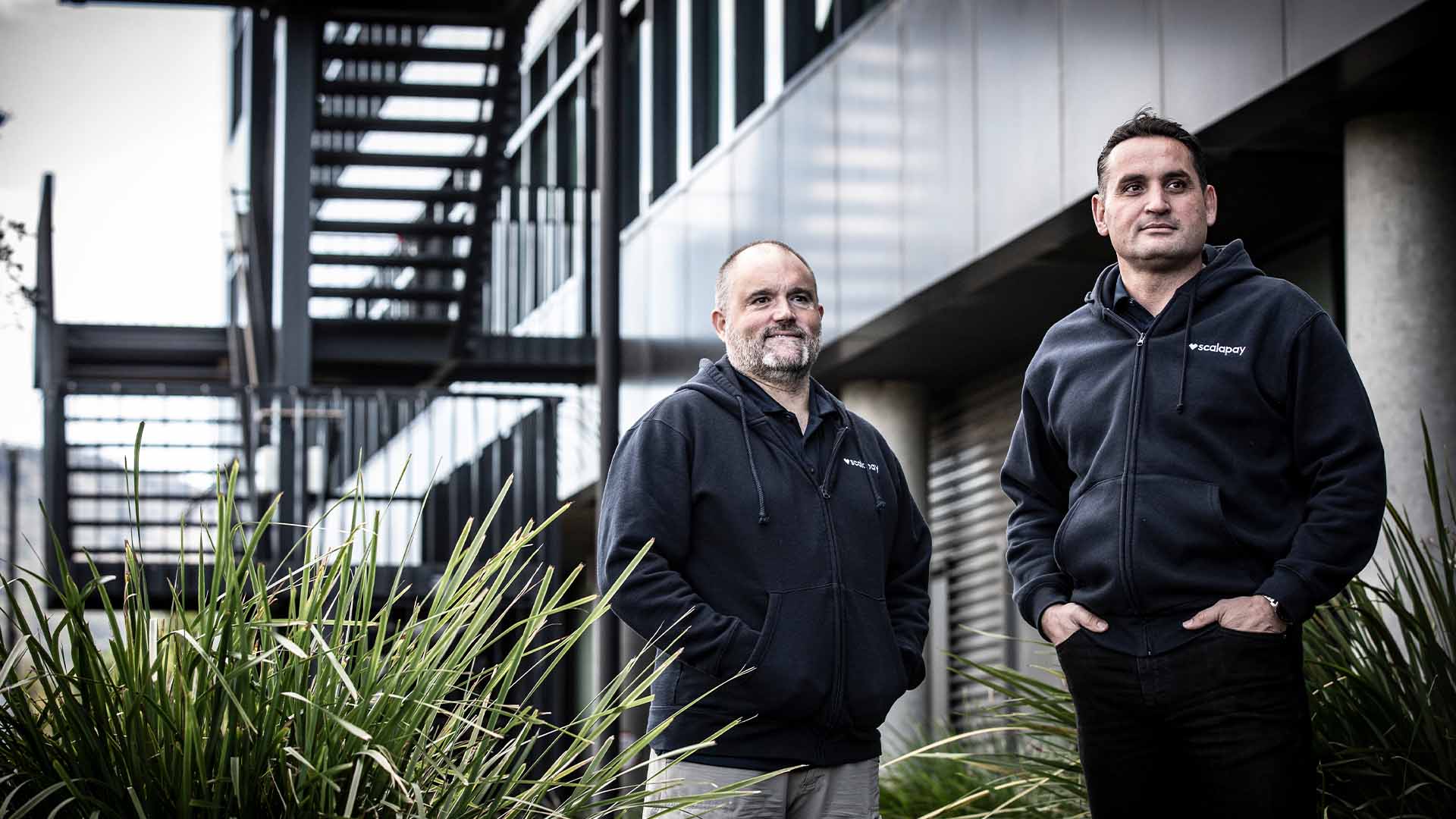 Justin Urbanski (left) and Johnny Mitrevski (right) at the UOW Innovation Campus where Scalapay has its head-office.
At Nortel, Johnny and Justin had worked together in the software development space for about 10 years. Then they parted ways for a while. During that time, Johnny took a stab at entrepreneurship and founded two startup companies. One of them was a precursor to Uber Eats – a food delivery service that linked amateur chefs with their local neighbours who didn't have the time or the skills to cook their meals. Then, he tried his luck with another food startup, distributing cakes and sweets. It wasn't until his third startup attempt that he started working on a wallet payment solution. And that's how – three years ago, right before the pandemic hit – Scalapay was born.
Founded by Johnny and his friend Simone Mancini, Scalapay is a BNPL (buy now, pay later) platform that allows consumers to pay for products in three or four interest-free instalments or pay later (the Italians like to call it 'slow payment'), while charging a merchant fee.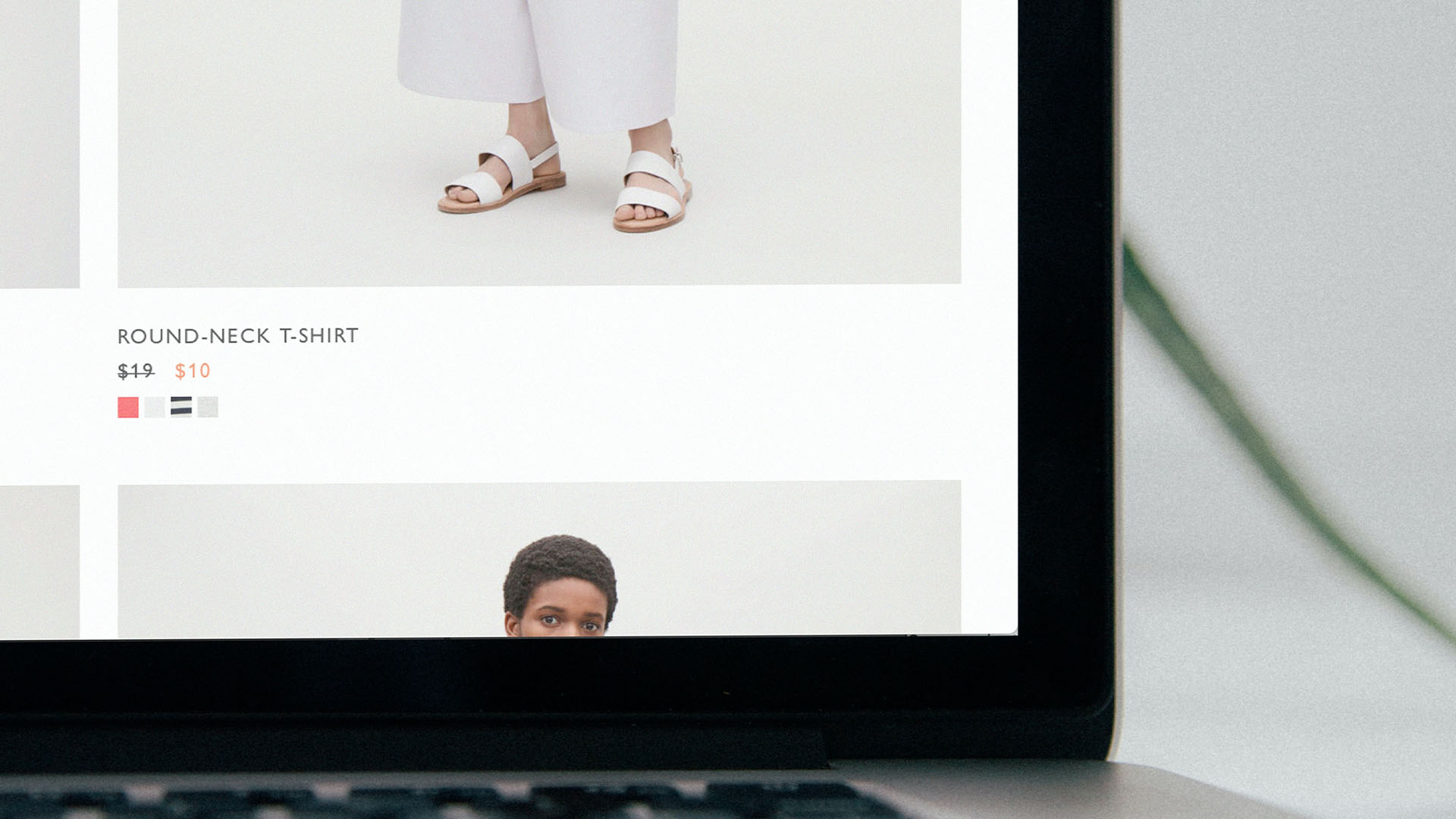 Scalapay is a Wollongong-based buy-now, pay-later (BNPL) e-commerce platform.
"When we were working on our idea, we realised that the Australian market was already pretty well-serviced with BNPL. So with Simone having family roots in Italy, we looked to Western Europe and centred in on Milan – the heart of the fashion industry," Johnny says.
'Scala' means ladder both in Italian and in Macedonian, which is Johnny's heritage. According to the founders, it was created to help people afford quality, one step at a time.
After just three years in business, the company has a plethora of successes under its belt, becoming one of the most important payment companies in Europe, with 240 employees operating across six different countries. In 2021, Scalapay was awarded the StartUp of the Year in Italy and became the major sponsor for Milan Fashion Week and X-Factor Italy. Then early in 2022, after securing $692 million in a Series B financing round, they achieved unicorn status. In business, a unicorn is a privately-owned company valued at over US$1 billion. Even though Australia is home to many successful startups, there's less than 10 companies who can proudly wear the unicorn status badge (out of 832 start-ups globally).
"When we were starting up, we had a single desk downstairs in the SmartSpace of the UOW Innovation Campus. Then, we got a few people together, and from that single desk, we moved to a small office. And now we're negotiating to have the whole floor just for ourselves. Just in the last year, we've grown from 50 to 240 employees. About 50 of them are here in Wollongong," Johnny says.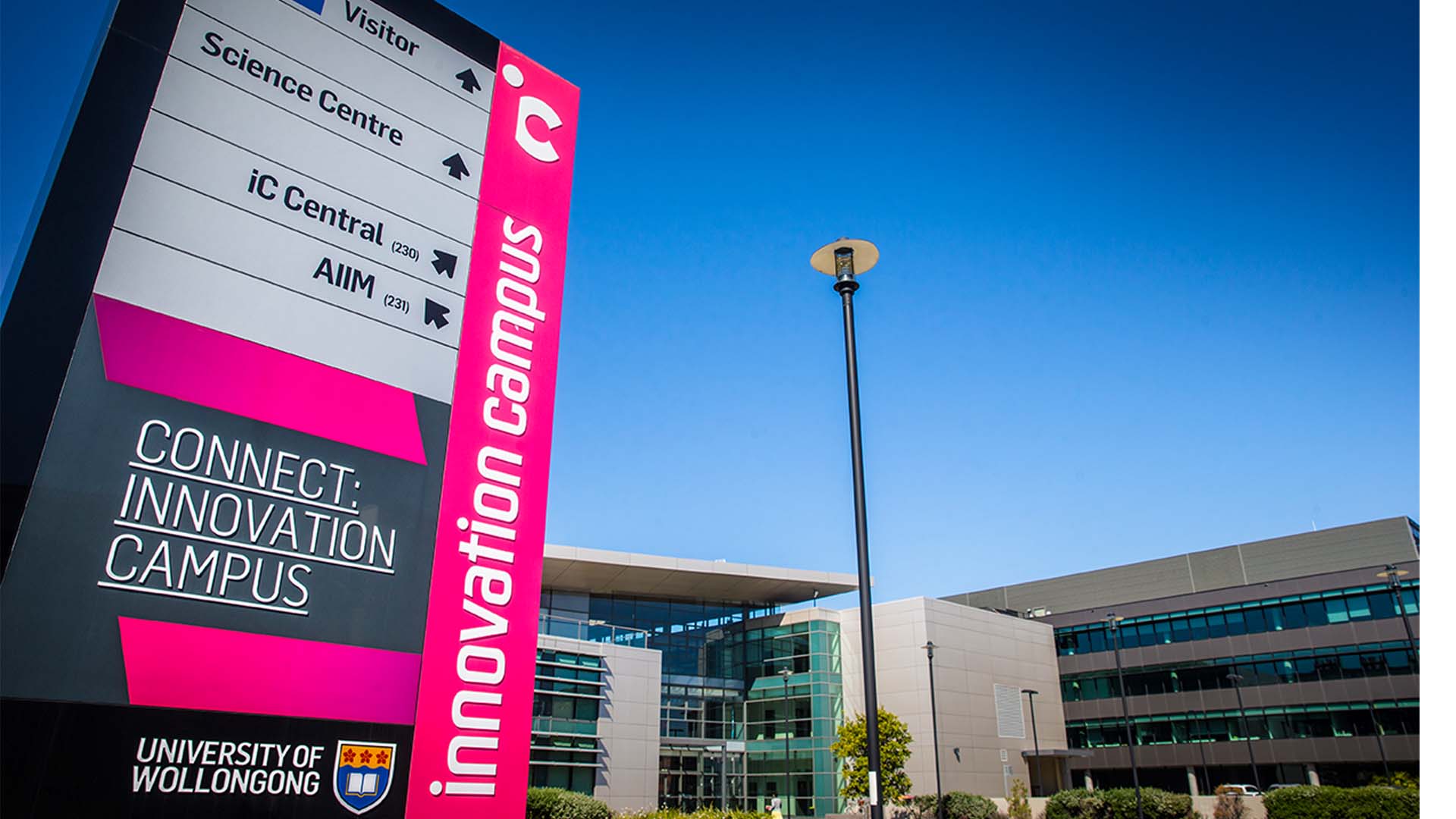 For all Scalapay's managers, engineers and software developers, there's one main target ahead: to keep building a product that is scalable, maintainable and of good quality so that it lasts a long time.
"These days, every company is an IT company; they just specialise in different things. Scalapay specialises in payments. Universities specialise in education. Lego specialises in building blocks to play with. We're all building solutions to solve complex problems," Justin says.
"For me, technology should also be fun. It's about tinkering with solutions and keeping a discoverer's mindset," Johnny says.
With offices in Milan, Paris, Munich, Barcelona and Dublin, Scalapay has kept its core tech team in Wollongong. And that's where they want to stay and continue to grow.
"In the Illawarra, engineering and IT are a part of our DNA. When we were growing up, discussions about quality control and big machines in the mines were your usual BBQ chats. I've worked in other parts of the world – in Europe, Japan, India and the US – but the strength of fintech and engineering is just not at the same level as here. So as a company, we want to keep our hearts locally and have our heads facing globally. This way, we're proudly waving our Wollongong flag," Johnny says.
Justin Urbanski – who is Scalapay's Engineering Manager – is just as big a fan of local brainpower as Johnny, calling the Wollongong entrepreneur ecosystem: Siligong Valley.
With its world-class university and proximity to Sydney, Wollongong is an ideal location for tech startups.
"In recent years, Wollongong went from having a couple of small niche companies doing tech to becoming the capital to many worldwide technology companies that run from here," he says.
"In the Illawarra, engineering and IT are a part of our DNA," Johnny says.
To further celebrate Scalapay's global successes and highlight its UOW links, this year the company decided to fund the Scalapay Next Generation Scholarship, a generous $10,000 annual stipend for a student enrolled in a relevant degree within the School of Computing and Information Technology, School of Electrical, Computer and Telecommunications Engineering or the School of Mathematics and Applied Statistics. Scalapay has just announced its first recipient – Arlo Stewart, who is in his final year of a Bachelor of Computer Science (Dean's Scholar) with the UOW Faculty of Engineering and Information Sciences. Arlo increases the number of UOW Alumni at Scalapay to 29, something Mitrevski is very proud of.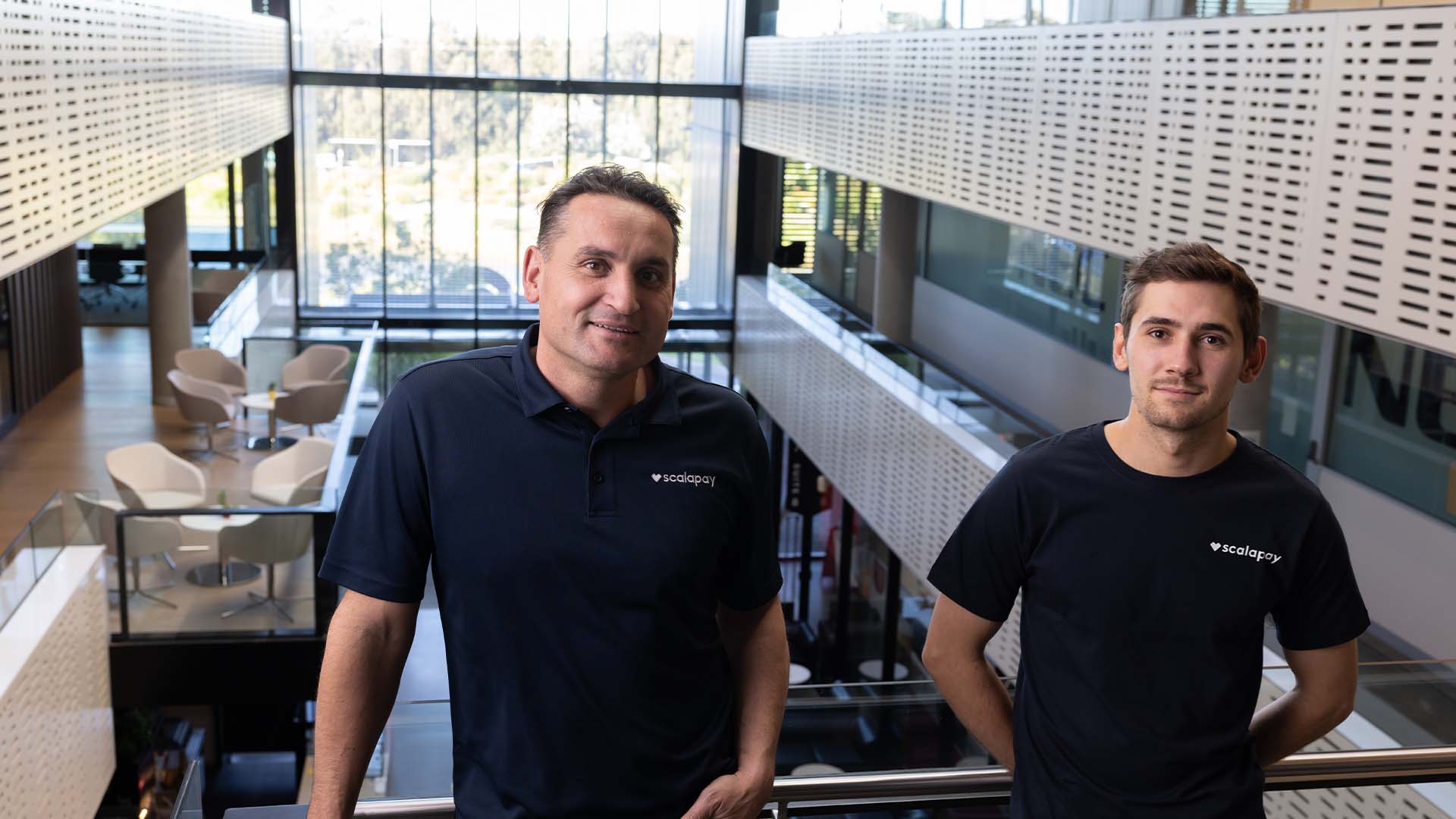 Johnny Mitrevski with Arlo Stewart, a student in his final year of a Bachelor of Computer Science and a first recipient of the Scalapay Next Generation Scholarship.
"UOW has always done an amazing job at engineering and the quality of the education is superb. It has a great package: the campus is fantastic, the teachers are great, the courses relevant and the opportunities that come from it are excellent – especially within the software and computer sciences realm," Johnny says.
"Part of the reason Scalapay is offering this scholarship is to give back to the University and the community. Another part is having access to the amazing talent it offers."