For the past five years, Zachary Bennett-Brook's life has been sprinkled with a series of what he calls "pinch me" moments.
---
From that time when he travelled the world for Tourism Australia, creating his signature Indigenous artworks in places such as Morocco and the United States to when Disney asked him to create all the artwork for their new series, Spread the Word, and introduce young audiences to Aboriginal and Torres Strait Islander words.
Once he painted a surfboard for Chris Hemsworth and presented it to the actor at an event in Sydney with Hemsworth then deciding to auction it off in the room for charity, raising more than $20,000 for Australian Childhood Foundation. Afterwards, the actor asked Zac to paint him another board, and a few more after that.
And then there was the time that he painted a custom skateboard for his childhood hero, Tony Hawk. He wore thongs that day so he wouldn't have to skate with the legendary skateboarder and video game star, and potentially embarrass himself.
For Zac, otherwise known as the artist Saltwater Dreamtime, these moments are magic, and a signal that his hard work, passion, and imagination have come to fruition.
"I'm really grateful for everything," Zac says.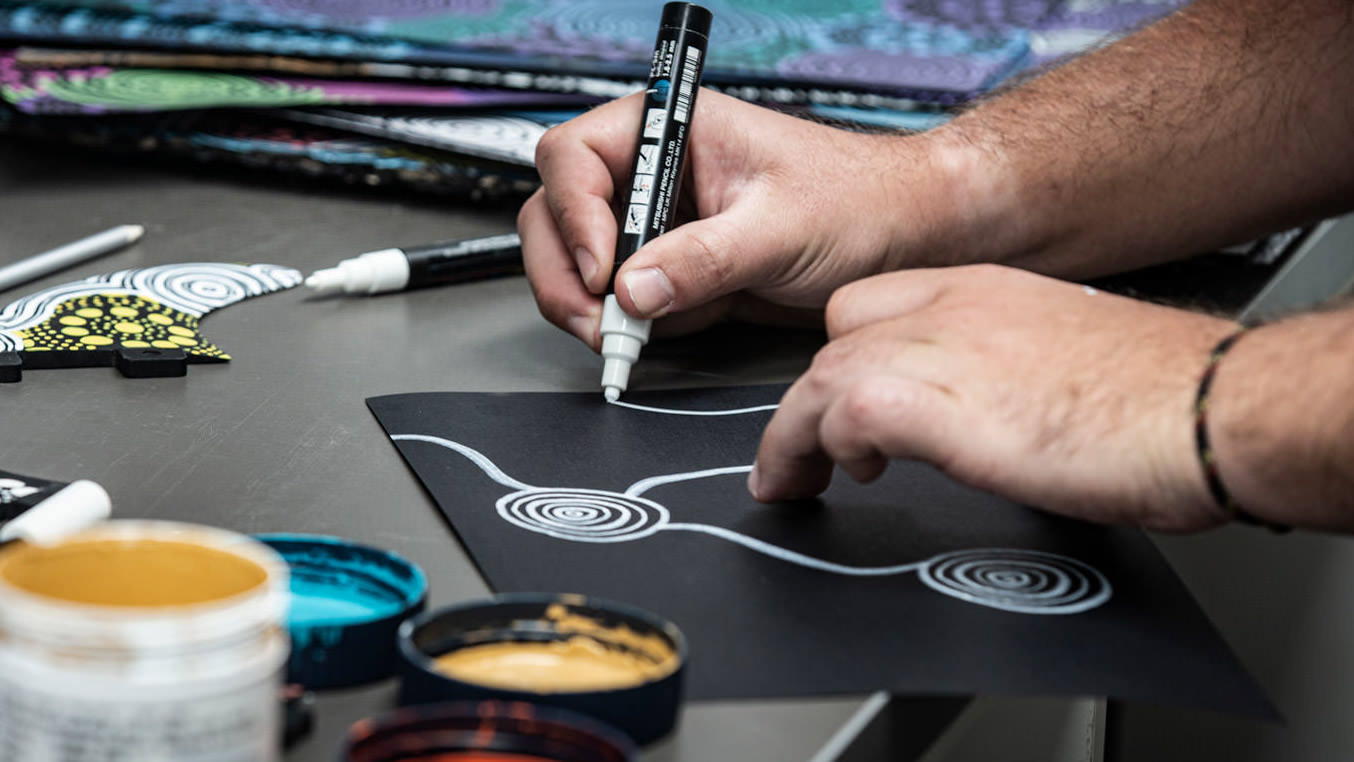 At the age of 18, Zac thought he was living the dream. An avid surfer, he spent his days in the water - "I'm a saltwater man, being from Torres Strait Islander ancestry" - working at a local surf shop, and dabbling in a bit of art.
He had no plans to go to university. In fact, finishing Year 12 had been a push. His love of art and photography, subjects he chose because he thought they would be easy, propelled Zac through his final year of high school.
"I didn't want to go to university. I just wanted to travel and surf," he says. "But, my mum is an English, history and drama high school teacher and she said, 'No, you need to do further education'. Mum always said I had to get a degree.
"Education is especially important because I am Indigenous. The more years we add in education, the more it extends our lifespan. Even though I grew up in a healthy family, there are still those parallels in Indigenous and non-Indigenous lifespans."
Zac had been a non-ATAR student in Year 12, but, with some gentle prodding from his mum, he soon saw the value in undertaking a degree.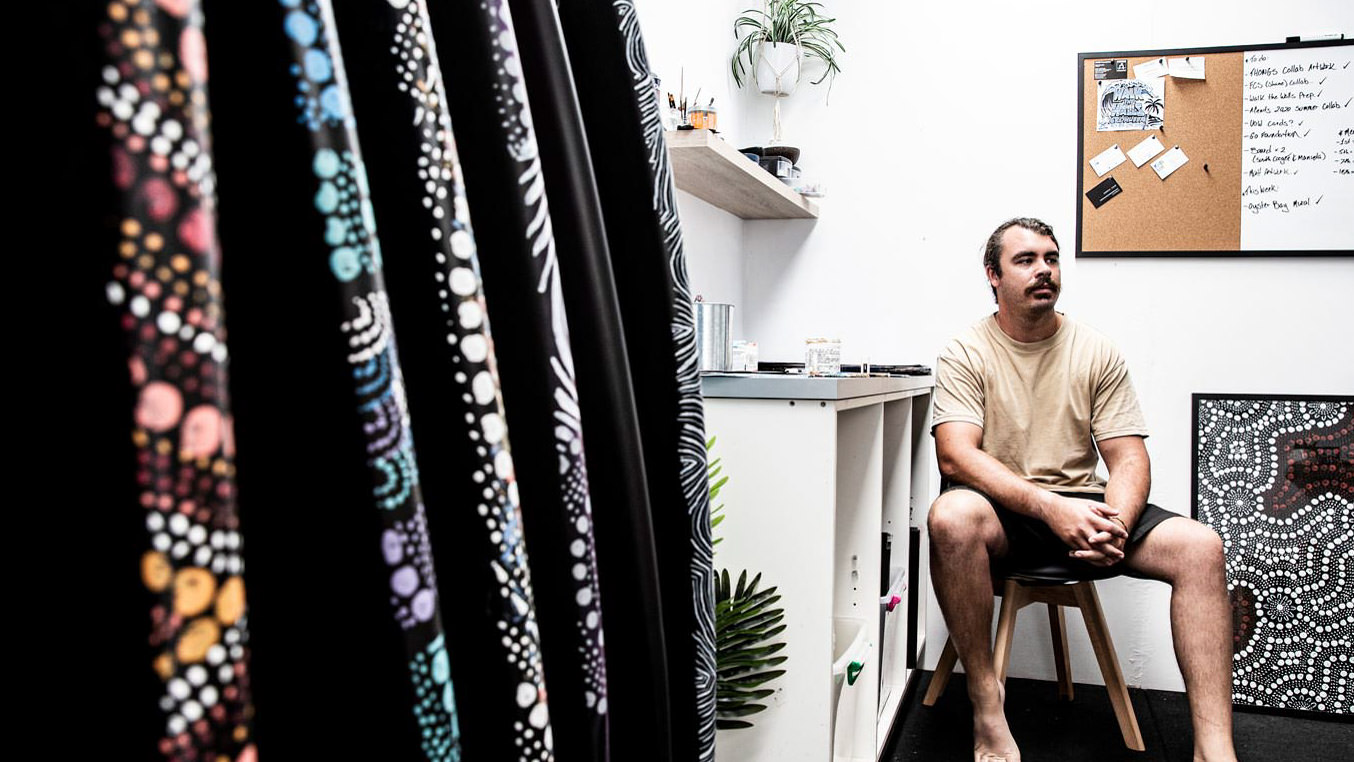 Approaching Woolyungah Indigenous Centre at the University of Wollongong (UOW), Zac met with then Dean of Education Professor Paul Chandler.
"I was really into my art at the time, but I was also really in to sport and being physically active," Zac says. "Paul Chandler introduced himself to me, and he thought PDHPE teaching would be a good fit. It sounded like fun."
For the next few years, Zac knuckled down on his studies. He loved his degree and after graduation, landed a scholarship to teach full time at a local high school. But his love of art still lingered in the back of his mind.
"University gave me time to grow up and mature," he says. "I never classed myself to be really academic, that was my younger sister. But once I applied myself, I did okay. I'm really glad I stuck with my degree.
"After I graduated, I turned to my mum and said, 'Okay, I've got my degree. Now I want to try and chase my art'."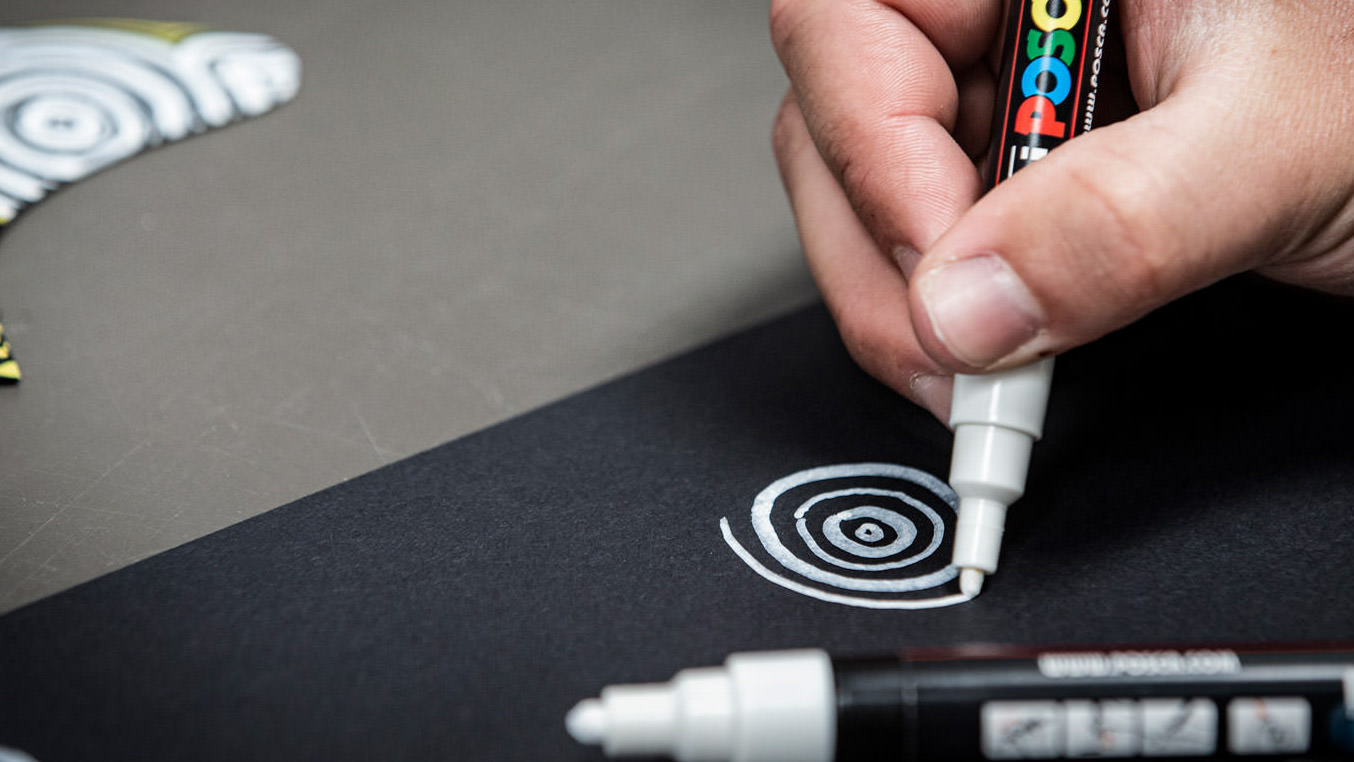 Growing up, Zac had been surrounded by art and music. His mother filled the house with creativity and culture. Zac tried different instruments, teaching himself the drums and guitar, and also played around with unique types of art. He was drawn to street art, but was frustrated by the lack of legal avenues to explore that form.
"My mum always encouraged my sister and I to not bookmark ourselves. She would push back against the idea that because I'm a male, I'm Indigenous, then I'm going to play football. She wanted me to experience everything possible and give me a taste of everything that was out there."
His knowledge of Indigenous artwork, however, was limited to artists who had passed away. This was another boundary that Zac were determined to break.
"Artists' work only became valuable after they had moved on. I wanted to change that, to work as hard I could to create a name for myself and establish myself as an artist while I'm living," he says.
"I thought, if I'm going to do this, I need to give this 100 per cent. I knew that if I was teaching, I would have a stable income, so I needed to make an income from my artwork. I didn't want to be a starving artist."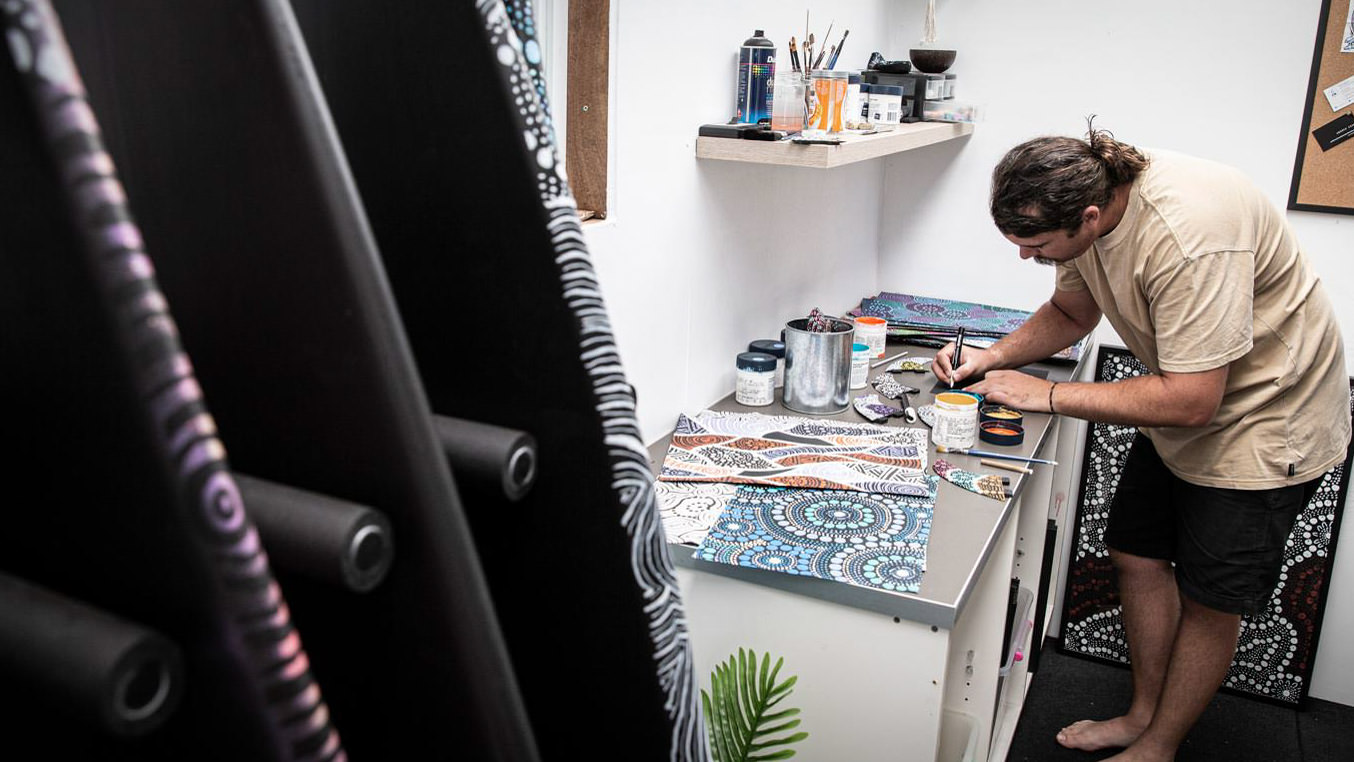 Zac's nom de plume, Saltwater Dreamtime, was born from his love of the water, growing up on Dharawal Country in Wollongong, and his Torres Strait Islander heritage.
Zac's identity is at the heart of his work, it is the thread woven through every single piece. He describes his art as a blend of surf culture and Indigenous art, with a contemporary twist. Rather than the earthy tones, the red, yellow and black, that defines traditional Indigenous artwork, Zac takes his cues from the sea and from the world around him. It is clear that he is drawn to colour, with vibrant shades of blue, green, pink, and purple regularly used throughout his work.
"I wanted to be completely different. I didn't want to paint on conventional canvases, I wanted to use unconventional canvases such as surfboards and large-scale murals. I just crossed my fingers that people like it as much as I do," Zac says.
"I don't paint traditional Dreaming stories, my artwork is very contemporary, but it all tells my story.
"My inspiration comes from nature. I spend a lot of time out in the water and I connect to Country. When my feet are in the sand or in the water, I feel at peace. It's what my ancestors did, it's soothing.


"I'm inspired by watching the waves come in and go out, leaving patterns in the sand. By the carvings that are in the rocks from thousands of years of the water lapping at it. We are in a really unique spot here, being surrounded by the ocean and the escarpment. You can go up into Mount Kembla and still see the ocean. I love looking at the stringy bark trees, at the different designs embedded in the leaves.
"Nature is my number one inspiration, along with culture. It's a contemporary interpretation of Aboriginal dot paintings."
Zac painted his first surfboard one day while impatiently waiting for a canvas to dry. It worked; the curved yet flat surface of the board provided a unique backdrop for his captivating designs. Now, he has painted more than 200 boards ­- for both decoration and use in the water - and has also become a master of large-scale murals.
At UOW's Wollongong campus, one of his pieces, an energetic, intricate work with shades of orange, green, purple, and pink (below), is on the southern side of the library. He also has a spot along Bondi's iconic sea wall, as well as artworks on buildings and schools throughout Sydney, the Illawarra, and Melbourne.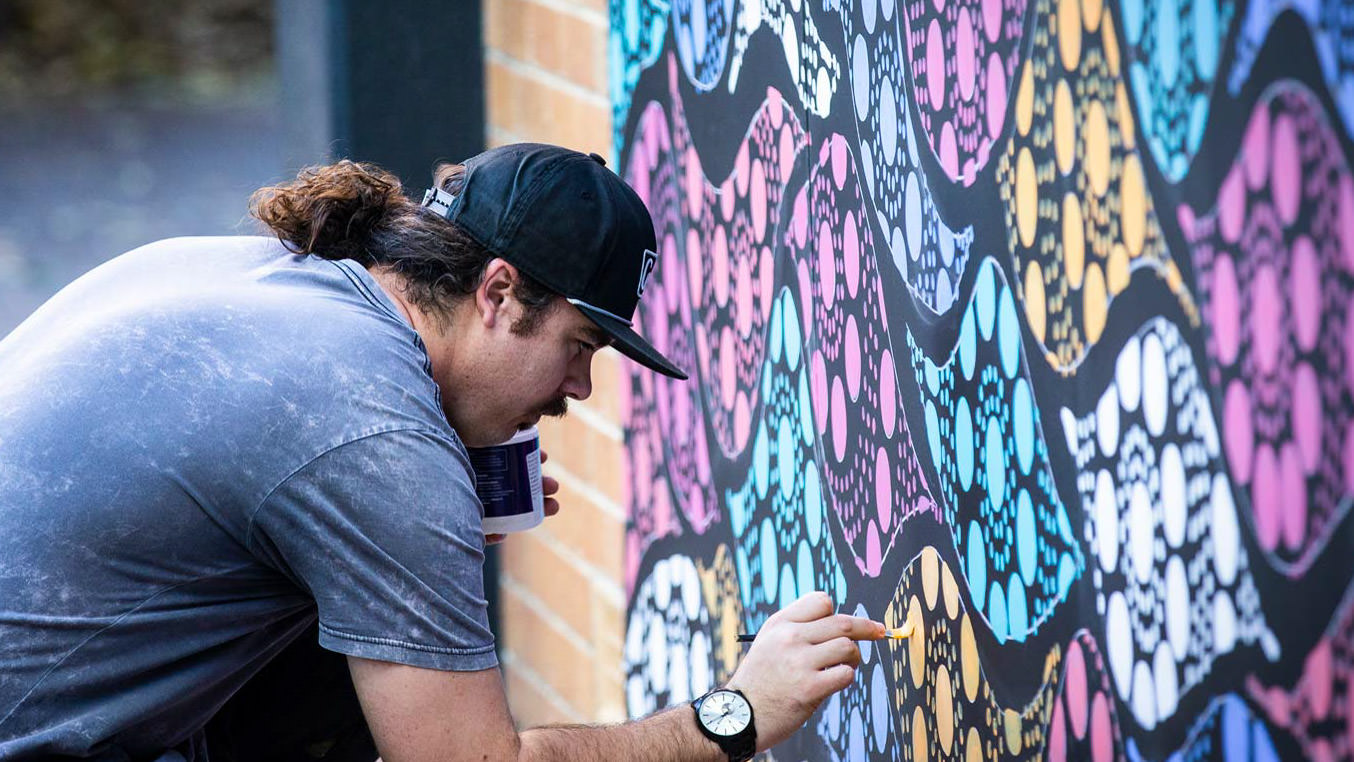 In person, Zac is warm, affable, and generous with his time. It is easy to see how he is able to connect with people from all walks of life and make an impression with some of the biggest companies in the world.
When he takes on new projects or collaborations, he ensures his values align with whoever he is choosing to work with. Zac also donates a percentage of his profits to organisations that help Indigenous communities, including AIME, The Indigenous Literacy Foundation, and Adam Goodes's GO Foundation.
While he is no longer a teacher, and has pivoted from his degree into a career as a full-time artist, Zac says the skills he learnt at UOW have never left him. He retains a close link to the education sector; many of his murals are at primary schools throughout the region. One of the greatest benefits of his work as an artist has been the opportunity to open new audiences to the beauty and significance of Indigenous art.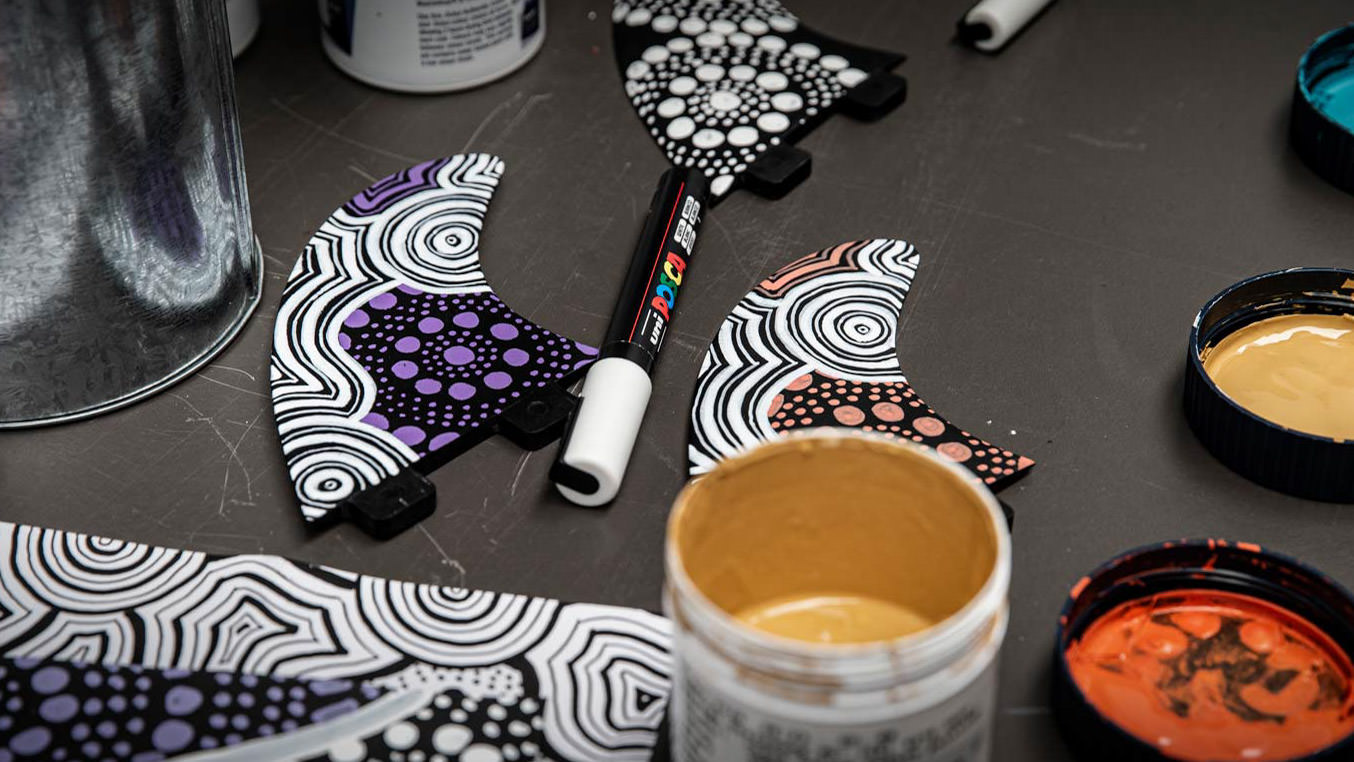 "Education is a big thing for me. I'm not educating in the school sense but I like to think I'm educating people through my artwork.
"I connect to culture in my own way. It's showing art to people who may not have been receptive before.
"There's so much negativity in the world. I really try to focus on giving out positive vibes and doing good work, and providing opportunities to others."
Zac has scaled some incredible heights over the past few years. What is next for the teacher turned artist?
"I want to have my artwork featured on a plane. Every four years or so, Qantas commissioned a new Indigenous artist to create a design for their planes," he says, referring to the airline's Flying Art Series, which has been bringing Indigenous art to the skies for close to three decades. "That's the big goal. It would be amazing to look up and see my artwork in the sky.
"There are no limits to art. If you're passionate and you work hard, you can make anything successful."