If children aren't given the right tools, they can lose the creative outlet that visual arts provides.
---
How do you draw a house? For most, our artistic rendering would start with a square box with square windows. Add a triangle roof and maybe a chimney or two.
How do you draw a flower? Does it look like a daisy, with a yellow centre and a ring of long petals? Perhaps a stem with a single leaf?
One of the surprising silver linings of the COVID-19 pandemic was the number of people who turned to visual arts to occupy their time and stretch their minds during lockdown.
Social media was full of everyday people trying their hand at sketching and painting, at watercolours and sculpting, while artists all over the world offered their expertise online, often for free, with tutorials and courses for beginners.
Dr Gai Lindsay, Lecturer in Early Childhood Education at the University of Wollongong's School of Education, says it was inspiring to see so many adults embracing the visual arts again.
A former preschool teacher of 22 years who graduated with a PhD from the School of Education in 2018, Dr Lindsay's research has focused on how to help early childhood educators discover their artistic confidence, which enables them to nurture their student's artistic capabilities.
Dr Lindsay says the majority of adults lose their artistic confidence very early on - around the age of six to eight - which follows them throughout their lives. The downside is that many lose their connection to visual arts and all the creativity and joy that the arts can bring.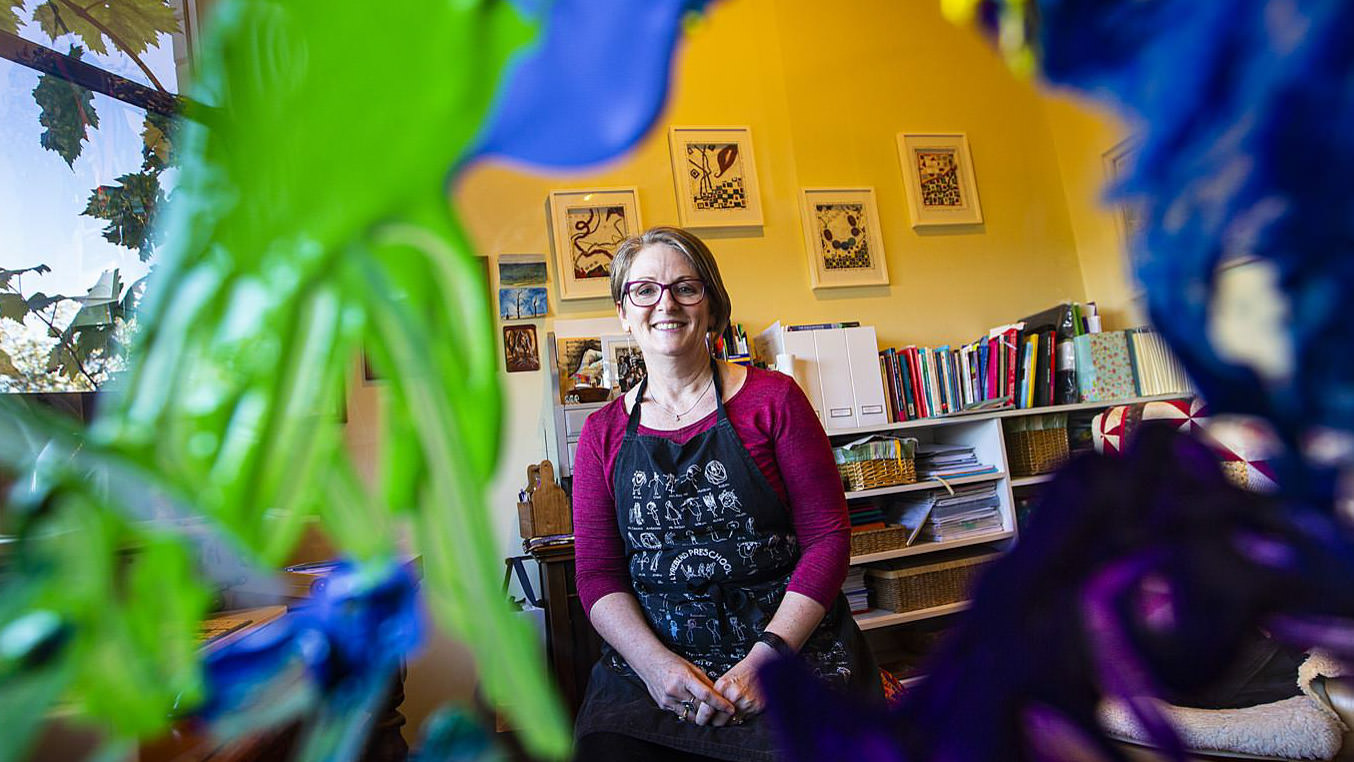 If a connection to visual arts is properly developed in early childhood, it does not need to become an anomaly that people turn to in extreme circumstances, such as a pandemic, but rather the backbone of one's creativity and expression.
"The benefits of the visual arts are lifelong. Visual art does not have boundaries. It enables people to play with materials, to express their thinking, to problem solve and make sense of emotions," Dr Lindsay says.
"For children, art is a way to communicate their ideas. It can be about the job of immersing yourself in the art-making process as much as it is about cognitive development and problem-solving."
"Too many adults lose their artistic confidence at a really young age. Often that is because they've been told that they're doing it wrong or the adult takes over the experience for the child. Around the age of six, children start to look very critically at their own work and their own drawings, and that is the age at which many stop enjoying the experience of visual arts."
For example, think of that aforementioned house and flower. Dr Lindsay explains that these are a schema, a symbol for our understanding of the words 'house' and 'flower'. Those who aren't confident in visual arts draw upon these symbols because they feel more comfortable.
"When we think of house or flower, that is what we think of, that simple house design with square windows and a triangle roof, or that basic flower that looks like a daisy. The critical part of the brain doesn't like to be uncomfortable, and many people feel fearful of drawing.
"But when people don't have the confidence to explore their own artistic ideas, that symbol is what they draw on because they are unable to represent their own ideas and imagination."



Dr Lindsay, who draws upon the educational methods of Reggio Emilia, an Italian early childhood philosophy that sees the child as central to their own learning rather than a passive participant, says all parents and teachers should be developing visual arts potential from a young age.
"Art is playful so it is perfect for children. But art can become very constrained if adults impose their own ideas on a child. We shouldn't be constraining children. This time in a child's development should be their opportunity to express their voices and their ideas," Dr Lindsay says.
"When children are shown an end product and are instructed, step-by-step, in how to imitate that product, it becomes an adult-centred activity. I don't like to disparage any expression processes because they all have value but those that have the most value are those that allow the children to express themselves.
"The adult is a partner, rather than the instructor. We need to teach our children and our students that it's okay to make a mistake, and to keep going. It's about developing the understanding that a mistake is how we learn something.
"If we shut down a child's potential to develop holistically, we end up being a very narrow society. It takes away a language from the children. Art makes us resilient, it is great for problem solving and understanding the world. It helps us develop our creativity across every aspect of our lives."
Allowing children creative expression through visual arts is particularly important during an event such as COVID-19; a pandemic and subsequent lockdown is a concept that most children cannot comprehend however it has changed the fabric of their daily lives.
For adults, too, art, in its many and diverse forms - think drawing, painting, music, film-making, writing - is what has allowed most of us to get through these tough times. Art has thrived in lockdown.
Dr Lindsay has embarked on her own artistic exploration during this time, taking part in free online drawing courses by the artist Este MacLeod.
"The arts have warmed people's spirits in the middle of this crazy time. We have escaped into the arts, with painting, music, knitting. People have found a new way into connecting with art in its different forms, and the artists of the world are sharing their work online.
"I am hoping this will continue beyond the pandemic. I don't think a lot of people have realised how much we draw on the arts. This time has become a collective period of reaching out to one another, and remembering our humanity."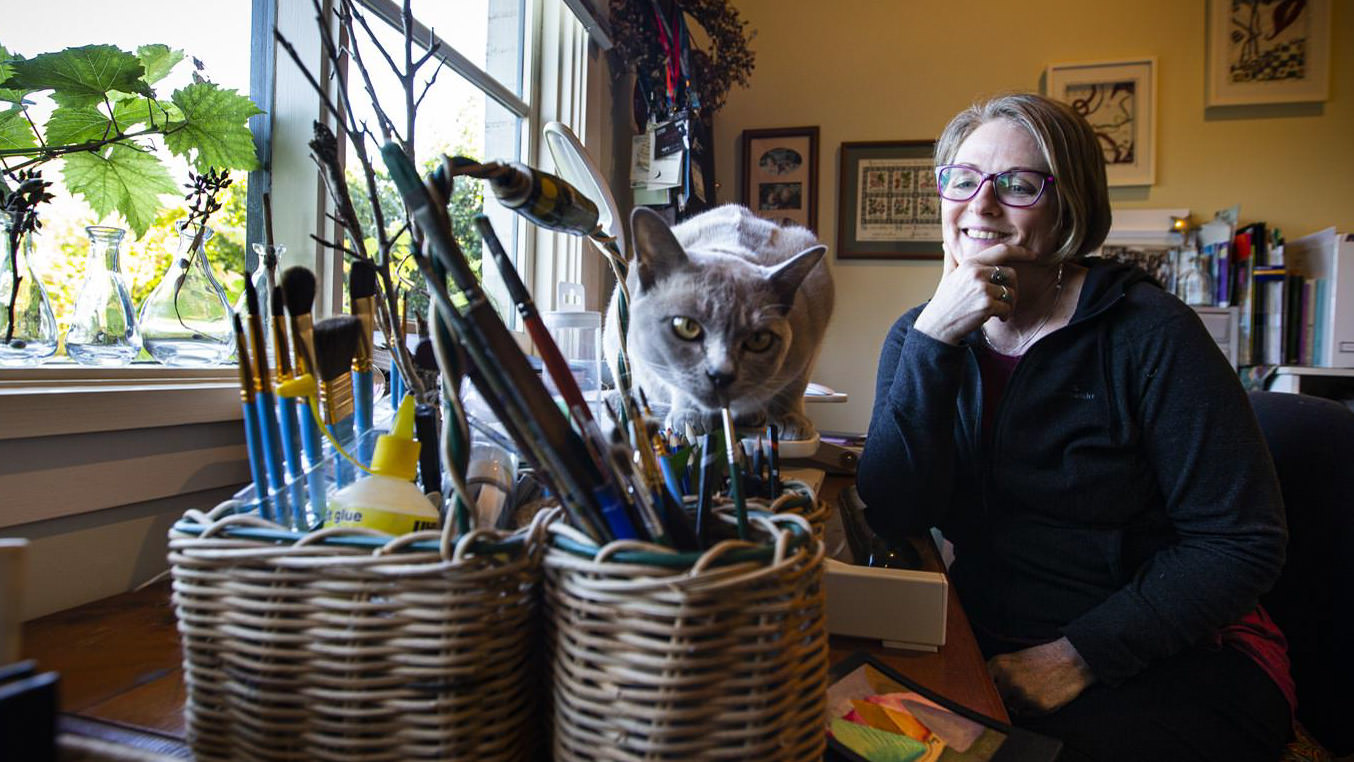 So, how can parents and teachers provide their children with the tools to thrive artistically? To help them express their creativity and gain confidence in visual arts?
Dr Lindsay says we need to provide engaging, inexpensive materials, such as the back of an empty cereal box or simply paper and a nice black pen. Be engaged, show interest in what the child is creating, and remember, it is the experience of making and expressing that helps a child to thrive rather than creating a perfect product.
"Go for a walk in the bush or in the garden and see what you can find that the child can incorporate into their art. Look up animals, think about shapes, about the lines of a drawing, talk to your children while you are creating art. Scaffold it for them, rather than doing it for them.
"The ideas are limitless but it is about giving parents those ideas and encouraging them to not think about making a perfect product. Parents feel like they need to have the skills before they can share their skills. But we want children to explore and try new things.
"You wouldn't hand a pen to a young child and say 'write your name', expecting them to write in cursive script. And yet with art, if it's not perfect the first time, we think 'I'm not artistic'. The artistic process is like any learning process and you need to practice, practice, practice."