Associate Professor Jioji Ravulo has made his mark in South Western Sydney, where he is known for his passion for helping others and his infectious attitude.
---
When Associate Professor Jioji Ravulo, the Academic Program Director for the University of Wollongong's Master of Social Work (Qualifying), had the honour of officially launching the newly minted program at UOW's South Western Sydney Campus, he didn't speak to his audience - he sang. It was a vibrant, joyous rendition of I Can See Clearly Now, Johnny Nash's infectious song from the 1970s.
"I use singing as a way of breaking the ice, it's an emotive experience," Professor Ravulo says. "If I'm presenting a paper at a conference or I'm speaking at an event, I don't say hello or introduce myself. I start by singing a part to a song.
"I do this because I'm trying to engage people but I'm also using those lyrics to further reflect on the key concepts of what I'm presenting on. So I Can See Clearly Now was about social work as a profession and helping people see beyond those dark clouds they might have in their lives."
Professor Ravulo has a degree in Social Work, a Master in Education, a PhD in Cultural Research and more than a decade of experience working with youth in the juvenile justice systems. He credits his upbringing in Western Sydney for a career trajectory that has changed countless young lives for the better.
Raised by his Indigenous Fijian father and Anglo-Australian mother (who met at the ubiquitous Aussie BBQ in the 1970s), Professor Ravulo grew up in public housing.
"I was eight when we moved to Western Sydney and quickly learned that the world is not rainbows and unicorns," he says. "I think my positive attitude to lifelong learning came from my upbringing, and seeing the world around me wasn't a bed of roses. I wanted to know why?"
Eight-year-old Jioji didn't know it at the time but his inquisitive nature and childhood observations of social inequity, his questions about why some people were haves and others have-nots, set him on a ongoing quest to change the status quo and make a difference to those who were different.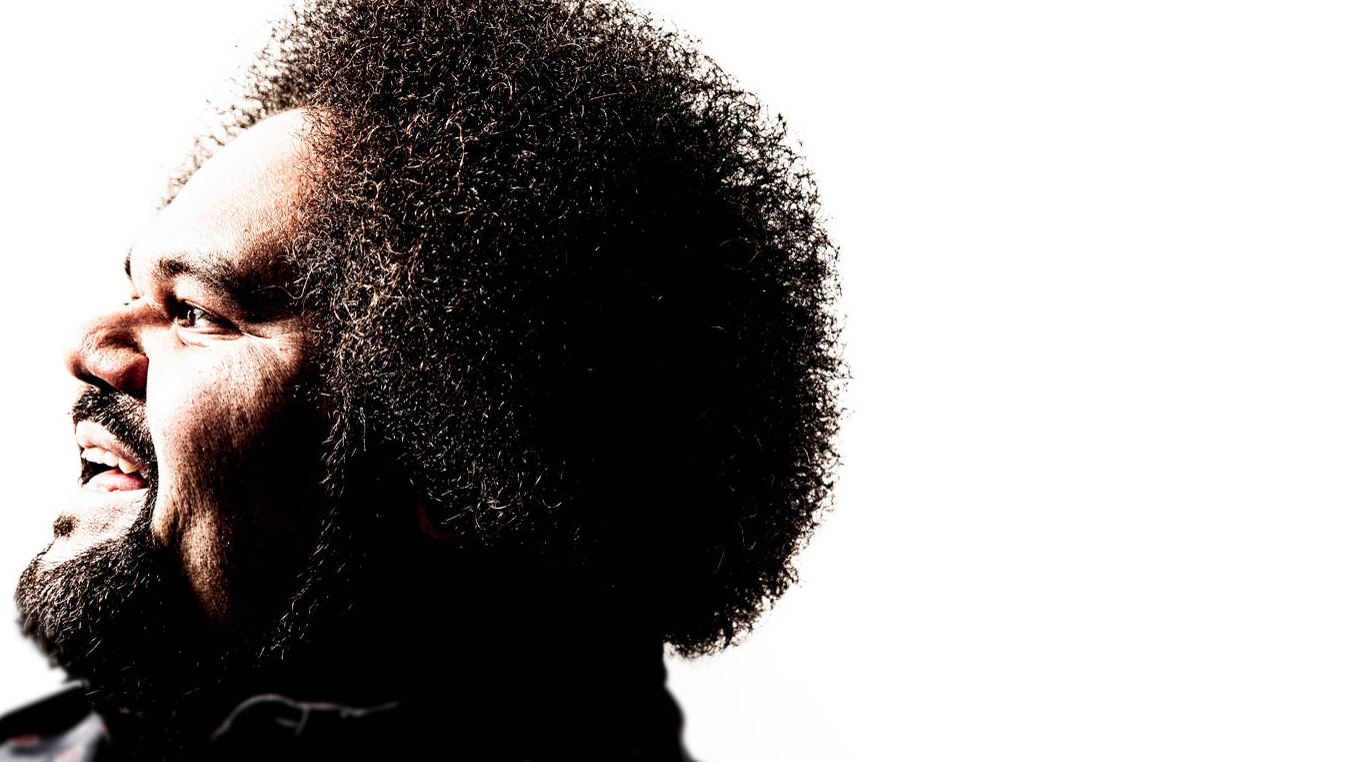 Empathy is everything in social work
"We live in a society that is very me, me, me and social work is really about trying to move beyond the individual to the collective," Professor Ravulo says. "It's about us understanding what it's like for people that we're working with and how we can support them to move beyond some of those difficult circumstances that they're facing.
"Social work is very much focused on working with people, not for people. It's about empowering people to become self-dependent and autonomous. There are a lot of people out there who feel very isolated and alone, who feel like they don't belong anywhere. For me it's about helping people to feel like they do belong, they are cared for and they do matter."
After completing his secondary education school at Newtown High School of the Performing Arts (where he studied drama and classical singing) this desire to "try and make a difference" led Professor Ravulo to study Social Work at Western Sydney University in the late 1990s.
All social work degrees require 1000 placement hours and Professor Ravulo's first posting was at Reiby Juvenile Justice Centre at the tender age of 19. Some would call it a baptism by fire but Professor Ravulo loved working with young people and quickly became a trusted mentor and positive role model to offenders who were only a few years younger than him. It was during his time at Reiby that he discovered his passion for working with marginalised young people and he would spend the next decade setting them on a path of learning and growth.
Professor Ravulo's second placement - at Centrelink - allowed him to develop a broader understanding of government systems and policy. This was followed by his final placement at Long Bay Correctional Centre as an alcohol and drugs counsellor, a field in which he still works in his private practice.
"For me it's about helping people to feel like they do belong, they are cared for and they do matter."

- Associate Professor Jioji Ravulo


Education is transformative
Professor Ravulo's first full-time job, as a Post Release Support Program Caseworker with Mission Australia and Juvenile Justice in Campbelltown and Liverpool, led to him working with some of the state's most hardened young people. Many came from disadvantaged backgrounds, with very few rainbows and unicorns in their lives. But Professor Ravulo recognised education was a way to break the cycle of disadvantage.
While continuing to work full time, Professor Ravulo returned to university to complete a Master in Education, so he could "better engage young offenders in the process of learning". He then created a numeracy and literacy program for young offenders aged 15-17 called DRAW (Developing Reading and Writing) and began teaching at Macquarie Fields TAFE.
"I could see how education had transformed my life," he says. "I was the first to go to university in my family, I saw the inter-generational impact that had across my family, my networks and my community. Education, I believe, is key. I wanted to share that knowledge, that education is transformative, with the young people I was working with."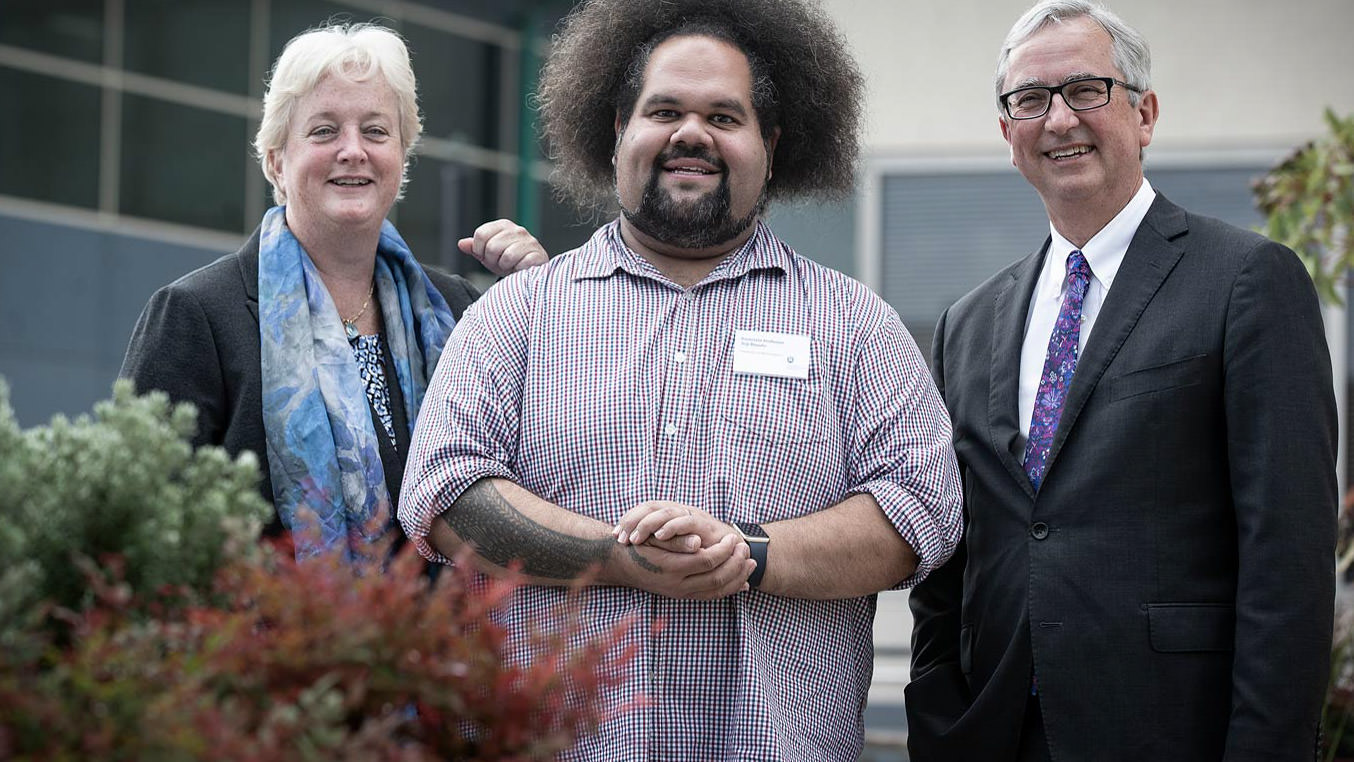 UOW Deputy Vice-Chancellor (Health and Communities) Professor Alison Jones, Associate Professor Jioji Ravulo, and Faculty of Social Sciences Executive Dean Professor Glenn Salkeld, at the launch of the Master of Social Work (Qualifying) at Liverpool. Photo: Paul Jones
His caseload grew to include young people from Pacific Island backgrounds, who made up almost 30 per cent of the young offenders in juvenile justice programs in Western Sydney. The figure was disproportionately high given less than one per cent of Australia's population are Pacific people.
Professor Ravulo wanted to know why. So to find the answer he returned to university to complete a Doctorate in Cultural Research. A paper on his findings - The Development of Anti-Social Behaviour in Pacific Youth - will be published next month in the Judicial Review Journal.
The PATHE to university success
Professor Ravulo was six months into his first academic posting in 2011 when he noticed many Pacific students were starting, but not completing, their university degree. He had seen first-hand the difference positive role modelling and mentoring had made in the juvenile justice space, so he used the same method to develop the Pasifika Achievement To Higher Education (PATHE) program.
PATHE raises vocational and career aspirations for Pacific students in schools across the state and, once enrolled in degrees, encourages students to talk about the challenges they face at university and in their daily lives.
When the program first started in 2012 Professor Ravulo says he had to "chase down Pacific-looking people saying 'Hey, do you want to join this group?'" But PATHE soon became "a space where students felt culturally safe".
Fast forward seven years and it is now a $2.5 million-funded program, rolled out in more than 80 primary and high schools across NSW, and has resulted in higher rates of enrolment and retention of Pacific students at university.
"PATHE's motto is 'When one achieves we all succeed'," says Professor Ravulo. "As Pacific people we're very collectively oriented. Our family, our community is embedded into our identity. If one of us achieves in education it has this ripple effect on the rest of our family and our community. We all share the success."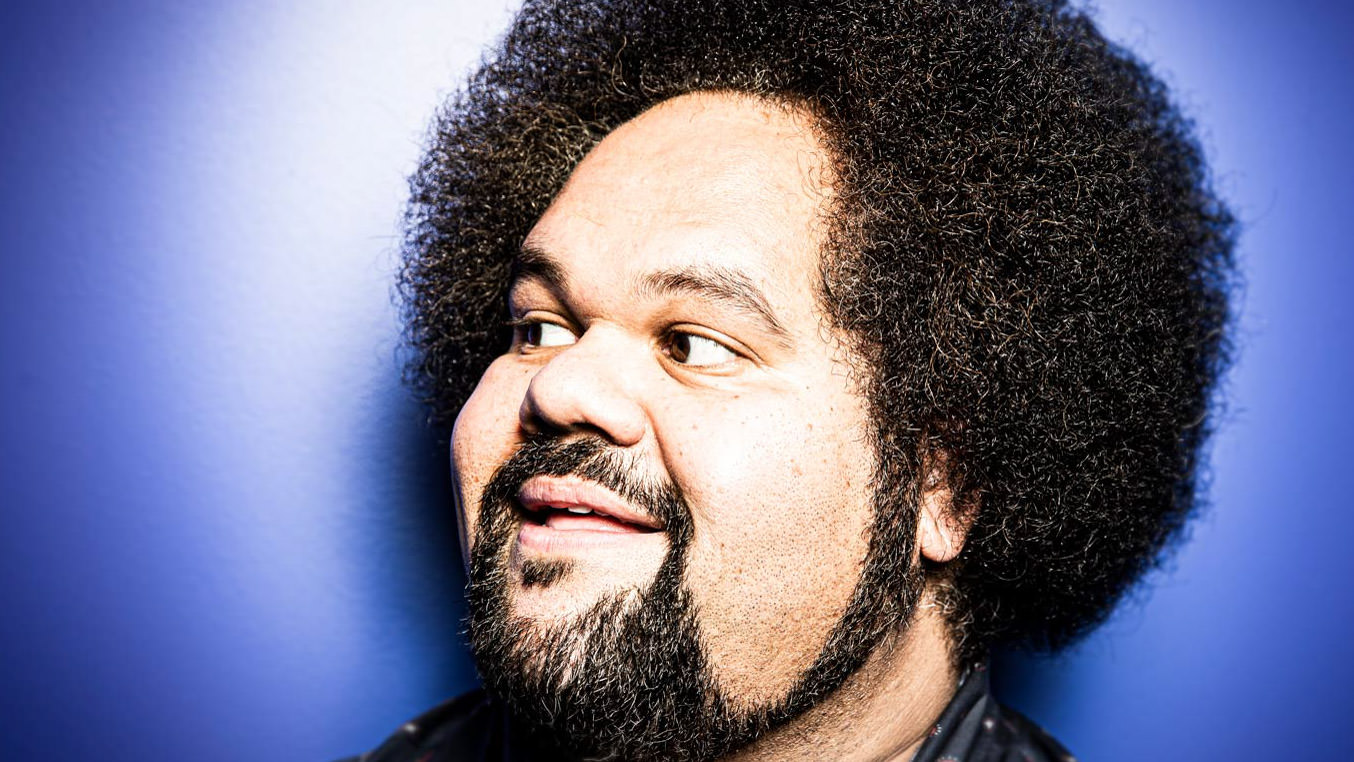 Recognising difference makes a difference
Widening educational participation for equity groups - Pacific people, Aboriginal and Torres Strait Islanders, kids in foster care, people with disabilities and women in STEM - is a key concern for universities, says Professor Ravulo, and something he has been doing through the PATHE program for almost a decade.
"Universities have a particular style of learning which they use to engage people and a lot of those styles of learning don't resonate with the identified equity groups," he says. "It's about being able to shake up the way in which tertiary institutions are engaging with their students.
"Acknowledging differences is key, there is this idea that we need to homogenise how people exist in certain spaces, including universities, but when you actually acknowledge that they are coming from these particular equity groups and that they are different, that is a positive aspect of educational engagement.
"When people feel valued for their differences, they then feel valued to contribute to their own learning environment. That is key in programs like PATHE and it is also my teaching philosophy in social work."

It is a philosophy his students are also putting into practice. Many have been employed across agencies in the community sector, off the back of going into their first placement, just 18 months after Professor Ravulo began his tenure at UOW to oversee and develop the Master of Social Work (Qualifying) program.
"The skills and attributes and knowledge students are learning from their degree is already starting to have an impact, and they're only halfway through," Professor Ravulo says. "The challenge of putting together a new program and the privilege of being involved in something that was hopefully going to make a difference across the wider community was the main reason I came to the role."
He has risen to that challenge, while carrying out research projects focusing on his key areas of interest - youth, mental health, alcohol and other drugs, marginalisation and decolonisation. He has two projects in motion including one with the Illawarra/Shoalhaven Local Health District looking at the attitudes of Burmese and Middle Eastern youth refugees to alcohol and drugs.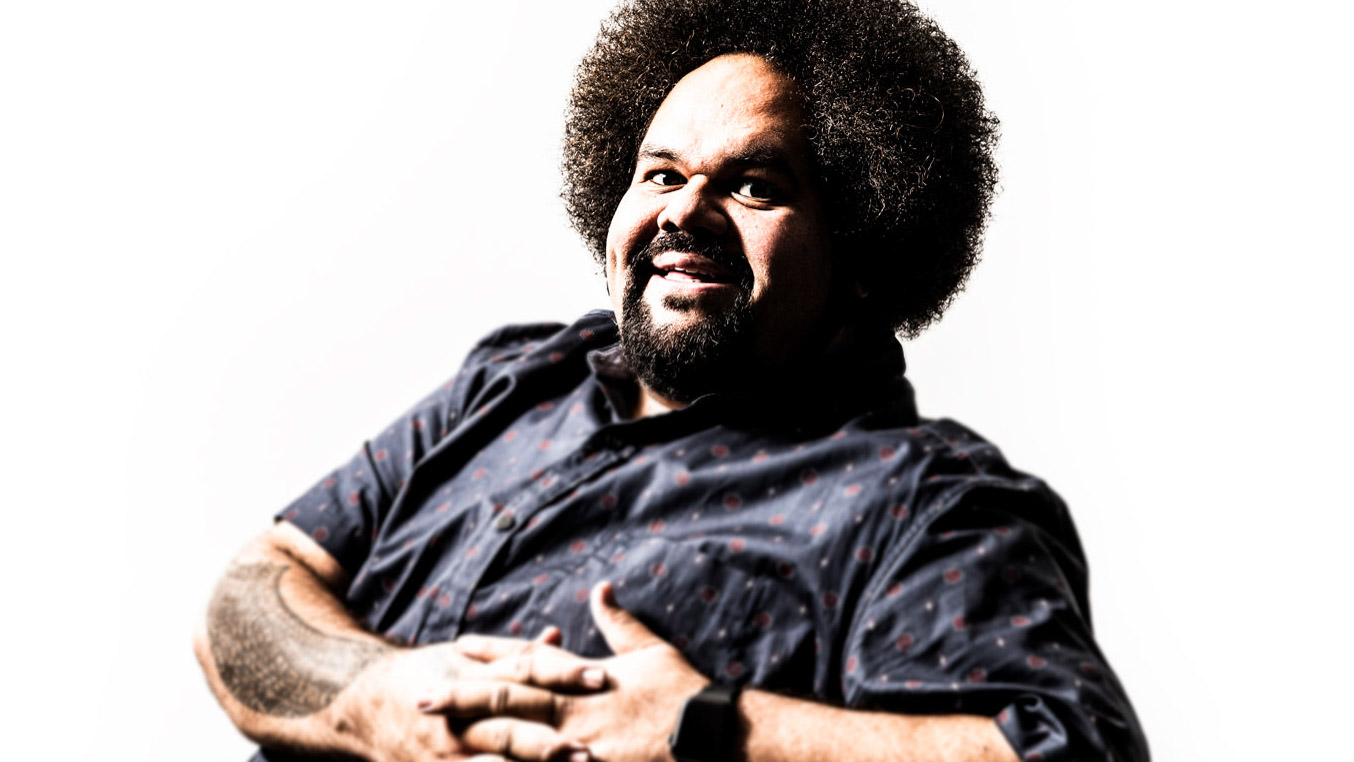 The other is a federally funded mental health project working alongside South Western Sydney and Western Sydney local health districts. It will allow Professor Ravulo and his team to drill down into the prevalence, morbidity, and help-seeking behaviour of Pacific groups in Western Sydney, no easy feat given there are no specific words for depression or suicide in Pacific languages.
"Part of our outputs include creating a lexicon, or glossary of terms, on how to better describe mental illnesses across Pacific groups," he says.

Along with his academic career, Professor Ravulo continues to work in private practice, counselling National Rugby League (NRL) players across the competition's 16 clubs to improve their wellbeing (often after-hours via FaceTime).
"The average age of an NRL player is around 21-22, they're on large contracts and they've also come from equity backgrounds themselves. A lot of my clinical work is helping players make better informed choices around their wellbeing," he says.
Asked when he has time to sleep, Professor Ravulo responds with his trademark laugh. It's big and infectious.
"I've created a really good life balance. What I'm driven by at the end of the day is my genuine passion and enthusiasm for this work. I get excited really easily, but I get bored really easily too so I'm constantly doing lots of different things at the same time it keeps me interested."