For most students, living on campus or in student accommodation is the highlight of their university experience and it all seems to come down to that sense of community. Whether it's heading out to different places in the Gong with massive groups of friends, finding a study buddy, or lending your neighbour a frypan - we asked two students about their first time living on campus.
---
A 4000km journey
UOW student Matthew Gadenne packed his life up into just three suitcases and moved across Australia, from Perth to Wollongong - it felt like he'd arrived at a new country. But in his letter home from UOW, Matthew says he has had the time of his life.
"The first thing I noticed when I arrived in Wollongong was how the weather was so different. And the sun not setting over the ocean is the weirdest thing. It has been a big move, but I have found the uni really looks after me.
"Living at Kooloobong Village has allowed me to get the social side of uni really down pat. When I arrived it was a busy day with lots of people moving in. It was very hot and humid. The building looked modern, but it wasn't until I walked through the doors to be greeted by the smiles of the student leaders and office staff when my nerves settled. I felt welcomed and it left a smile on my face for the rest of the day.
"In O-Week we were everywhere at once, we'd be at the beach, in the city, we'd go shopping or go up Mt Keira for a hike. It's been awesome."

- Matthew Gadenne

"It was challenging not knowing anyone at first, but that quickly changed after I went to some of the events. Initially there were meet and greets, and ice-breaker challenges, and then eventually we were going to the beach in groups of 50. We played sport together and had a scavenger hunt around campus.
"The whole thing has been really good for me. As I started to meet people, we'd go on mini-adventures and we'd drive around Wollongong. We all get together in big groups, the student leaders run different events or we catch the free buses to different places, so making friends organically just happened. In O-Week we were everywhere at once - we'd be at the beach, in the city, we'd go shopping or go up Mt Keira for a hike. It's been awesome.

"We also like to hang out at different people's units every now and then, or in the group study rooms, which have massive whiteboards and projectors. Sometimes we move the couches and watch a movie together. I liked how we stayed busy during O-Week - keeping occupied helped me focus on the 'now' rather than worrying about leaving family or classes that were coming up.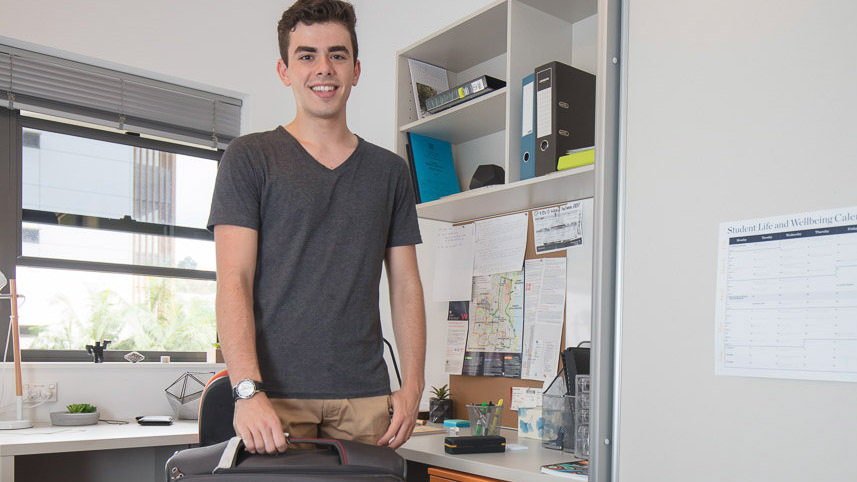 Matthew Gadenne packed his life into three suitcases and moved across the country to live and study at UOW.
"Cooking hasn't been too much of a problem, but I've found sometimes with my dishes I think, 'oh, I could do those later', or, 'I could do my washing later', but after a week or two, I figured out a routine. Most importantly, I've learnt how to be independent. Having tasks such as cooking, cleaning, socialising and learning under your control makes you suddenly feel a lot more mature."
As for the next four weeks…
"The student leaders still organise events, which give you a break from study. So for example, my favourite weekly event is the Farm to Table - so we've just started making a massive garden over the road which Kooloobong owns. A few years back there was a garden there, we've decided to re-vamp it and we are starting from scratch, getting some soil and doing the weeding. It gives all the students a chance to be part of the future of Kooloobong.
"We also have such a strong community of studying together and that plays a big part in stress reduction. When we can all work together, everyone is more focused. We use the whiteboards all the time, we use the projectors to put assignments on the screen, and we've got the Facebook page where you can say, 'does anyone want to study this subject', and there will be a few people who will say, 'yes'.
"I have truly enjoyed every day since I arrived."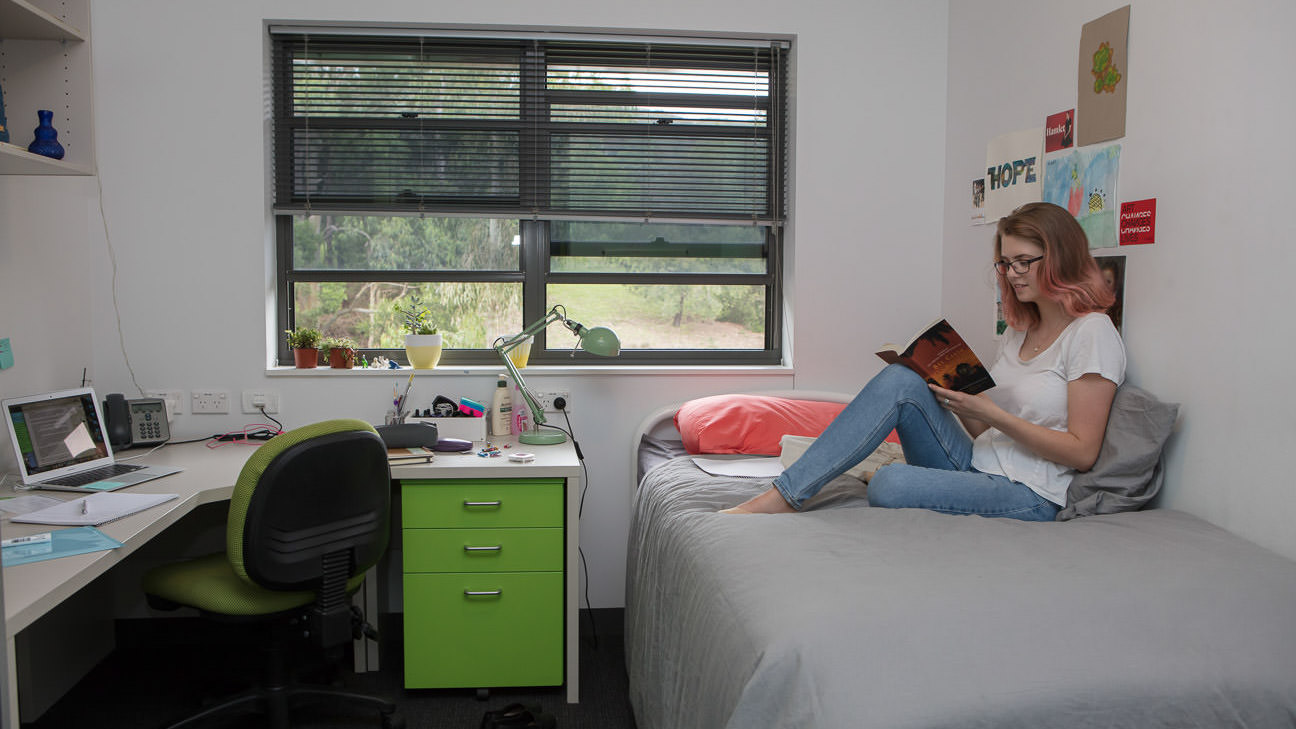 She was pretty worried about moving out of home, but Lillian Gerlach has made new friends and found her routine in her first month on campus.
Making life-long friends
Lillian Gerlach was looking for accommodation that would be as convenient as possible and living on campus has been just that. While she has made the odd call home - to the Blue Mountains - with questions about freezing and cooking chicken, she says moving out for the first time was easier than she thought.

"This is my first time living out of home and I was terrified. I'm not a super organised person and I was like, 'OK, I need to get myself together', but it actually wasn't too bad.
"The student leaders made a lot of effort to organise activities as a community and they would invite you to come along. It was a bit daunting at first, but then I clicked really easily with a whole bunch of people. And it's nice because they aren't all people who are studying performance like me, or creative arts - there are people from maths and medicine - it doesn't matter what you're studying we are all here together.
"I've made friends with a couple of international students too and they are really cool. I met a guy from Austria who is really great. He's been helping me practise my German - I have a German family so I thought it would be a good idea. I've also met a couple of other people through doing my cooking and washing. Someone needed to borrow a frypan and I've got one, so I went down and cooked with him for a little bit.
"So far, I've gotten lost on my way to a class. It wasn't even my first class! I'd already had it twice and I was like, 'whoa, I don't know where am I', but I've got that Lost on Campus app, which helped me find my way. I've also lost my room key once. I walked down to reception with this look on my face and she knew straight away what I was there for and helped me with a new one.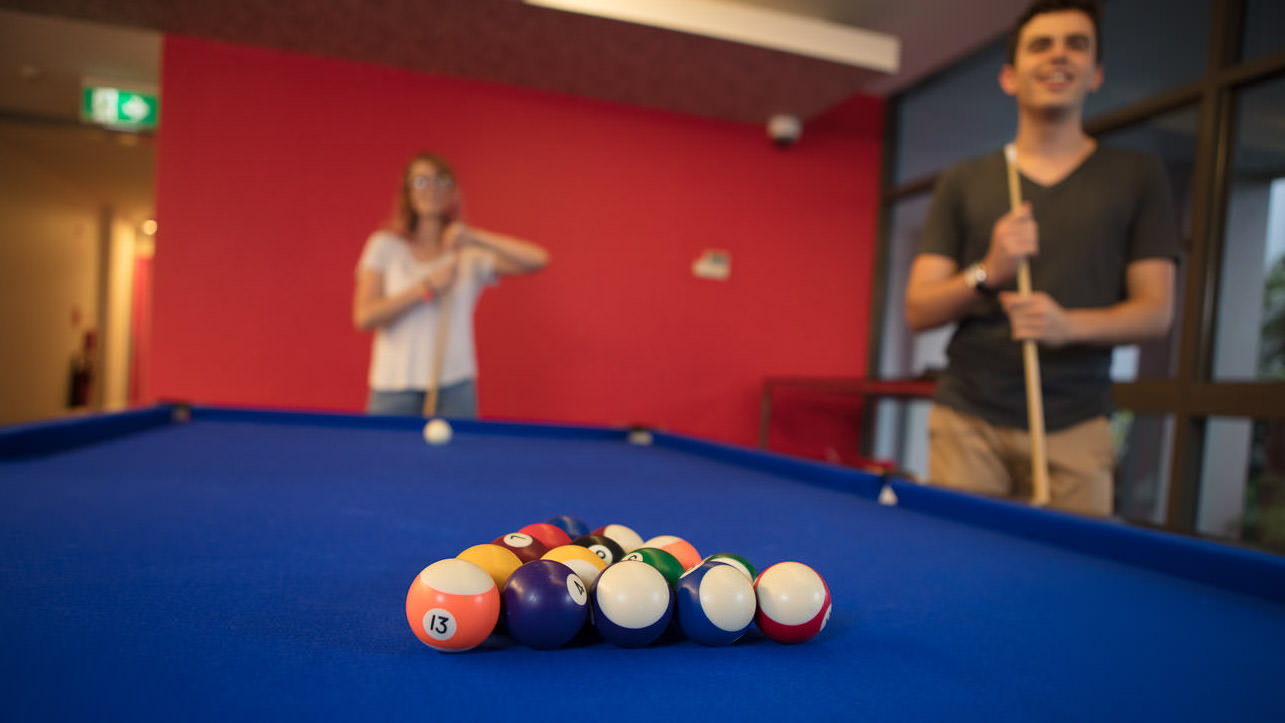 Lillian and Matthew have a game of pool at the tables at Kooloobong Village.
"Something I think is a really awesome idea is the mentor phone, so you can call it and say, 'hey, I'm lost', or, 'hey, I'm lonely', and they'll come and help. The student leaders take turns manning it and I have the number saved in my phone.
"Now that classes have started, I try to do the weekly activities. We sit and we watch TED Talks and drink tea, and we still hang around for the rest of the night in the common area playing card games or whatever.
"I feel like I've met quite a few people who I have actually managed to connect with in such a short amount of time. I've found my people, I guess."

Find out more about living on campus at UOW.


Future student news to your inbox
---
Want to stay up-to-date with news, stories and info about studying at UOW?