"I'm not a very spiritual person, but it's such a spiritual place out there. It's otherworldly, and I just sort of fell in love with the place and the community."
---
University of Wollongong (UOW) geomorphologist Dr Nathan Jankowski reminisces on his first time visiting Mungo National Park in the Willandra Lakes Region, in far western New South Wales.
The Willandra Lakes Region is world-famous for the 1974 discovery of the oldest human remains in Australia, Mungo Man and Mungo Lady, which proved Aboriginal people had been living in Australia much longer than originally thought.
"Conventional western thinking at the time had it that people had been in Australia for only about 10,000 years, then Jim Bowler [who made the discovery] doubled that to about 20,000 years. But the dating back then wasn't as good as it is now and has subsequently been pushed back to about 40,000 years for those individuals," says Dr Jankowski.
The discovery led to the Region being listed as a World Heritage Site.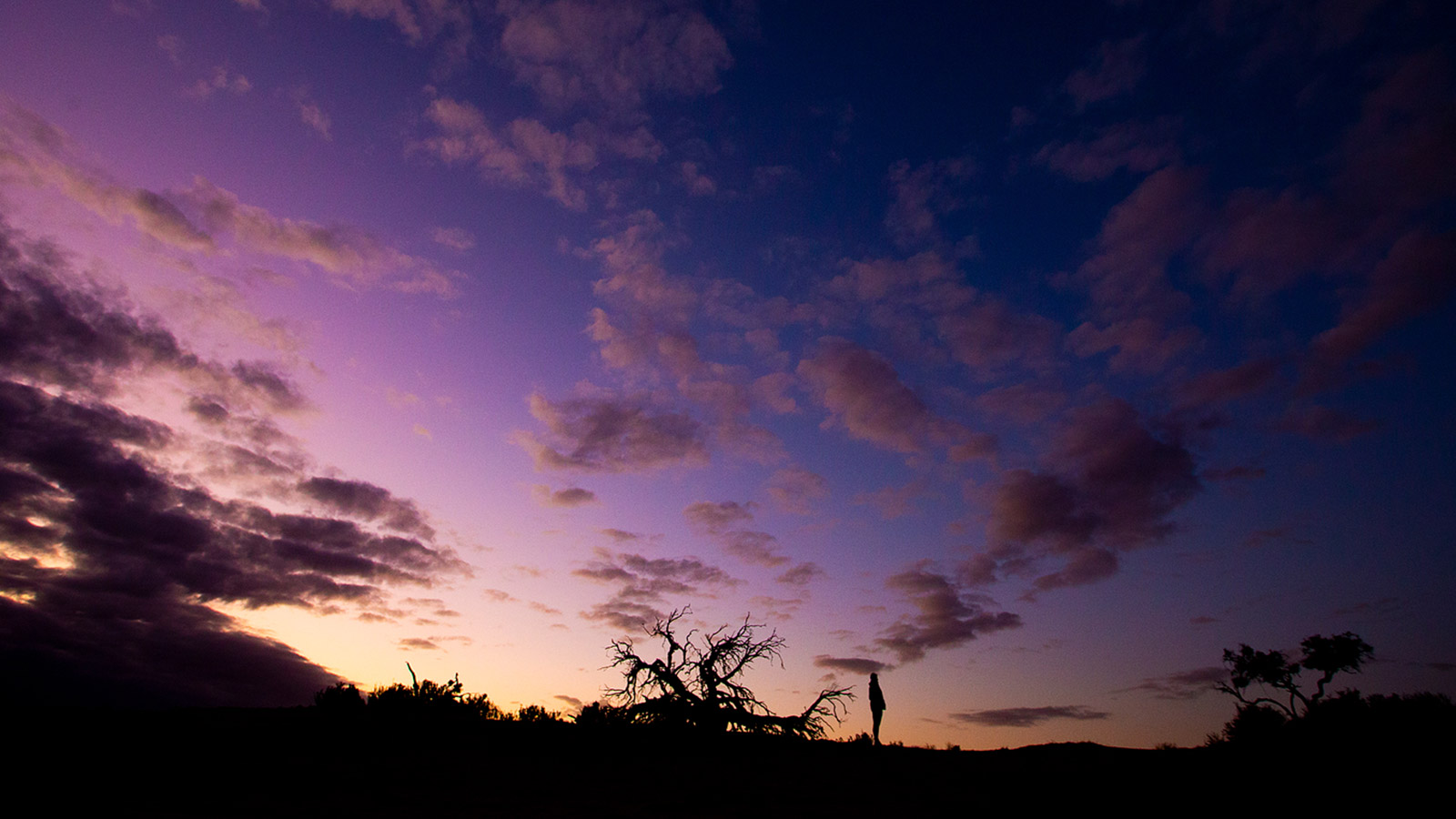 Dr Nathan Jankowski at the Willandria Lakes Region. Photo: Paul Jones
Blending modern and traditional knowledge
As a geomorphologist, Dr Jankowski's role is to collect soil samples for analysis in the lab, to recognise how the landscape had changed over millennia, help date the archaeological material preserved in the landscape, and better understand the way people inhabited the land.
Since his first field trip in 2017, he has returned to the site more than a dozen times and become a pillar of the community.
In 2019, Dr Jankowski was an activity leader for the Mungo Youth Project (MYP), a biennial immersive education experience that takes primary and secondary school students to Lake Mungo to learn from geologists, archaeologists and the local Indigenous community.
"The project looked at teaching local kids from around Broken Hill, Ivanhoe, Mildura, Balranald and surrounds all about Lake Mungo and its natural and cultural heritage. They spend a couple of days learning from Elders about everything from ethics to knowledge transfer, how to behave and cultural awareness and significance of these sites," he says.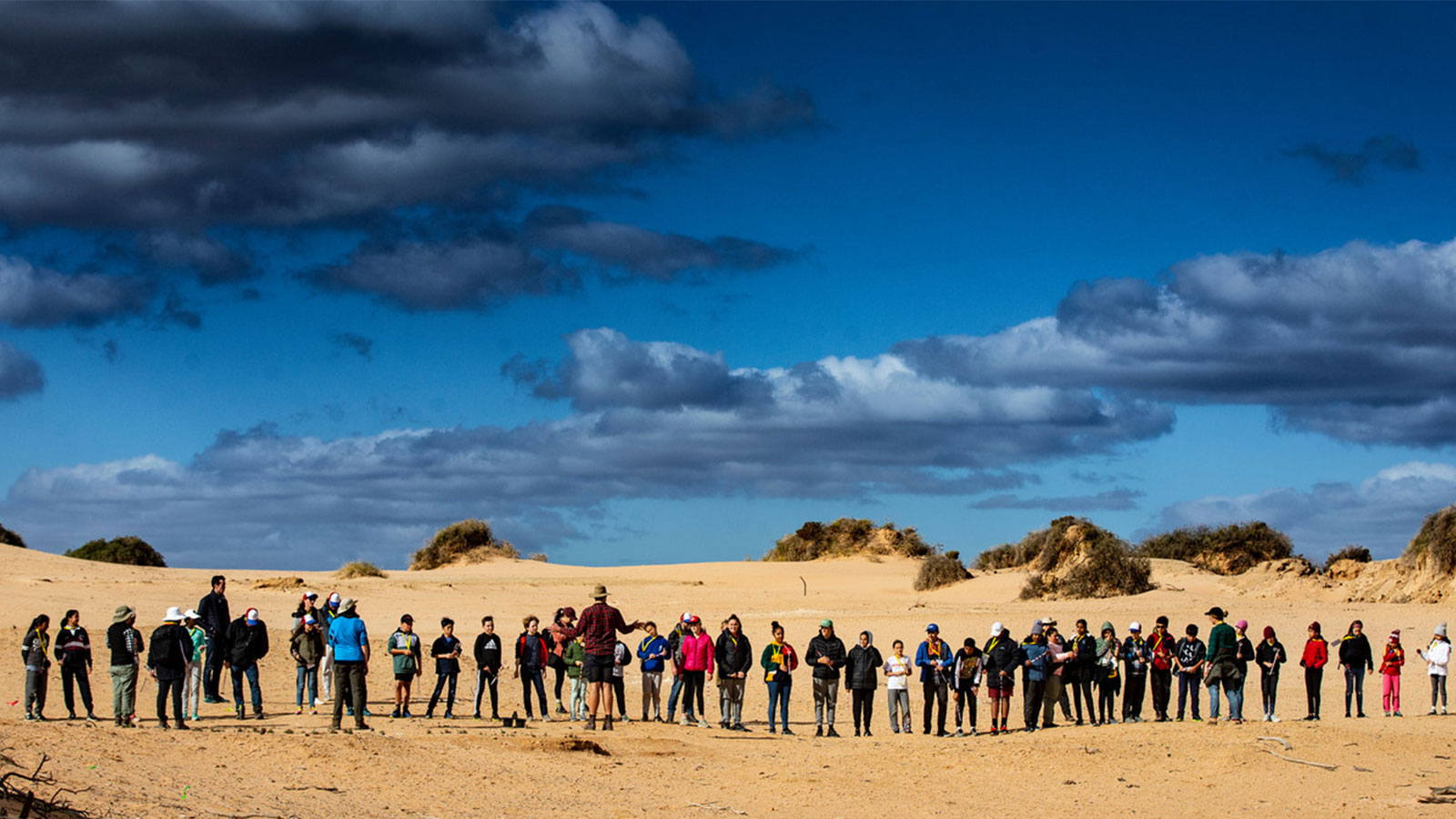 Dr Jankowski instructing the Mungo Youth Project in 2019. Photo: Paul Jones
Dr Jankowski conducts continuous fieldwork at the sites, alongside researchers from La Trobe University, led by archaeologist Nicola Stern and the First Peoples' Consultative Group, an elected board of members from the Barkandji/Paankantyi, Ngiyampaa and Mutthi Mutthi traditional groups.
"Whenever I go out, I have a representative from one of the traditional groups with me and it's a type of dual training that happens. They tell us about what they know about the location and we can say, 'we've got some dating from here and we know that this is 20,000 years old' or whatever happens to be," he says.
"It's a really nice way of conducting fieldwork. It's not necessarily something that is common practice in my field [of geology] but I find it's a really beneficial way of doing research."
The uniqueness of our own backyard
Dr Jankowski completed a Bachelor of Science (Advanced) (Honours) at UOW in 2009, double majoring in geology and physical geography and was part of one of the first cohorts to complete a newly designed archaeological science subject.
After completing his PhD at UOW in 2015 under the supervision of Professor Zenobia Jacobs, Dr Jankowski joined the archaeology department as a researcher at Durham University in England.
"I was using the same skill set that I developed in my PhD where I was applying it to Neanderthal occupation sites in France, but instead using it to look at the development of historical-aged irrigation features in Spain and Morocco," he says.
"Then I came back in 2017 to join CABAH (the Centre of Excellence for Australian Biodiversity and Heritage) as a post-doctoral researcher and took up a role on the Mungo Archaeology Project. The first time I visited the Willandra, I just fell in love with the place."
Having travelled the world to conduct his research Dr Jankowski is still amazed at the level of history that is unique to Australia.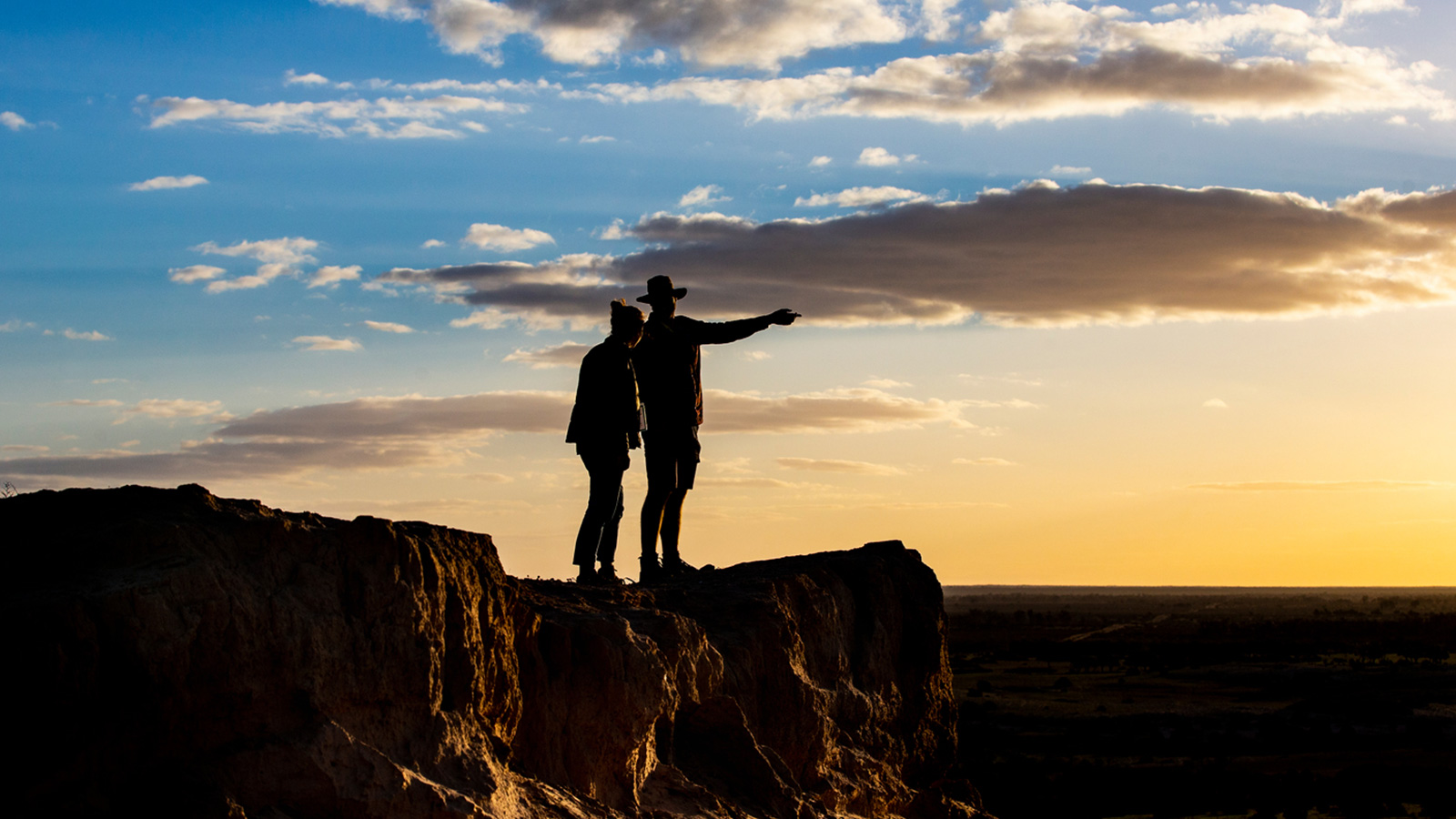 "I think it's the ancientness of it. If you think about ancient Egypt, the ancient Egyptians lived about 4,000 years ago. Mungo Lady and Mungo Man were ten times that old, so that really puts things into perspective," he says.
"The other benefit of Australia is that we had very little in the way of impact from the Ice Age. We didn't have large ice sheets or glaciers like in North America and Europe that bulldozed the landscape and destroyed the evidence of people living there. We get this long record of people being here, significantly longer than the rest of the world."
Dr Jankowski recommends anyone with an interest in the past and science to think about a career in geology or archaeology.
"I find the work in Willandra to be fascinating because I'm contributing to a story that has already been established. If past researchers were painting a picture, they were using broad, sweeping brushstrokes to get the basic understanding. What we're doing now is adding the fine detail, putting on the Mona Lisa smile."