The University of Wollongong graduates whose passion for science is helping change the world.
---
Adam Poole had just finished his mechanic's apprenticeship when he was injured at work.
"They told me I couldn't work on the tools anymore, so after four years I had to start fresh, which was pretty life changing," he says.
This led him to begin work in occupational safety, completing a Certificate 4 and Diploma before starting work as a safety officer at Sydney Water.
"The opportunity came up for me to do a masters, and although I didn't have an undergraduate degree and I was so new to uni, it was one of those gateway opportunities."
In 2013, Adam enrolled in a Master of Science (Occupational Health and Safety) at the University of Wollongong (UOW).
"I was working full-time and studying, and I just kept seeing the same types of problems on site, despite there being management systems and audits in place. I went to a construction site which had 55 A4 folders as their safety management system," he says.
"I had seen a picture of augmented reality in a concept that was being used at Woolies, and I thought 'that's cool tech, what if we could use it for something a bit more interesting?'"
Pitching Safety Compass
In 2014, Adam applied for the UOW Pitch Competition with his idea for an occupational health and safety app.
Safety Compass would use augmented reality to allow workers to take photos of site hazards and log reports in the app. Other workers are then notified when they are near the hazard, in the same way Google Maps alerts you of a traffic hazard.
"It was my first ever pitch, and it was pretty intimidating. I had no expectations, I just thought 'this could help keep people safe at work, I'll give it a try,'" Adam says.
Adam took out first place in the postgraduate category, earning $5000 to put towards the development of the product. He found a freelance app developer to create the prototype, which he could then share with potential investors.
"There was nothing like Safety Compass on the market at the time; the closest thing to it was Pokémon Go. It was hard to explain how we were going to build an Uber for workplaces. Then with the prototype, I went and tried it out at Innovation Campus, mapping out hazards and it worked. I started to show my workmates and lecturers, and it grew from there."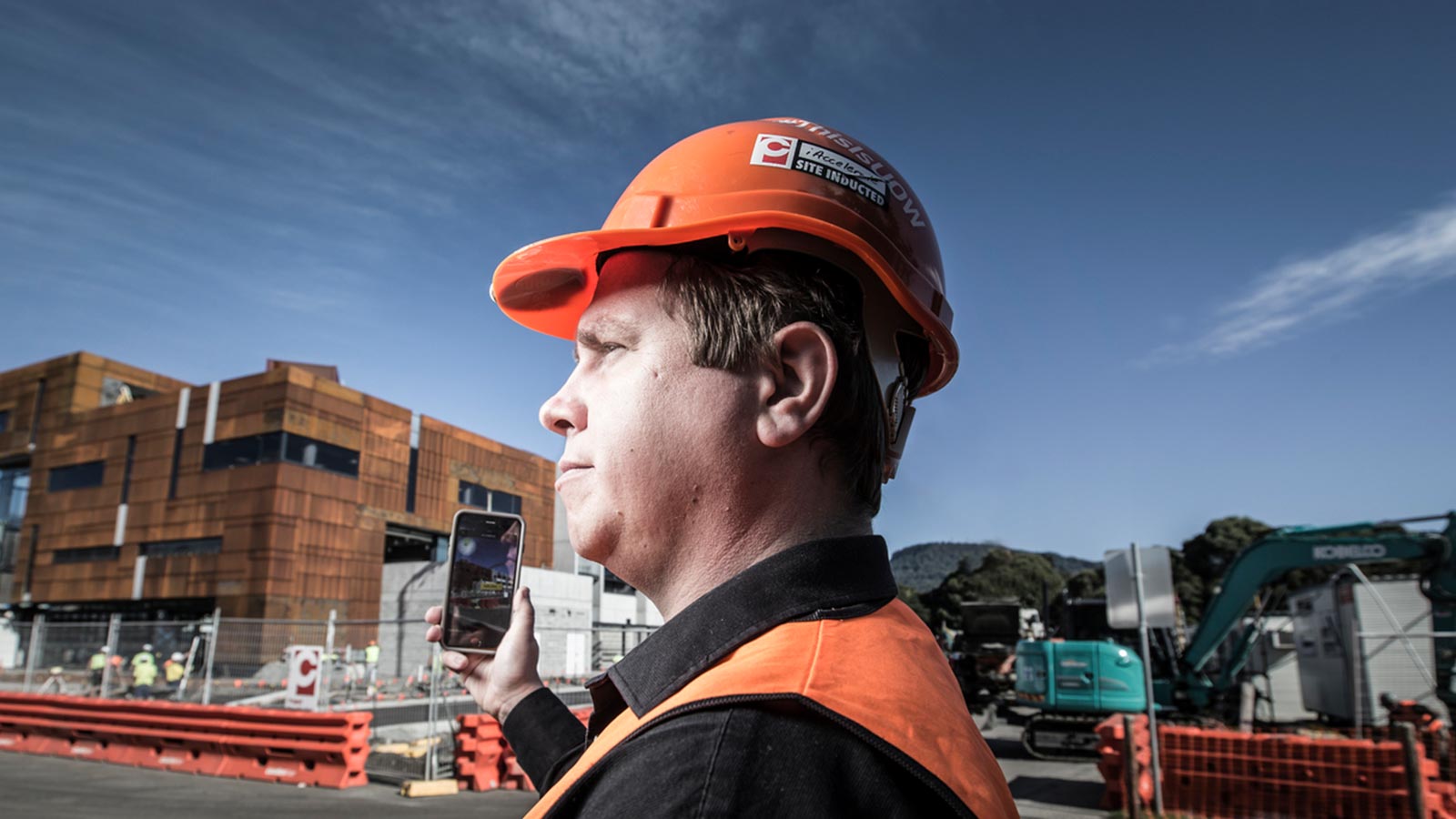 Workplace safety on the map
It's been a slow but strong journey since the app's inception in 2014. The Safety Compass prototype was accepted into Sydney startup accelerator BlueChilli, which saw Adam quickly pivot from safety officer to businessman.
"I had to go and figure out sales and figure out how to market this thing and get rejected by a thousand companies and a thousand investors before I hit one that would take it up," he says.
"And when you think of startup companies, you think of slick tech dudes trying to sell you something. Whereas with safety you're looking at big companies like BlueScope or Port Authority. The skills and technical knowledge I had from my safety background meant I could talk in their language about risks and contractor safety."
Since then, Safety Compass has been picked up by an array of companies and worksites within Australia and around the world, with businesses across Africa, the Middle East and Asia expressing interest.
"India is probably one of our bigger markets that is constantly reaching out to us. In Australia and the US we have safety laws and access to good PPE, but in some of those developing markets, an app like Safety Compass helps provide the basics," explains Adam.
The COVID-19 pandemic has interrupted potential partnership and investment deals, but the company is still making waves. In 2016 they won the coveted Michael Bryce Patron's Award from Good Design Australia, an award which recognises the potential of a product to shape our economic, social and environmental future.
"It's always been about keeping people safe, so for us to be recognised as positively impacting on people's lives, it was a huge deal to win."
The future of occupational safety
Adam's vision has been clear from the beginning and is reflected in the company's motto: Creating a world where everyone comes home from work. He hopes the accessibility and affordability of the app will mean more companies and individuals will adopt the technology.
"The thing with Safety Compass is we are using the hardware that already exists, in that everyone has a smart phone. Companies don't have to invest in wearable devices, like HoloLens glasses that can cost up to $2000 each," he says.
"If you can do something that is really simple, it's on a smartphone, it actively prompts people to think about their own safety. The tradies, people working in tunnels and on jobsites are the ones most at risk. They are the ones I want to see using the software, not just as a box ticking exercise, but as part of their everyday frontline safety."