Three UOW alumni share the stories of coming of age and finding their dream jobs right after uni
---
Universities are the cornerstones of our civilisation, whether in times of peace or moments of turmoil. They're the boiling pot of ideas, innovation and scientific discovery, and the strongest curators of various specialists fit to solve our modern problems.
In 2018, universities contributed $41 billion to the Australian economy and supported 259,100 full-time jobs. More than 340,000 higher education students graduate in Australia annually, with international students making more than a third of the academic cohort. At the University of Wollongong (UOW), each year around 8,000 young people get their degree, which has amounted to 172,167 alumni from 199 different countries so far (as per 2020).
But what do you expect of your university when commencing your studies? To offer a degree that opens the door to the fanciest office in town? To foster your curiosity, empathy and flair so that you could take on the world with whatever abstract idea you have? Or to teach a particular set of skills that allow you to be smart, agile and flexible, to not only fit the industry standards but expand them?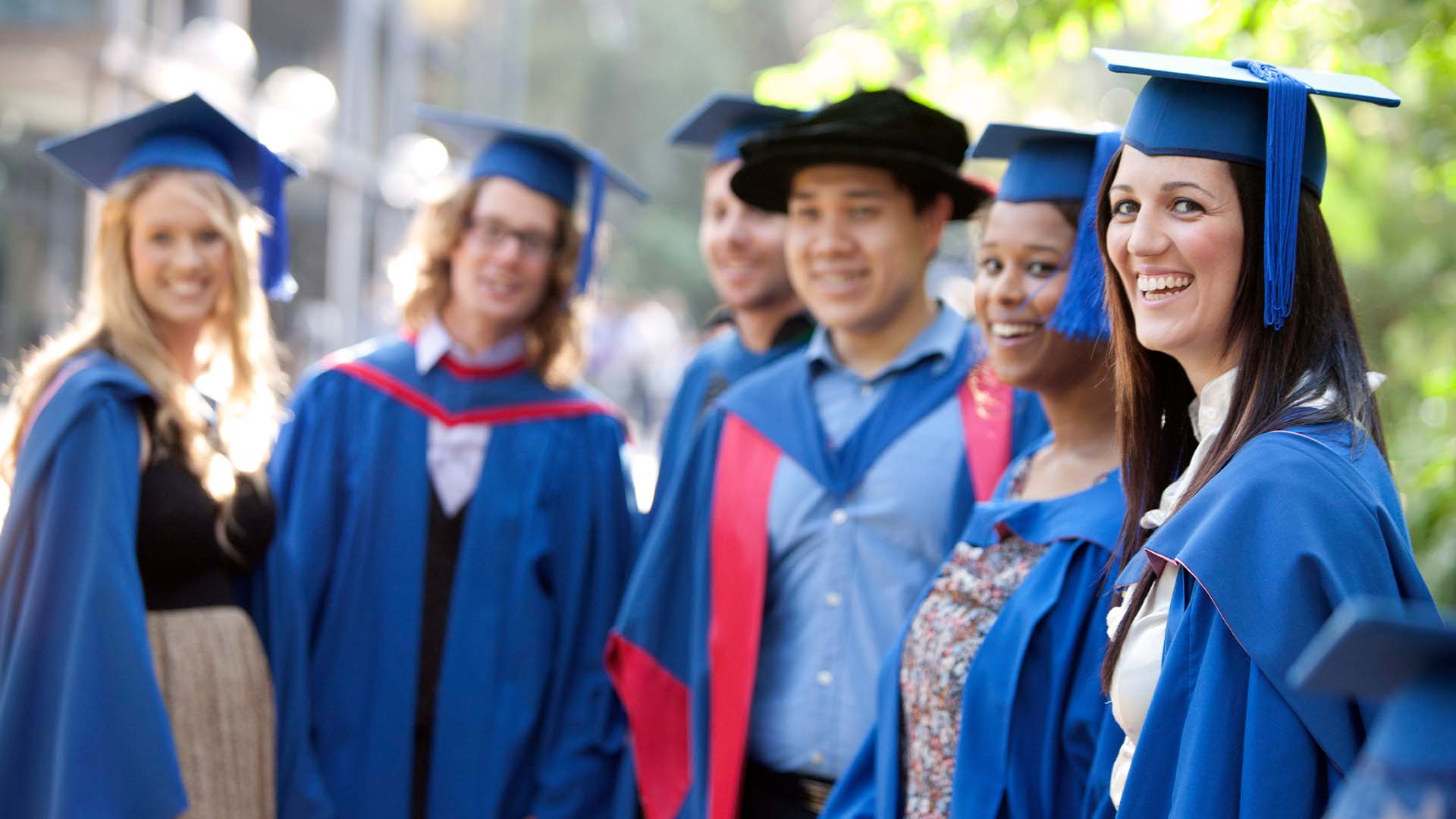 If a measure of a society is how well it takes care of its young, we can stay optimistic. This year, the University of Wollongong leapfrogged its rivals and topped the national survey of Australian employers' satisfaction (the Australian Government's Quality Indicators for Learning and Teaching, or QILT) – which was a massive nod to the University's ability to provide the education that really drives change and makes students ready to start adult lives.
A measure of a society is how well it takes care of its young
"We're really proud of these results as they show that we're deeply engaged in the real world," says UOW Vice-Chancellor Professor Patricia Davidson. "We have a strong entrepreneurial culture here that's based on collaboration, passion and teamwork. So that's probably what makes our alumni such stellar employees."
From Lego to navy
What happens when you marry a passion for Lego Mechatronics with a chirpy, easy-going personality and a stellar brainpower? 27-year-old UOW alumnus, Lachlan Maloney, graduated only five years ago. Still, in that time, he managed to build a start-up, create software that teaches people how to play guitar and land a prestigious job as a marine engineer at the Department of Defence in Canberra.
Lachlan's UOW journey started early, when he was still in high school. Even though he grew up in Tamworth, about three hours northwest of Newcastle, when he learned about UOW during a school presentation, he decided to take a road trip to the South Coast to learn more about the University.
"Right away, I fell in love with the campus and its liveliness, and the proximity to the ocean was appealing too. So I applied while still completing my HSC and got in on early entry, starting with a mechanical engineering degree."
As a child, Lachlan dreamt of becoming an archaeologist, fantasising about discovering dinosaur bones, digging them out and putting them into museums. Then his passions started to mature and crystalise.
"I've always been very much into Lego. I loved building sets with my grandfather, a skilled Lego builder, and later, I became a fan of Lego Mechatronics. Then, high school was a busy time, full of local science competitions, so studying engineering was such a natural, aligned choice for me," Lachlan explains.
So, in line with his Lego building passion, for Lachlan, engineering quickly evolved into mechatronics, and soon he was switching degrees, this time to Mechatronics, Robotics and Automation. Towards the end of his studies, Lachlan took a stab at entrepreneurship. Using his passion for mechatronics and music, while also taking advantage of the iAccelerate program for start-ups, he co-founded InstaShred – a start-up company that develops cool software for budding musicians. Built as an interactive LED guitar that pairs with a smartphone, the program shows aspiring guitarists where to place their fingers.
"Playing the guitar has always been my passion, but so is software-building. So I teamed up with a group of UOW student engineers to create something that could help motivate people to pick up a guitar and start learning," Lachlan says.
"What started as a university project has grown into a start-up business opportunity that still thrives today. I continue to work with InstaShred as a firmware developer and circuit board designer, which keeps me very busy."
During the day, Lachlan works for the Department of Defence where he's responsible for providing technical and engineering advice to the Royal Australian Navy. As he navigates the uncharted waters of adult employment, he often finds himself using most of the skills acquired at school.
"At work, we're looking at ways to reduce RAN ships' susceptibility and vulnerability, which is definitely a niche technical topic not taught at university".
"But in reality, engineering knowledge is just a base, and on top of it, I feel that I'm a good team member because of my time at UOW. It was a perfect blend of studying hard, building leadership skills through various extracurricular activities and enjoying what student life has to offer. I left uni with perfect memories but also with a toolbox of soft skills I'm using now: communication, teamwork, time management, and just learning to collaborate with different people," Lachlan says.
To change people's life, one patient at a time
UOW 2018 alumna 26-year-old Sarah McCluskey boasts an impressive job title and a more impressive work portfolio. A graduate of psychology, she works as a National Clinical Director at The Centre for Positive Behaviour Support, a national behavioural support company with offices along the whole east coast of Australia and South Australia up to Alice Springs.
During her career there, she has moved from being a practitioner in an office of five people to the National Clinical Director overseeing 120 therapists.
"This was my first full-time job, and the company has grown astronomically from the time I joined," she explains.
As a student of psychology, Sarah transferred to UOW in her third year, and she was surprised by how life-relevant her degree was.
"I was quite studious during my time at UOW, so you wouldn't have seen me partying around or engaging in many extracurricular activities. I loved the curriculum," Sarah says.
"In my fourth year, we practised micro-skills and counselling-related skills, which was great to have some practical skills. The lecturer gave us stories about his own clinical work and related them to the theories we've been studying. It was eye-opening."
"Some of these stories have stuck with me for years and which I recall often when explaining particular topics."
During her final year, she worked 40-hour weeks doing behavioural therapy at a clinic and residential youth work while also writing her thesis on short-term memory.
"One of the best things at UOW was that all academics had always been so approachable. My supervisor helped me plan my career and supported me all the way. I loved her advice, and I still remember this amazing feeling of being treated like an adult, not a kid," Sarah reminisces on her times in Wollongong.
"I liked being treated like an adult, not a kid."
Having recently moved from Canberra to Brisbane, Sarah seems very busy, but her mission to help underserved and underrepresented people motivates her to push ahead.
"I am a Board-Certified Behaviour Analyst (BCBA), providing the highest behavioural intervention and assessment for individuals. My specialisation and key areas of interest include working with complex neuro-developmental disabilities and highly challenging behaviour," Sarah says.
She developed a passion for working with people with disabilities when volunteering with a young autistic boy while still studying at the university. During their therapy, Sarah noticed the immense barriers clients with disabilities faced and how little support was available to them. Last year, she was accepted into a Doctoral Degree, exploring the efficacy of language acquisition programs within the NDIS funding model.
"I made it my mission to change the quality of disabled people's lives. It's such a privilege to work with them," she says.
"One of my first clients used to be non-verbal and found it very challenging to communicate with others. However, now when I catch up with him and his family, he is able to hold a conversation with me and tell me about all of his favourite things or what he did that day. These are the most rewarding aspects of my work."
Nose out of textbooks
Paul Fenech, 26, is a co-founder and director of a highly disruptive IT start-up V-DAQ, providing regulatory fleet tracking and management solutions to various transport companies, from owner drivers to large multi-national operators. Based at UOW's Innovation Campus, V-DAQ employs a number of UOW alumni and students.
The University, it seems, is a solid, recurring thread in the company's DNA. It started in 2017 when two entrepreneurs, Paul and his colleague Rylan Kolb, met at the Wollongong campus as students.
"Both of us did a Bachelor of Engineering majoring in mechatronics. My thesis project was building a soft robotic hand under the guidance of the renowned soft robotics specialist, Senior Professor Gursel Alici," Paul says.
"I was a good student, but early on, my grades were pretty average. Only after I had realised how applicable the skills I was learning could be in real life did I start to get excellent marks.
"At the end of my second year, everything began to gel together: what I learned with what I wanted to achieve. This was the time when I started to engage in many projects, helping people with research and learning massively. I ended up finishing university with first class honours."
His company V-DAQ initially developed hardware and software to detect when a vehicle had been in a car accident. Then, the idea evolved, and the start-up joined UOW's business incubator – iAccelerate.
"Having the University with all its brainpower and innovation just around the corner is amazing. We regularly run internship programs, hire most of our staff from UOW and lead the industry-side of some courses for the engineering faculty. And running the business from the Innovation Campus, with its great facilities and equipment, is great too," Paul explains.
The biggest takeaway from his university life is that you need to cherish your school friendships and stick your nose out of the textbooks.
"For me, with my passion for technology and innovation, the minute I got the taste of the real business, the better student I became. And that's why UOW is such a great uni. It has good social relevance and teachers who foster both technical and social skills. And that's the future – on the graduation day, no alumni should feel scared of making use of what they've learnt at school."
Explore your future
---
UOW's Career Central offers resources, programs, events and services to help students establish their career goals and find effective pathways to achieve them.