When Ernest Bukasa met Teklemariam Mengistu in 2013 "something clicked". Both had fled war-torn African countries and arrived in Australia as refugees before settling in Wollongong.
---
Since then, Ernest, 27, and Tek, 23, have formed a strong bond, with Ernest acting as mentor and guide, encouraging Tek to pursue studies at the University of Wollongong, just like himself. Ernest is now in his final year of a Bachelor of Business (minoring in Law) while Tek is completing his third year of a Bachelor of Commerce.
How and when did you first meet?
Ernest: We met around 2013 when Tek was playing soccer at the youth centre. I was passing by and this kid comes up and says, "Hi, my name is Tek Mengistu. I'm from Eritrea". He was so polite and down to earth. I was just stunned. I had already been living in Australia for three years but Tek had just arrived. We talked about how we found Australia and I wanted to reassure him that support and help were there if he needed. I knew from that first day it was going to be something special.
Tek: I remember meeting Ernest at the Wollongong Youth Centre. I was kicking the soccer ball and he told me I was a very good player. As well as many other things, Ernest is actually trained as a soccer coach and he knows a lot about the game. He later coached me, actually. My first impression was like, 'Who is this guy?' But I thought he was from Congo because Congolese people have a very unique fashion. And now he's a brother to me, he's almost everything.


How has Ernest made a difference in your life?
Tek: Over the years Ernest has coached me on the field and off the field. He ignited the motivation within me to be the best version of myself. I remember one night when he dropped me home after training, we stayed in the car talking for five hours. He asked me, "How do you see yourself in the coming years?" And I told him that I want to challenge myself, I don't want the limitations that I have in life, such as English being my third spoken language, to be a barrier. I told him I want to work for a global company and study at university level. Since then Ernest assisted me, even getting up at 5am to do study sessions in accounting, which honestly, is my least favourite subject. I've since received Distinctions and HDs in some subjects.
Ernest: That night in the car I told Tek, "You are going to have to work twice as much as the next man". He talked a lot about wanting to get into uni, so I gave him a lot of guidance on that. When you come to Australia as a refugee your back is against the wall and it can feel like everybody is swinging against you. If you have no-one to fall back on, you're going to go down as well.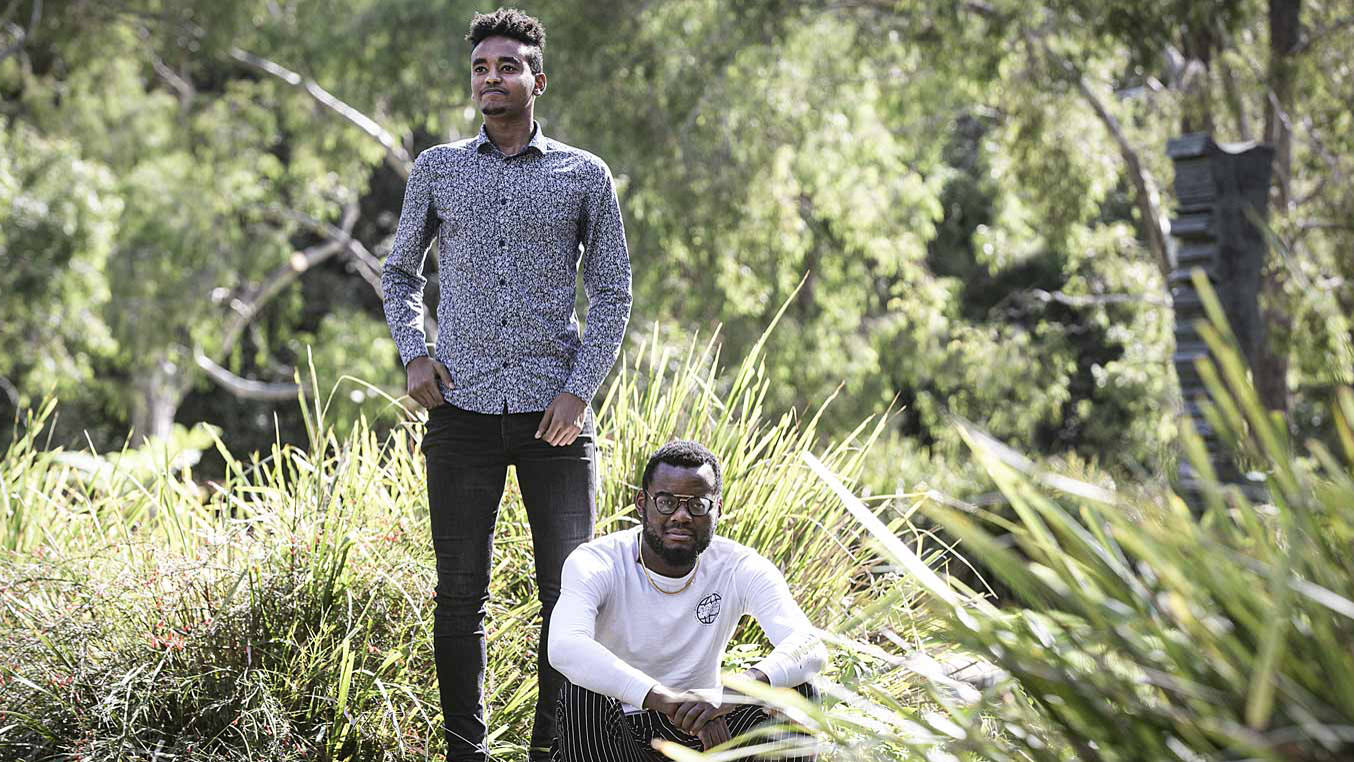 Teklemariam Mengistu and Ernest Bukasa. Photo: Paul Jones
Was there trauma or difficulty or conflict from the places that you had come from that you shared in your friendship?
Tek: A lot of people think Africa is one country but Africa is over 54 different countries and each country has its own limitations, its own issues that makes kids unable to have a sequence of studies that are not disrupted. Personally, my family walked from Eritrea to Sudan, which is a very long distance. There are no roads. It took many days or even weeks. I was very young, only two years old.
Ernest: Looking from where we both come from, with the hardship that we went through life, we had to work hard to get here and be the light that others can look towards and lead by example. From our upbringing to where we are, for me trauma is a reminder of where I came from to where I am going and that's to leave this place in a better place than I found it in. Life has been a roller coaster which took me a weird path to get here and be in this position. Tek was like a guide to help me along my journey. There's always a need of positive energy to motivate me and now it is more like the passing of the torch.
"We had to work hard to get here and be the light that others can look towards and lead by example."

- Ernest Bukasa Bukasa
What do you most admire about each other?
Tek: The resilience Ernest has is astonishing, coming from a country where English is not your first language, his background and now he's studying a at university level. He's a leader in many different communities, he's a soccer coach and works with Wollongong City Council to teach kids about the refugee experience. Ernest once told me, "A man is born free but raised in chains", which basically means that humans are born free but there's limitations to what they can do depending on where they are born. A lot of people from my country and his country can relate to that.
Ernest: A coach is there to mentor and push, but Tek has also pushed me as well. Every single time I get off the rail, Tek pushes me back and every single time he goes off the rail I yell and scream at him. He's motivated me to be the best version of myself.


What does the future hold?
Tek: I have two fields I want to pursue when I finish my studies. One would be to work as a sports marketer and the other one would be working for the United Nations and helping kids to get to where Ernest and I are today. I know it's a big step and it will take time but I think I'm capable of doing it. I want to give hope to children who are where I was when I was a little kid. I want to break the chains that we were talking about. I want to empower them with education skills and spark that life for them.
Ernest: For me I want to I leave the world in a better place. That's been my ultimate drive. Going to high school and speaking to students, I think the biggest reward for me so far has been coaching kids to go to university.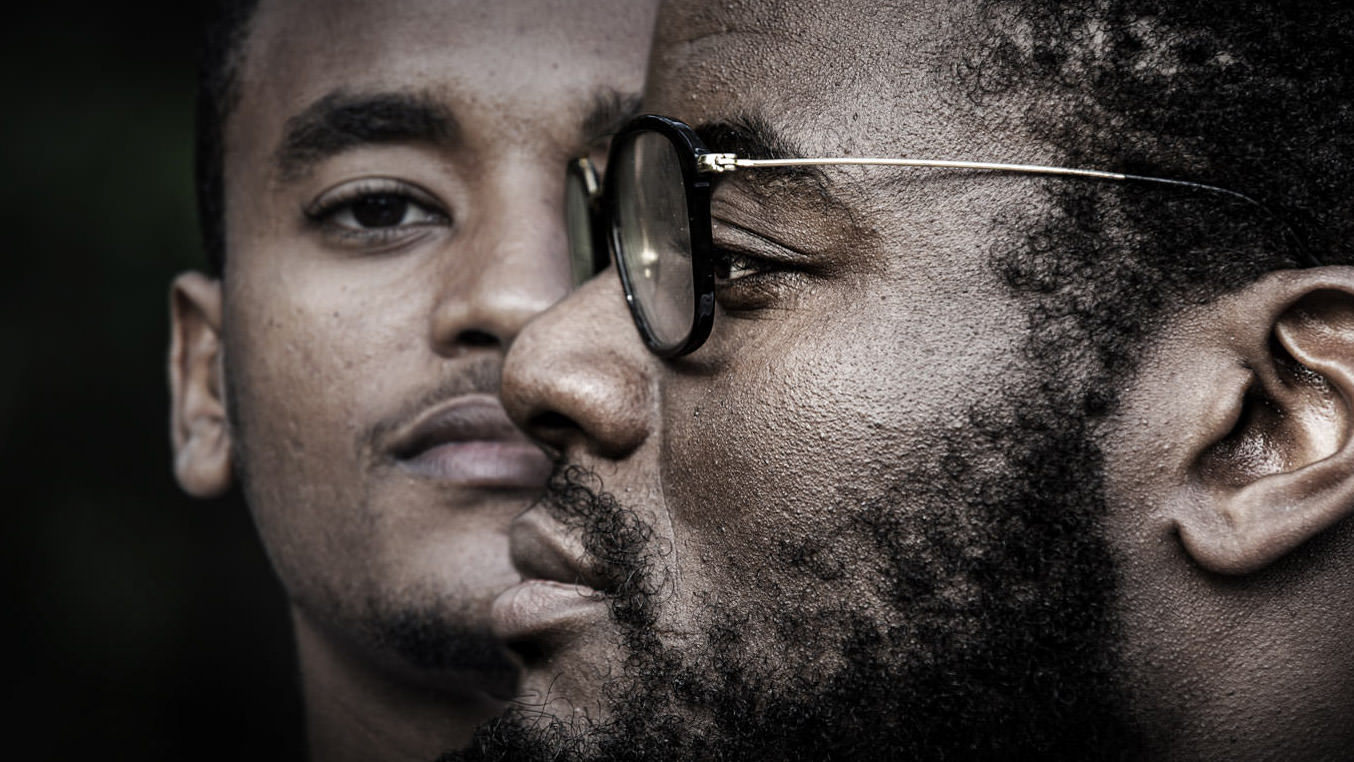 Tek and Ernest. Photo: Paul Jones
What do you think are the challenges for refugees coming to Australia?
Tek: I think adjusting to the Australian system and lifestyle is the biggest challenge. It's like an Australian citizen moving to Japan, not being able to speak Japanese or understand what the signs are saying, how the bus timetables work and the culture.
Ernest: You feel misplaced because everything around you is different. And you often feel misunderstood as well.
"Ernest ignited the motivation within me to be the best version of myself."

- Tek Mengistu
Tek, was Ernest the reason that you came to UOW?
Tek: I dreamed about studying at university level, but Ernest makes up at least 75 per cent of how I achieved my dream, which is a big number. I felt when I was looking at Ernest I could see the big picture.
Ernest: He's done a lot of the work by himself, honestly. I was just there to guide him. We always talk about a comparison with Kobe [Bryant] and Michael Jordan. I was the Jordan, he was the Kobe.