It took four long, grueling trips to central Australia to get the perfect shot.
---
Dr Damien Esquerre and his crew spent hours driving through the barren desert of South Australia to find the inland taipan, a rarely encountered, highly venomous snake native to the Australian outback.
"The way of finding them is exhausting... you just have to drive back and forth on this road where people have found them," he recalls.
It was his last day driving the gibber plains near Coober Pedy, and Dr Esquerre and his team were about to give up.
"The sun was setting; it was the end of the day, and we were not feeling very optimistic. Then it was just there in the middle of the road," he says.
"I couldn't believe it, I jumped out of the car so fast."
The photo he caught saw the reptile expert named as a finalist for the Australian Geographic Nature Photographer of the Year (NPOTY), under Animals in Nature.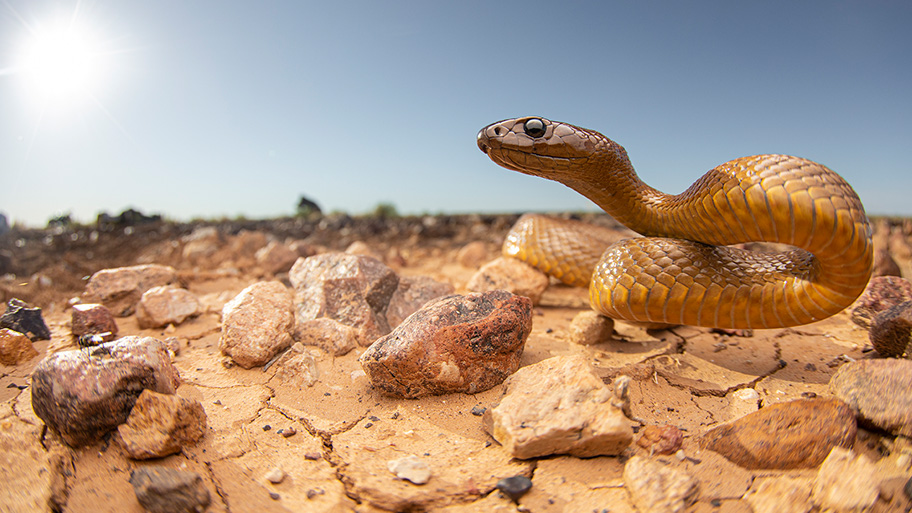 The image, titled World's Deadliest is one of two entries shortlisted.
Choosing the perfect shot
Selecting which images to submit to competitions can be 'draining exercise' according to Dr Esquerre, who has entered the NPOTY awards previously.
"Every year there is a different committee [of judges] and it's hard to know what they value, because photography is very subjective. I try to look at the selection committee, see what type of photography they are into and if I have any like that. But I also want to submit my personal favourites, which are often not what other people like the most.
"The taipan one in particular is special to me because it's a snake I really wanted to photograph for a while, and it took a lot of effort to find. So when we did find it, I thought very hard about the photo I wanted to take," he explains.
"The landscape where the taipan lives is quite unique in the gibber plains. It's very sterile, there's no vegetation. And you have this snake living there essentially feeding on one species of rodent. I wanted to showcase the harshness of that environment."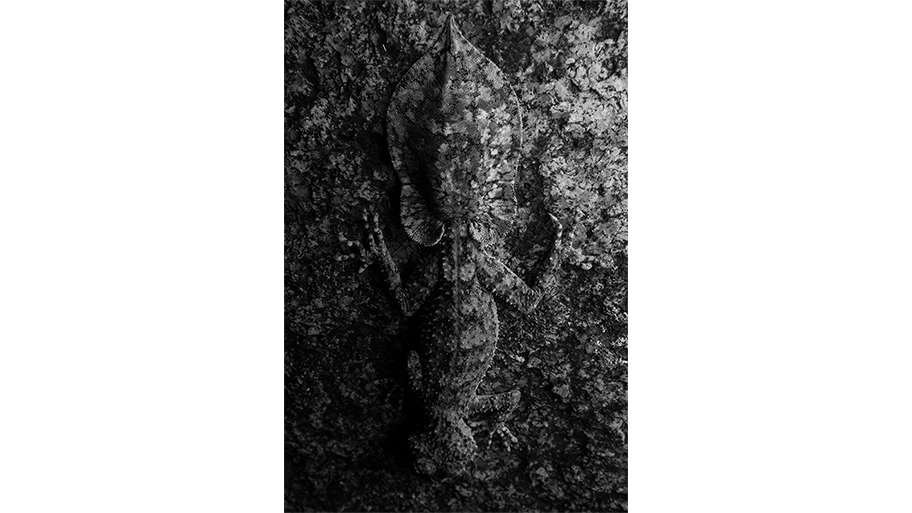 His photo of a camouflaged granite leaf-tale gecko spotted in Queensland's Girraween National Park was also selected for the Monochrome category.
"This is one of the leaf-tail geckos that are quite diverse in eastern Australia - they are normally found on trees, and they camouflage very well. But this is one that lives on granite boulders, so it's gray rather than green," he explains.
"Because they are so well camouflaged, the only way to really find them is with eye shine – you just shine a torch in the night and look for the eyes. It takes a bit of practice, but once you get it, if they are there you will see them.
"I wanted to highlight how it blends with the rock. Normally, when you take photos of animals, you highlight the eyes, the face. But I think one of the really interesting features about these geckos is their tail, so I composed the image around the tail - you can't even see the eyes."
Fusing art and science
Completing his undergraduate degree in his home country of Chile, Dr Esquerre relocated to Australia over a decade ago to complete his PhD on the evolution of reptiles, focusing on snakes and their venom.
Since 2011, he has become a globally-recognised biologist with dozens of publications, hundreds of citations and his imagery used as cover art across a range of journals, including Ecology Letters, Nature and the Journal of Evolutionary Biology.
"It's awesome to see your photos on the journal cover. I don't think it means your research stands out more than others in that issue, but it might draw more attention to it," he says.
"I've always loved nature, animals and in particular snakes, lizards and spiders and I always liked spending a lot of time in the field. Nature photography always captivated me, so what I've tried to do is build a career in both," he says.
Dr Esquerre has spent the past five years researching biology at the Australian National University (ANU) where he also taught nature photography at NatureArt Lab, an art school and environmental education centre in Canberra and Brisbane.
"I've been co-leading photography tours and last year took a group of photographers to Galapagos and the Amazon, and before that went to Borneo, Costa Rica, all through NatureArt Lab," he says.
"I've always had people from universities – students, colleagues, researchers – taking the courses. As biologists, we spend a lot of time in the field and often carry cameras, so I like to teach theoretical approaches to photography and composition which can come in quite handy.
"Photography can be used to showcase research in journals, presentations and seminars, so they complement each other quite well."
The Nature Photographer of the Year winners will be announced on 24 August, with the winning photographers earning a cash prize and thier images exhibited in the South Australian Museum.
Dr Esquerre is settling into his new role as lecturer, researcher and Discovery Early Career Researcher Award (DECRA) Fellow in the UOW School of Earth, Atmospheric and Life Sciences (SEALS) and hopes to embed photography into his biology units at the University.
He is also hoping to relaunch his photography teaching in Wollongong, including a photography tour to Costa Rica in 2024.
See more of Dr Esquerre's photography via Instagram.