Students go pond-dipping to understand the importance of aquatic habitats
---
As a student, you rarely have to take off your shoes and go into the stream to catch insects on your average uni day. But Dr Marian Wong's classes are never ordinary.
Dr Wong is a behavioural ecologist and a senior lecturer in the University of Wollongong's (UOW) School of Earth, Atmospheric and Life Sciences who investigates the sex and social lives of fish. As a Science & Technology Australia (STA) Superstars of STEM program alumna, she's passionate about protecting aquatic biodiversity, a passion she now tries to instil in her students.
"At UOW, one of the subjects I teach is called Marine and Freshwater Biodiversity. Each term, my students get to learn about various aquatic and wetland species and their water ecosystems – from campus ponds and streams to local lakes and the ocean. I want them to understand that we need biodiversity to survive and thrive," Dr Wong said.
This year, coinciding with World Water Day, the students were asked to go pond-dipping to catch and quantify the freshwater insects that reside on the Wollongong campus and check the healthiness of its bodies of water – the ponds and streams that meander around.
During the lab part of the experiment, they tested all the water samples to count and classify the living organisms. One of the most common insect species found on campus were dragonfly larvae – the juvenile phase of the flying beauty called nymphs that look nothing like the adults but resemble the little hunchbacks of Notre Dame. They have an elongated body and powerful jaws that they use to capture and consume prey, including small fish, tadpoles and other aquatic insects.
Dragonfly larvae are nothing like the flying insects - they have an elongated body and powerful jaws that they use to capture and consume small fish, tadpoles and aquatic insects.
These larvae spend their whole life in water, feeding on anything they can catch. Later in life, as grown-up dragonflies, they're mainly focused on mating near water, and that's how the circle of life goes.
UOW students found that taxon richness (the number of different types of organisms) and taxon abundance (the total abundance of organisms) was greater in the vegetated margins of ponds than in the open areas. This suggests that it's important to preserve vegetation around ponds, as it provides a key source of habitat, protection, shelter, food and egg-laying sites for a lot of aquatic insects.
With their iridescent wings, adult dragonflies are beautiful species who hunt around water for mosquitoes, flies and other insects.
"Overall, we were happy to discover that water bodies on Wollongong campus are quite healthy, as they were brimming with insects, showing both a great abundance and diversity of life," Dr Wong said.
Dr Wong is adamant that the future of aquatic and wetland habitats lies in the hands of the young. They're curious, passionate and eager to take environmental matters into their own hands.
Soraya Mustienes is a second-year student of Marine Sciences who – in her own words – can never get enough of the sea.
"I'm always at my happiest when I'm around the ocean. That's why I chose this degree: to become one of the people protecting it," Soraya explained.
The pond-dipping class was an eye-opener for Soraya, proving to her how knowing and seeing are totally different.
"When we first collected our samples, we all turned to each other disappointedly and said that we didn't think we had any invertebrates. But when we got back to the lab and began looking at the samples under the microscope, we realised how wrong we had been. It was crawling with hidden life. We weren't even able to count and identify everything in two hours! It was so exciting to witness the microenvironments in action," Soraya said.
Cody Regan, a Bachelor of Science student majoring in Cell and Molecular Biology, is planning to forge a career in education, so that he can spread awareness on the importance of all living things, especially invertebrates.
"When I saw the amount of litter in the stream that my team inspected, which was located close to the highway, it only reinforced my belief that humans have the biggest and most harmful impact on the environment. And I want to live in a world where all animals, big and small, have the appreciation and care they deserve," Cody said.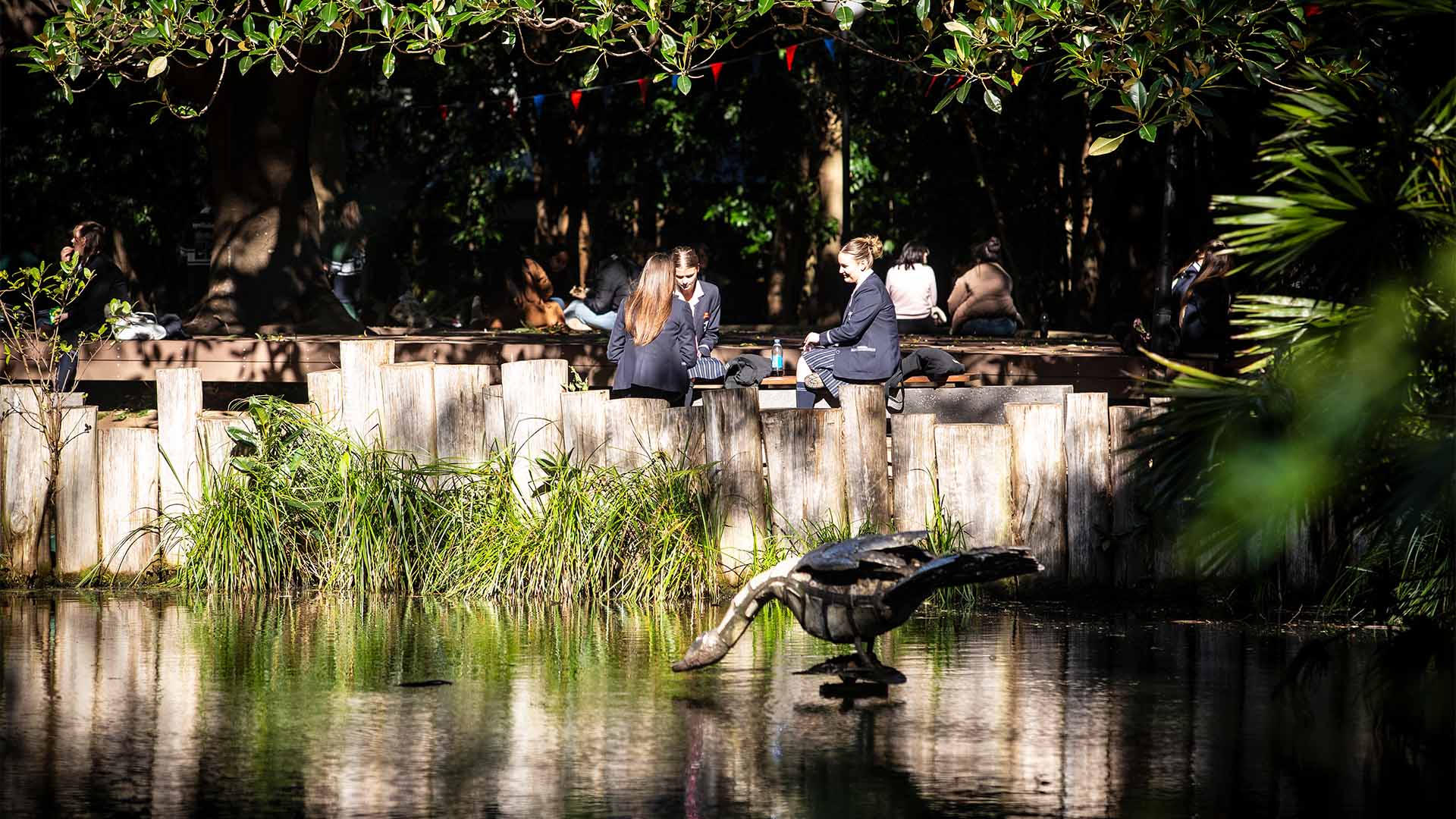 UOW is famous for its lush greenery, ponds and streams.
The University of Wollongong is renowned for its stunning natural surroundings. The expansive grounds are dotted with vast lawns, streams, ponds and lush greenery, providing an oasis of tranquillity for students and allowing them to unwind and recharge between classes.
"When I was applying for university, my mother said, 'Find a place where you can sit out on the grass to study. You don't want to be stuck indoors all the time'. That's why I am so happy at UOW. There's always a hidden area near a pond or stream where you can sit and work in peace. Until a duck comes by, but they're always nice company," Soraya said.
The practical marine biology class of Dr Marian Wong is part of UOW's commitment to achieving UN Sustainable Development Goal 6 – clean water and sanitation. It will culminate in a social media campaign, in which the students create social media posts with their lab findings and post them to their own social media channels to spread the word about the importance of aquatic and wetland habitats.
Dr Marian Wong, a 2021/2022 Superstars of STEM program alumna, is passionate about protecting aquatic biodiversity.
"Of all the water on the planet, about 3.5 per cent is freshwater, and the rest is seawater. So only a staggeringly tiny proportion of freshwater is available to humans and other animals, plants and fungi. Unfortunately, this tiny portion of water available to us is being polluted and affected by climate change, which endangers the micro- and macrobiota in these ecosystems" Dr Wong said.
World Water Day is an annual United Nations initiative celebrated on March 22 to raise awareness about the global water crisis and to advocate for the sustainable management of freshwater resources.
As the world's population continues to grow and climate change intensifies, the challenges related to water availability, quality and access are becoming more pressing. From droughts and floods to pollution and overexploitation, water-related issues affect the health, livelihoods and ecosystems of people, as well as animals and plants.
According to the World Health Organisation, around 2.2 billion people lack access to safe drinking water, and 4.2 billion people lack access to safely managed sanitation services. Even as much as 80 per cent of the world's wastewater is released into the environment without being treated, contaminating rivers, lakes and oceans.