The University of Wollongong (UOW) has reimagined O-Week into a curated, week-by-week guide for new and returning students.
---
It's Go Time helps students navigate their first weeks of uni through a series of themed events. Aimed at students across all UOW campuses, It's Go Time brings together everything a student needs to start the university year, including enrolment and administration, campus and student living, building new friendships, and the good vibes of orientation parties.
UOW graduate and artist Lauren Henry says an orientation program like It's Go Time would have saved her much confusion when she first began a Bachelor of Health Science in Indigenous Health Studies in 2015, recalling enrolling in a third-year class during her first semester.
"I felt intimidated because it seemed like everyone knew what they were doing. In truth, no one did," she says.
Lauren currently works as a graphic designer, cultural illustrator and program support at Leticia Anne Designs & Co., the agency commissioned to create a cultural artwork to feature within It's Go Time branding. She is a proud Wodi Wodi and Walbunja person from the Yuin Nation and is the artist behind the creation and storytelling of the piece, Journey. The artwork represents the path everyone takes during their time at university, along with a connection to country and belonging to community. Symbols from the artwork are used within the branding to communicate themes of learning, community, celebration and belonging.
"You walk past so many people [on campus] and don't realise they're on their own little journey too. But it's weird that in that space and time, you are there with them," she adds.
Lauren was one of two First Nations people to graduate from her course in 2017 and highlights the importance of seeing cultural elements within events like It's Go Time.
"It provides dialogue to say, 'this is a space where you, first and foremost, have the opportunity to hold space,' and we have the right. Had I seen a cultural artwork or elements, I would have felt more compelled to be like, 'I can be a part of this'," she says.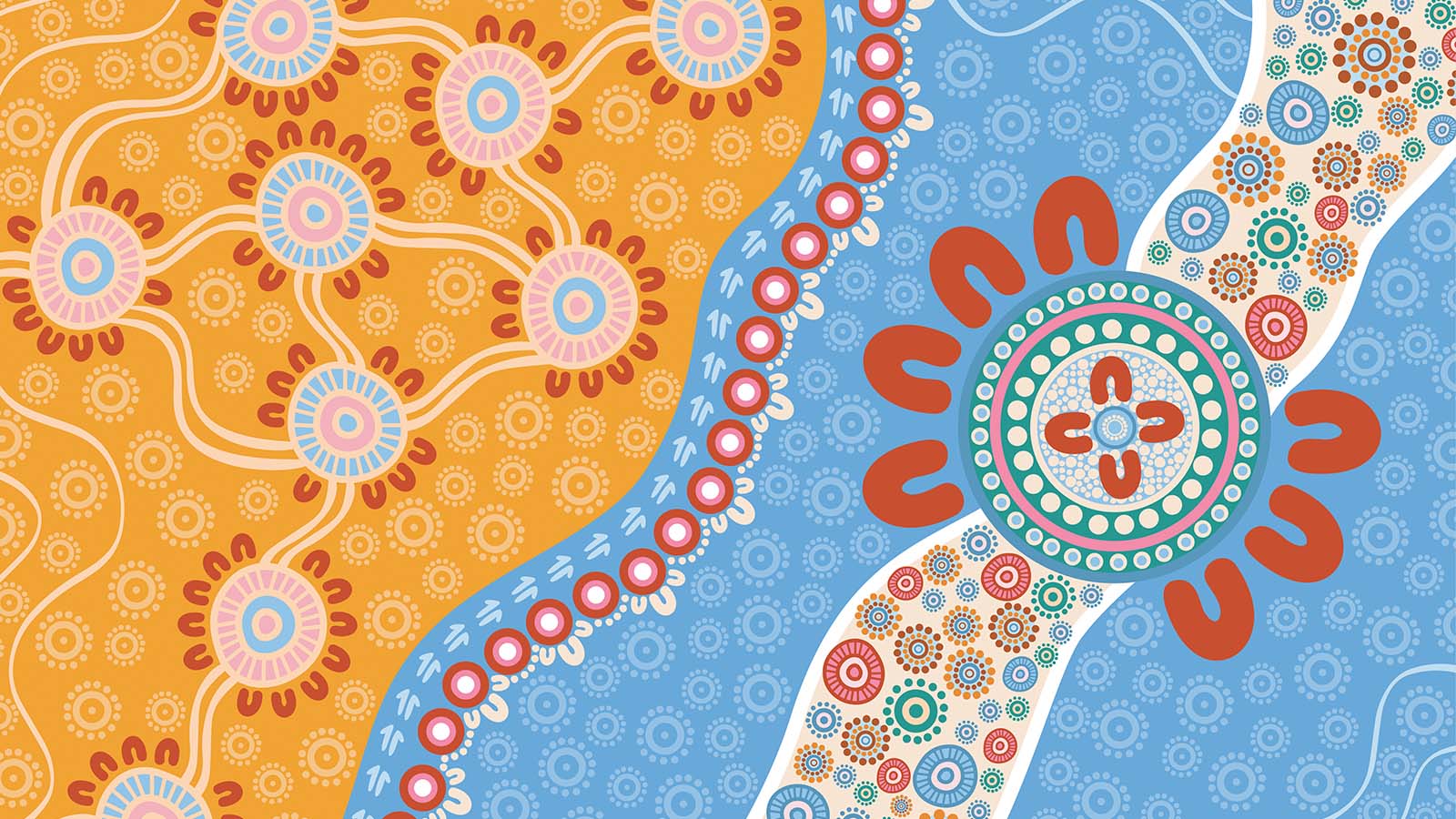 Journey by Wodi Wodi Artist Lauren Henry | Leticia Anne Designs
The path to painting
Lauren was working in Indigenous health promotion in Canberra when the pandemic hit and had to pause her community outreach projects. She started painting to let off steam.
"It was something I fell into because I was interested in my culture and my Pop never learnt when he was my age. I got chatting with local elders when I returned home for health jobs, I've never felt so empowered," she says.
However, Lauren saw an opportunity to communicate health initiatives to the Indigenous community more visually.
"When working in healthcare, I wanted to promote symbols and intertwine them into our materials, but we couldn't find a First Nations designer to do that for us," she says.
That was until she met Leticia Quince, CEO of Burralgang Enterprise and founder of First Nations design agency Leticia Anne Designs & Co.. Lauren describes Leticia as a 'hype girl', initially sending messages of support back and forth when they first connected via Instagram early 2021. Leticia was impressed by Lauren's cultural artworks, passion for community and sharing of cultural knowledge and offered a mentorship to learn graphic design and to upskill into the digital cultural art space. This opportunity led to Lauren commencing contract work for her in late 2021, which evolved into permanent employment to kickstart the new year in 2022.
"The agency provides a culturally safe branding experience and takes businesses on a journey into the dreaming," Lauren says.
"They're not just getting an artwork. It's an opportunity for businesses to explain symbols and meaning and share culture without realising they're doing it," she says.
'My culture and identity go into each piece'
Lauren explains she is an intuitive designer and won't begin an artwork until she is in the right headspace.
"I like hearing the motive behind the artwork to understand the journey to its existence," she adds.
"My culture and identity go into each piece. I sit with the storytelling side of things for a while, and I'll visually start to get a flow."
Lauren often draws inspiration from water in her artworks as a source of knowledge. She will also collaborate with Leticia, a Wiradjuri woman, to respectfully incorporate symbols from other Nations.
"If there is a piece where I would love cross-hatching, but it's obviously not appropriate for me to do it, I can ask Leticia. For the client we are working with, it's a cool opportunity to collaborate but also teach people that it's not all dots or one style. There are so many different styles. We continually learn from each other," Lauren says.
Who is going to do all this stuff?
Lauren always loved the idea of helping community, but it was her Pop who inspired her to study public health.
"He asked me when I was younger, 'who is going to do all this stuff?'. And I thought, I will."
"I signed up for my degree not knowing what it was or why I was doing it, but it pushed me to explore and learn because I needed to know these things if I wanted to play a part in advocating for my people," she says.
Lauren is excited about combining her two loves, health care and art, to start conversations, but she is open to all possibilities.
"My whole life could just be jumping between doing health and design, but the ultimate goal would be to provide opportunities for First Nations young people to go into the art space knowing that they can thrive, not just survive," she finishes.