In 2014, exercise science student James Forsyth was completing his Honours project at the University of Wollongong (UOW) when then 21-year-old Brett volunteered for his study.
---
"When I met him in 2014, there's no way that I thought anything like this would happen," says James, who now holds a PhD in biomechanics and teaches at UOW.
The project recorded muscle activity in surfers when landing aerials, which James used as a pilot study for his PhD looking into training, performance, and injury prevention.
Two years later, Brett was attacked by a shark at his local beach in Kiama. He lost a sizable portion of his thigh, threatening his ability to surf, or even walk, ever again. Surgeons managed to reconstruct his thigh by transplanting part of his back muscle to replace the lost quadricep. After intense physiotherapy and rehab, Brett was back in the water five months post-operation.
In 2019, James invited Brett back to the lab to recreate the study to track his progress and share the data with his surgeons and physio.
"I hadn't even thought about it until James mentioned it to me again, I forgotten we had done all that research," says Brett.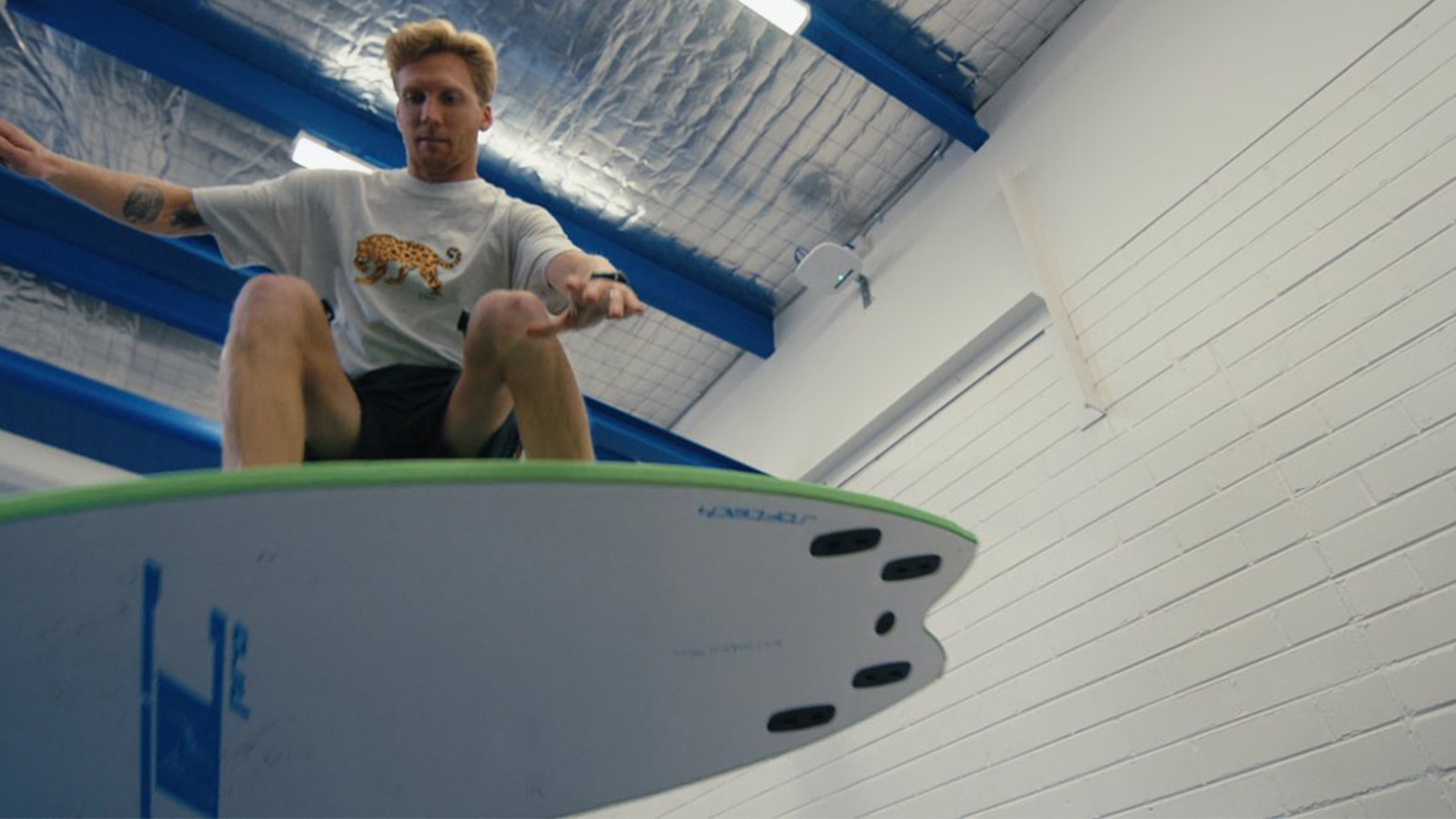 Brett Connellan participating in James Forsyth's pilot study in 2014, pre-shark attack.
"I thought it would be an impactful study for someone to look at what the actual effects of that surgery on my limbs and how that can give back to the surgery side of things. Then there was also the benefit for me being able to find out how I've been able to adapt to the surgery and the changes in my own anatomy."
"What we found was that Brett was getting the same signal from the brain to the back muscle in his leg, which was being sent to the uninjured muscle on the opposite side. Through his training and rehabilitation, his brain had worked out a way to consider that back muscle as just a part of the leg muscle. So, that was a good example of neuroplasticity, where your brain just sees the problem but finds a way to figure out a solution to it."
Additionally, James could see the difference between the other affected muscles in the injured leg compared to the uninjured leg.
"The remaining muscles of the injured leg had actually adapted their response by being more active, and earlier in response to an electrically evoked stimulus, which we think is potentially providing more preparation to that side of his body so that it's more ready for a disturbance," James explains.
Friends turned filmmakers
Brett first met local videographer Sam Tolhurst when Sam was producing content for the local surf-shop Brett worked in. Sam was working in brand marketing and advertising, but a documentary subject he completed while studying digital media at UOW saw him gravitate towards non-fiction.
"I came into my degree thinking that I wanted to shoot campaigns. I was never that interested in narrative or short films until that UOW documentary subject really sparked an interest in factual film-making," says Sam.
Then his mate got attacked by a shark.
"We went on a trip to Indonesia, and Brett said to me 'I've been doing keynote speeches about the attack, I'd love to put together a five-minute video as an introduction for the talks'," says Sam.
"We got about three minutes into edit and we both looked at each other and said 'this needs to be a bit longer.' Then a fellow filmmaker friend of ours just said 'are you guys crazy? This is a feature.'"
From 2020, Sam and Brett began documenting Brett's experience and his personal goal to paddle the 52-kilometer stretch between the islands of Molokai and Oahu in Hawaii.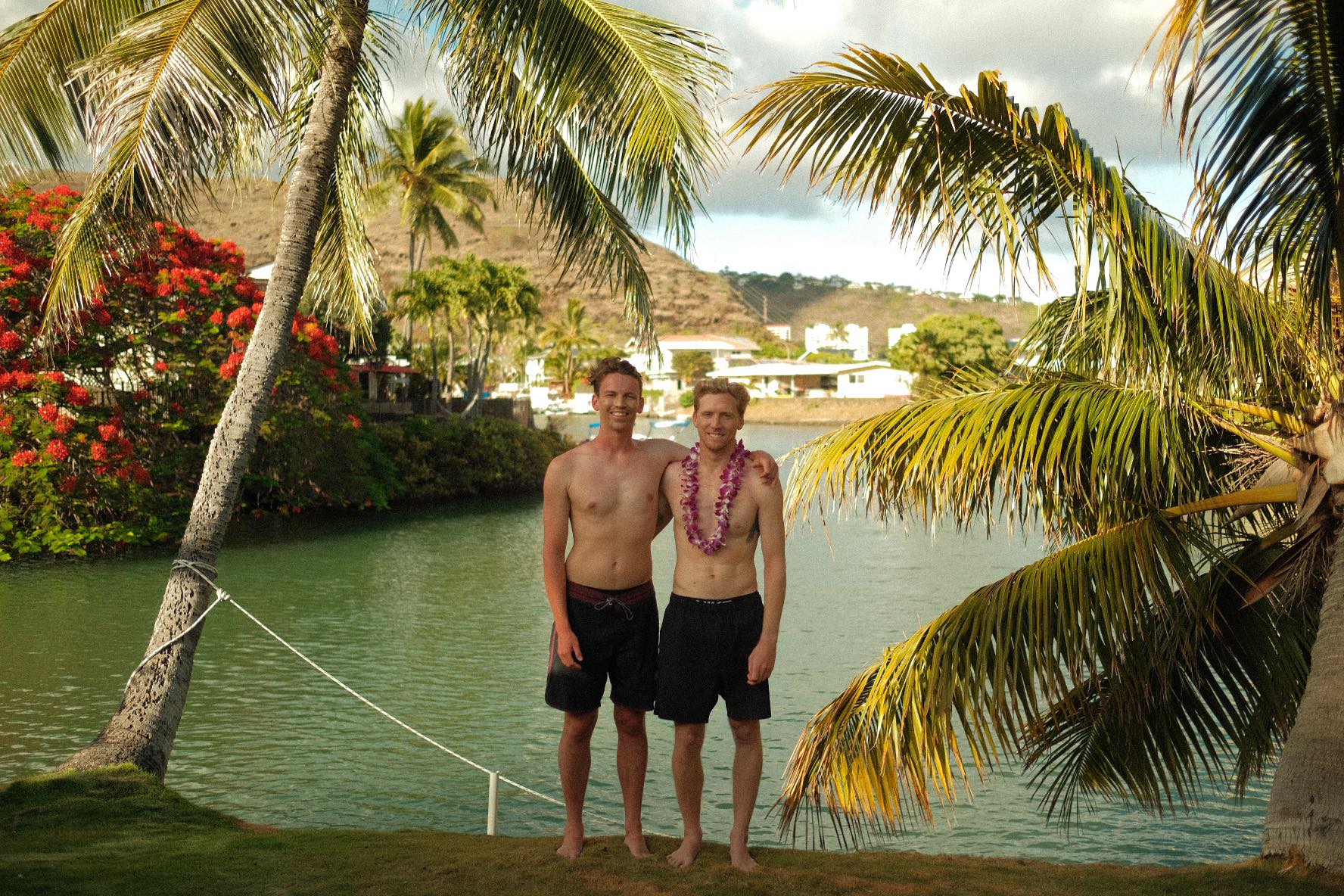 Sam Tolhurst (left) and Brett share a love of surfing and film making.
It was Sam's first feature-length film and the first to be made under Brett and Sam's joint production company, Honest Boys Productions.
"We basically had to do everything for it, which is not uncommon for filmmakers in our position," says Sam.
"We learned to produce, we learned to direct, we learned how to do all the pre-production, learned how to work with a colourist, a sound studio. We learned how to build a film from scratch. Before that, my filmmaking experience, consisted of making one-minute commercial videos or ten-minute shorts, but nothing on this scale."
The film, Attacking Life, was released in March 2023 on streaming giant Stan, with international distribution in the pipeline.
University creating real-world impact
Since Brett's recovery, he has been working as a motivational speaker which has seen him move into the mental health advocacy space. While Brett didn't study at UOW, he has a strong connection with the University, especially researchers involved with his former employer the Mental Health Movement.
"They did a research collaboration with Dr Alisha McGregor, who was studying the impacts of mental health training within the workplace on things like productivity and absenteeism," Brett says.
"That was that was interesting for me because mental health was such an important part of my story and seeing the difference that research could make to not only one person, but a whole workforce definitely means a lot."
Brett also saw first-hand Sam's experience at UOW helped shape the film to be what it was.
"Being first time filmmakers, you're kind of already up against it and knowing that Sam had the skills that he has to overcome those doubts with the product that he's able to put out there is pretty incredible," he says.
"And I guess a lot of that comes from the way that he's always done things like that. Working on a feature length film is no different to some of the videos of what I've done him with in the surf shop before, and I guess that in a way comes from a good education."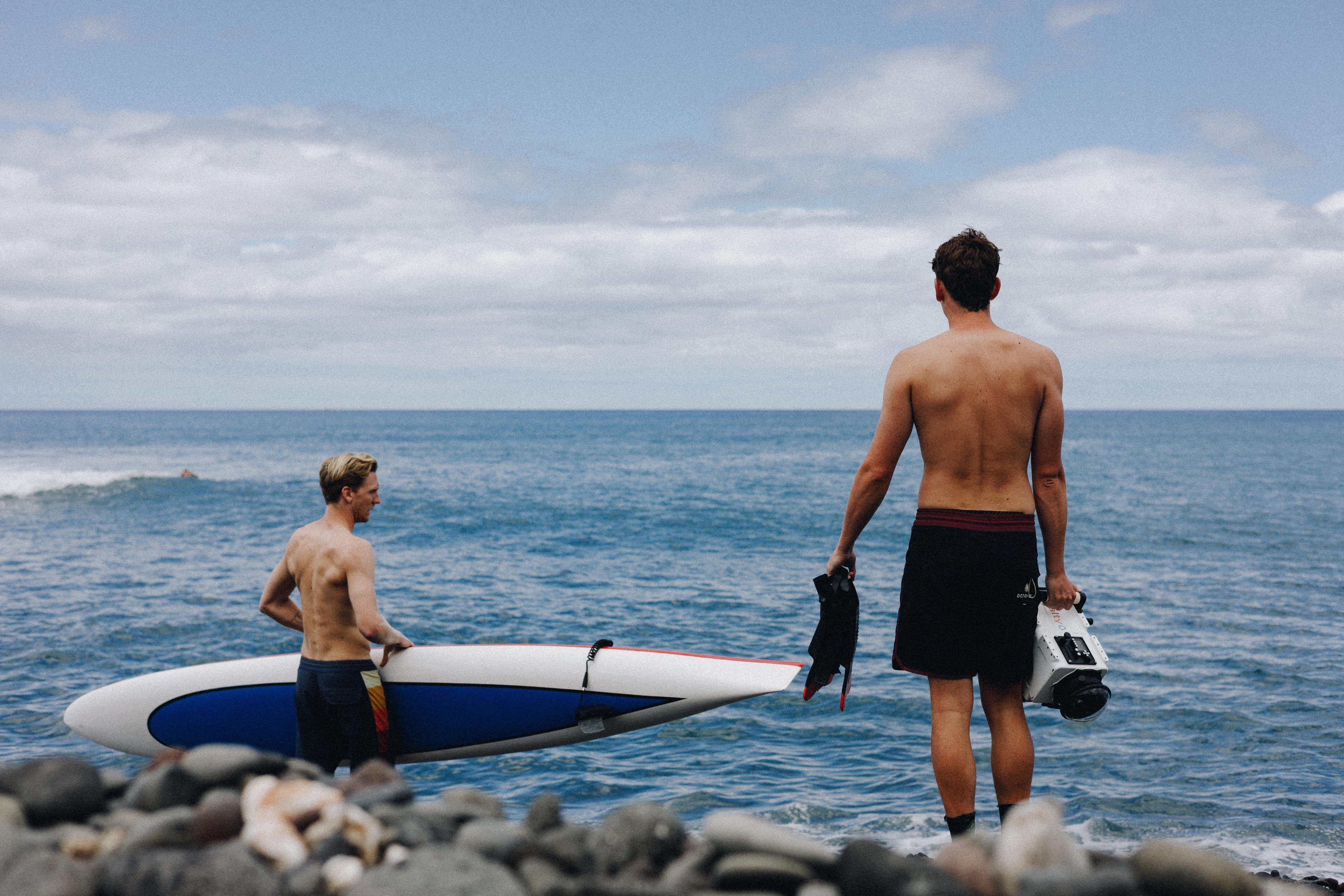 Brett and his crew behind the scenes of Attacking Life
For Dr James Forsyth, he is still proud his research could help someone understand their own body on such a personal level.
"I was just so stoked to have the information I had [before and after the attack] because the chances were so slim, and there's no way you could ever subject someone to that. It's incredible to even contribute a small slice into helping Brett understand his own recovery," says James.
"I was fortunate enough to be there when the surgeon showed him images and video from the surgery as a review so I could see the full progress to date. For something that would be quite traumatic, Brett was really positive about it. That was really special, helping him go through this process in more detail and to see him get so much out of the small steps along the way, as well as the final outcomes."
Brett credits James' research with giving him the closure he needed to mentally recover from the attack.
"That journey was really cool, because it was more than just going in and doing tests," says Brett.
"It gave me a lot more of an insight into how it worked, because up until that point it had been about recovery and getting back to surfing my best. So that in a way was probably the start of me being ready to work on the film, because I'd moved past the attack and the recovery and gained that extra perspective."