The UOW Rwanda Project combines humanitarianism and engineering to help those who need it most and boosts learning through hands-on experience.
---
In December 2022, around thirty University of Wollongong (UOW) students, academics and alumni travelled to the tiny African nation of Rwanda, to help impoverished communities through the UOW Rwanda Project.
The brainchild of former UOW engineering lecturer David Walker, the UOW Rwanda Project has seen scores of Wollongong locals travel to the tiny landlocked nation over recent years to help with a range of aid projects from constructing schools to upgrading water supplies.
"If you haven't seen poverty before, it's a completely different world," says Carly Lavings, a Bachelor of Arts in Western Civilisation – Bachelor of International Studies student, who completed the trip last year.
Carly's project was to upgrade the water supply to the home of Rwanda genocide survivor Maria.
"We didn't know much about Maria before we got there, just that she has been completely paralysed and bedridden for 28 years, since the genocide," says Carly.
"We knew we were going to be doing a procurement project, but in terms of actual outcomes, we couldn't decide on logistics, like where the piping would go, until we got there and could do the measurements ourselves. Most of the practical work, including where we would get supplies for the water tanks, was all done in Rwanda."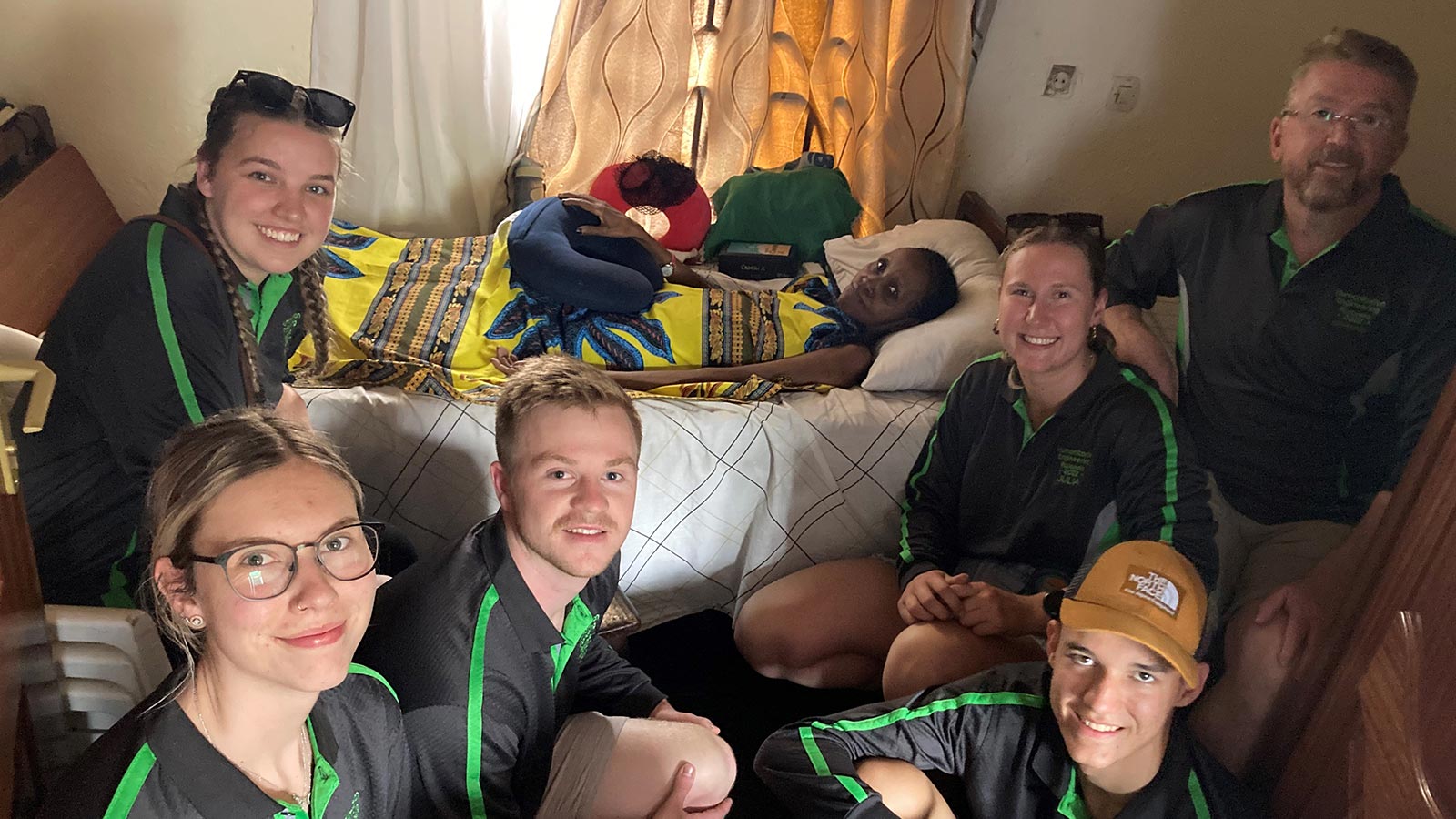 Carly (back left) with her group and Maria
While navigating the logistics and supply chain of Rwanda was a challenge, Carly says she was focused on connecting with Maria on a personal level.
"There was a big communication barrier that made it difficult to interact with Maria personally and her caretaker, as neither spoke any English. When we first got there, we had a translator and Maria expressed a lot of gratitude through the translator," says Carly.
"I definitely made a personal effort to try to get to know Maria as best I could. For me, that was important to the project. We would learn how to communicate in other ways rather than just verbal talk. I'd just sit with her sometimes; I'd do little drawings and I tried to learn as much Rwandan as I could while I was over there.
"She would show me pictures of herself, and I would show a photo of myself and showing my family and learn the [Rwandan] words for family by just sitting with her. She showed me her X-rays of her body, and those were really emotional moments. I think I was able to gather a lot of her response by just spending time with her like that, and I think she was incredibly grateful."
A community still in mourning
Over the space of 100 days in 1994, more than 800,000 people were killed as war broke out between two tribes in Rwanda, the Tutsi and the Hutu. This is known as the Rwanda Genocide. Almost 30 years later, the country is still in a process of healing and reconciliation.
Associate Professor Susan Engel is an expert in politics and international studies from UOW Faculty of the Arts, Social Sciences and Humanities, and took her first trip to Rwanda alongside students last year.
The trip was an opportunity for students to understand the context, culture and history of Rwanda post-genocide, and witness firsthand how the community is moving forward at both a government and grassroots level.
"Rwanda is one of the poorest countries in the world, and you still get a sense of sadness left from the genocide," says Professor Engel.
"The current government has taken [tribe] identification off ID cards, and you are discouraged from talking about or asking people if they are Hutu or Tutsi, so they've worked very hard to supress certain elements, but these things don't disappear overnight," she explains."We visited the Genocide Memorial and had a weekend with a rural community that does a peace-based communication type activity between the Hutu and Tutsi. It's a truth telling approach to peace and reconciliation building.
"At the same time, it is now one of the safest countries in the world to visit, it is very clean – Singapore is its role model – and it is building infrastructure and local capacity at an impressive pace."
Building relationships, not just projects
The group projects were chosen based on the long-term relationships built between David Walker and Rwandan locals, plus the volunteer work Professor Engel does with indigo foundation, an Australian not-for-profit with a presence in the country.
Projects included the renovation and refurbishment of several community spaces, including a local school and Aheza Healing and Career Center, which supports genocide survivors through group therapy and mental health aid.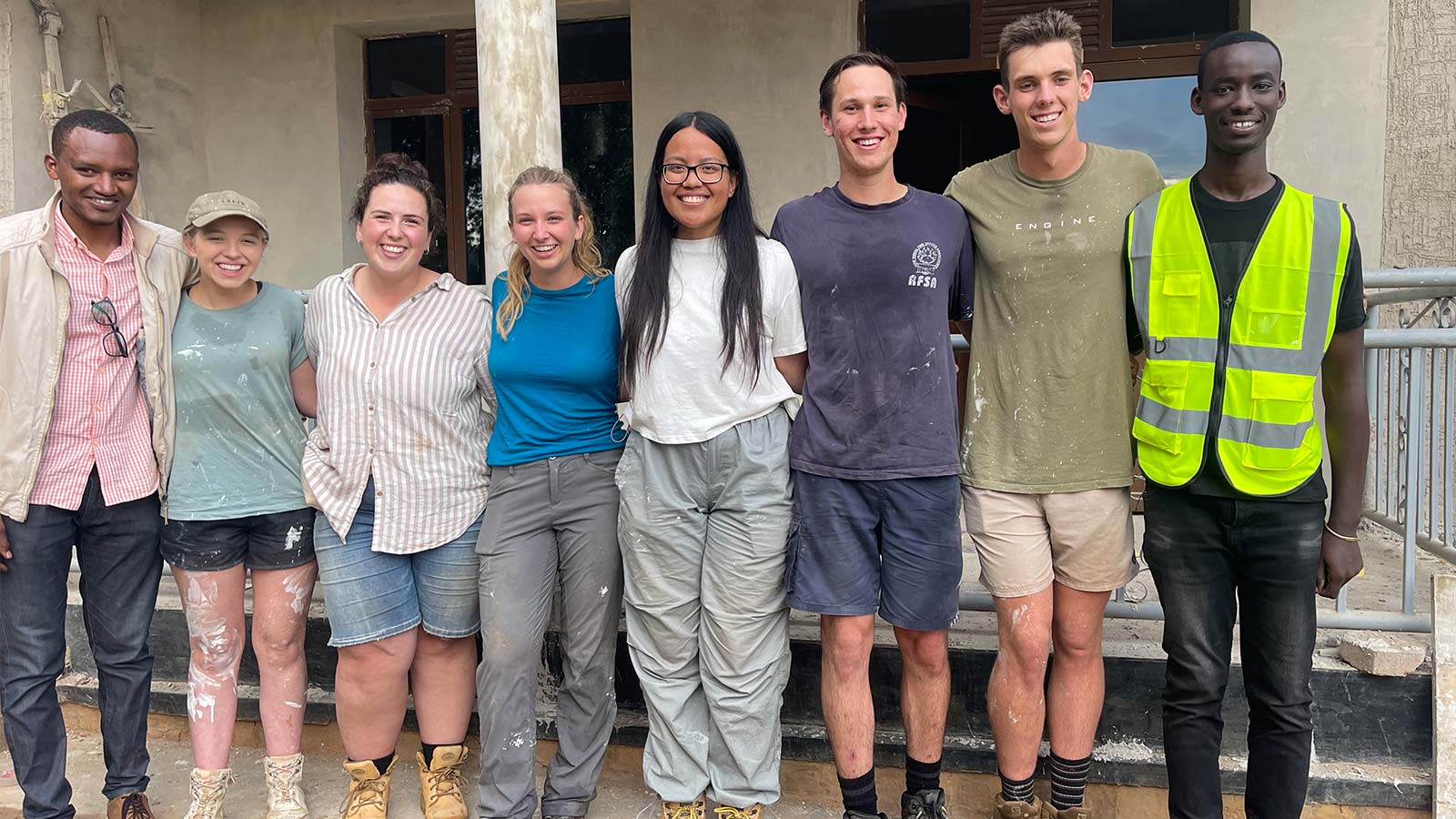 Volunteers renovated Aheza Healing Center

Professor Engel's team renovated Club Rafiki, a youth centre and dance school in Kigali.
"The hall where they do urban dance classes really needed upgrading. There were holes in the floor, the electricals were dangerous, and ventilation was really poor. There was water damage from where the roof had had leaks in it, so we worked with our local partners project managing a complete renovation," says Professor Engel.
"There were a lot of locals hanging out at Club Rafiki, and they were really interested and enthusiastic and wanted to join in. We would have the music blasting non-stop and everyone would have a break and have a bit of a dance in between. It was a great experience for everyone.
"We turned a little shed they had into a decent sewing room for sewing classes, with funding help from the indigo foundation. But a lot of the projects were through Dave [Walker] and his long-term connections in Rwanda.
Leaving a legacy
UOW engineering and finance graduate Daniel Zanatta travelled to Rwanda with David Walker in 2018 and credits the trip for shaping his future career path.
"At that time, I was working in civil engineering, but after the trip I realised I wanted to go down a path where I wouldn't just be making money for a company, but I could use my skills to help people," he says.
The trip inspired Daniel to attend the United Nations Alliance of Civilizations 8th Global Forum at the UN Headquarters in New York just months later, to learn more about humanitarianism.
Daniel now works in the finance sector for trading company VivCourt, which has a strong commitment to doing social good. Employees are given $20,000 per year to donate to a not-for-profit of their choice – a full circle moment for Daniel, who could now help fund the trip that kickstarted his career.
"I called up Dave to know if he was doing any new projects and he mentioned they were going back to Rwanda, and I really wanted to support that for two reasons," says Daniel.
"First, I have seen firsthand that the money is going to people that need it and its going to improve their lives. Second, it allows the students who were like me five years ago to be exposed to that experience and hopefully it changes their perspective like it did mine."
Carly says anyone who has the desire and means to travel with the UOW Rwanda Project should do so.
"I was worried before I went, thinking 'am I the right person to do this?' But I can definitely say I learnt so much more from that experience than I could from studying a textbook. The practical challenges and the emotional experience of getting to make a tangible difference, and at time, reconciling with the fact that I might not see the outcomes of that," she says.
"I was just so lucky that we did see the change while we were over there, and that we got to immerse ourselves in that culture and change our own lifestyles. I really can't sell the benefits enough – it was a lifechanging experience and I would already love to go back."
"I'd say do it – it's a challenging experience, you will definitely grow as person," adds Daniel.
"It's an eye-opening experience that not many people get to have. It will change your worldview and give you new perspectives."