Meet the local families opening their homes to international students.
---
Life is good for Jan and Robert Thomas. They have two children of their own keeping them in check, plus 30 other homestay kids from across the globe who would do just about anything for them. 
The Thomas' are one of several families in the UOW Homestay program, which connects locals in Wollongong with international students who need a place to live while completing their studies. Students can stay with a family from anywhere between four weeks or until they graduate.
Jan and Robert always wanted to help people in their retirement and imagined travelling to overseas missionaries to help children with their correspondence. However, life got in the way, so they looked to the Homestay program instead.  
"We'd walk past empty bedrooms day after day and thought, 'how beautiful would it be to have the home full of young people,'" Jan says. 
"We are young at heart and would like to stay that way," Robert adds. 
Over the past six years, the couple has hosted over 30 students from China, Japan, Vietnam and Bangladesh, all of which earn a photo on the fridge after their stay. 
"It's just been a joy," Jan says.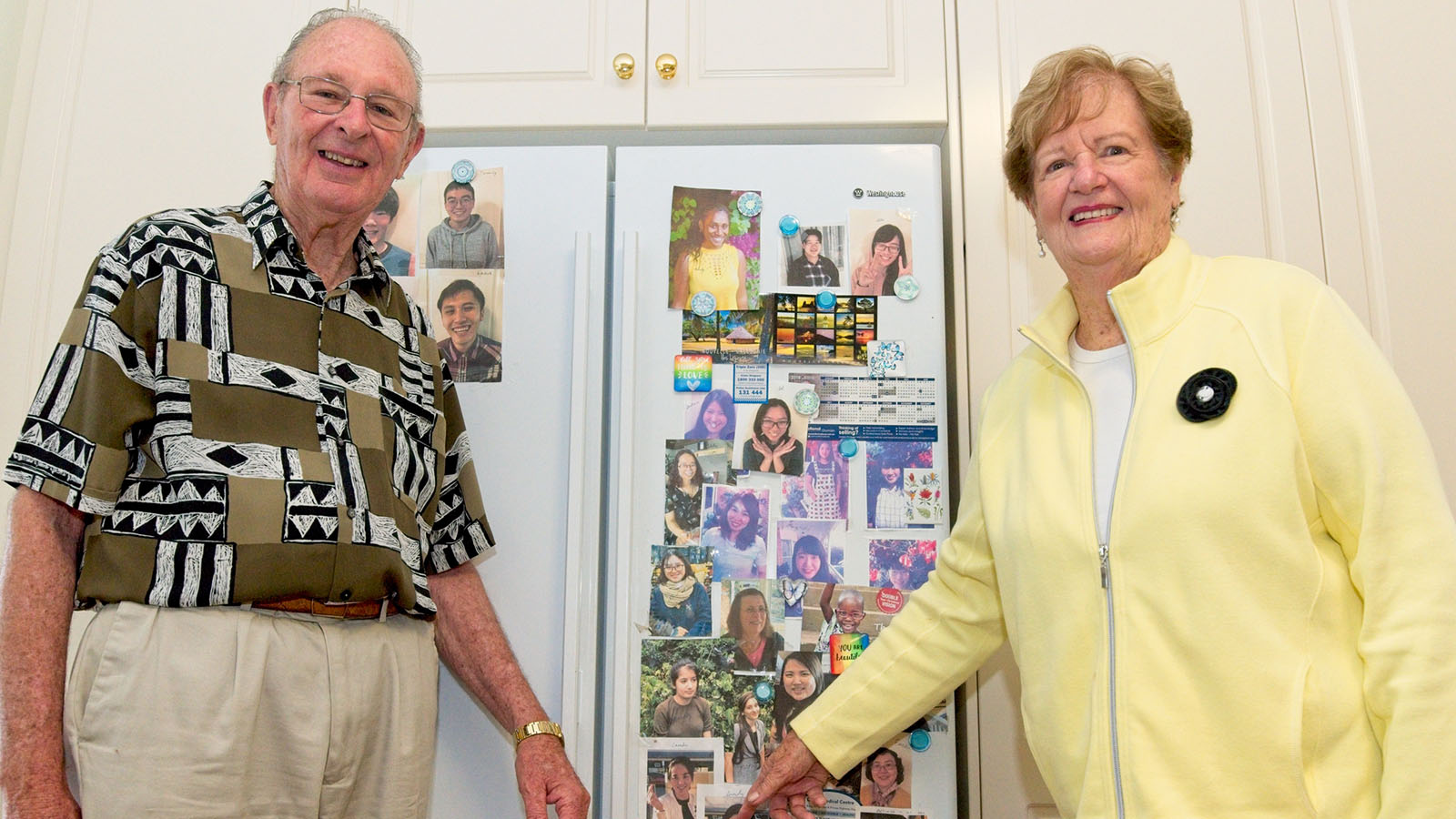 Family first
It can be daunting for both parties when a new student enters the home, so it's recommended you lay down some ground rules for harmonious living. Jan and Robert explain their family is built on love and trust. 
"We welcome them in as our pseudo-grandchildren," Jan says. 
"We don't have too many rules, just a few basic ones, but they just settle in rapidly. It was always great when we had two [students] because they would help each other, and it just felt more like the bonding of a family," Robert says. 
Jan and Robert found it rewarding to watch their homestay kids flourish once they settled into their new home and culture. Together, they would help the students improve their English and even teach some students to swim.  
"Seeing those successes is such a delight. When they burst into the home and say, 'I got my results.' They can't wait to tell us," Jan says.
"They felt secure and that they belong."
A global network
Families see many benefits from the Homestay program, with most noting the rich cultural exchange between student and host. Dave and Maureen Burt have been a host family for six years, tying invisible strings across the globe to their ten host children and their families. Many of the families would visit Australia during the program, where they formed a lasting friendship with the Burts.
"You get to learn more about different cultures. Plus, we have places to stay if we ever go overseas," Dave jokes. 
"You do, of course, develop an emotional attachment to them. We still get a bit emotional. We have three adult kids of our own and you kind of hope that if they were that age and went to another country to study and stayed with a family, that they would care for them as well," Maureen says.
The Homestay program is also an opportunity to be a tourist in your own country, and Maureen and Dave made a conscious effort to take their students on excursions to other parts of NSW. 
"We went up to the Blue Mountains. Our girls usually liked shopping, so we'd go to the Berry markets and trips to Sydney," Maureen says. 
"We'd take them to Sanctuary Point Golf Club, where there were about 100 kangaroos, and they could mingle and take photos," Robert adds.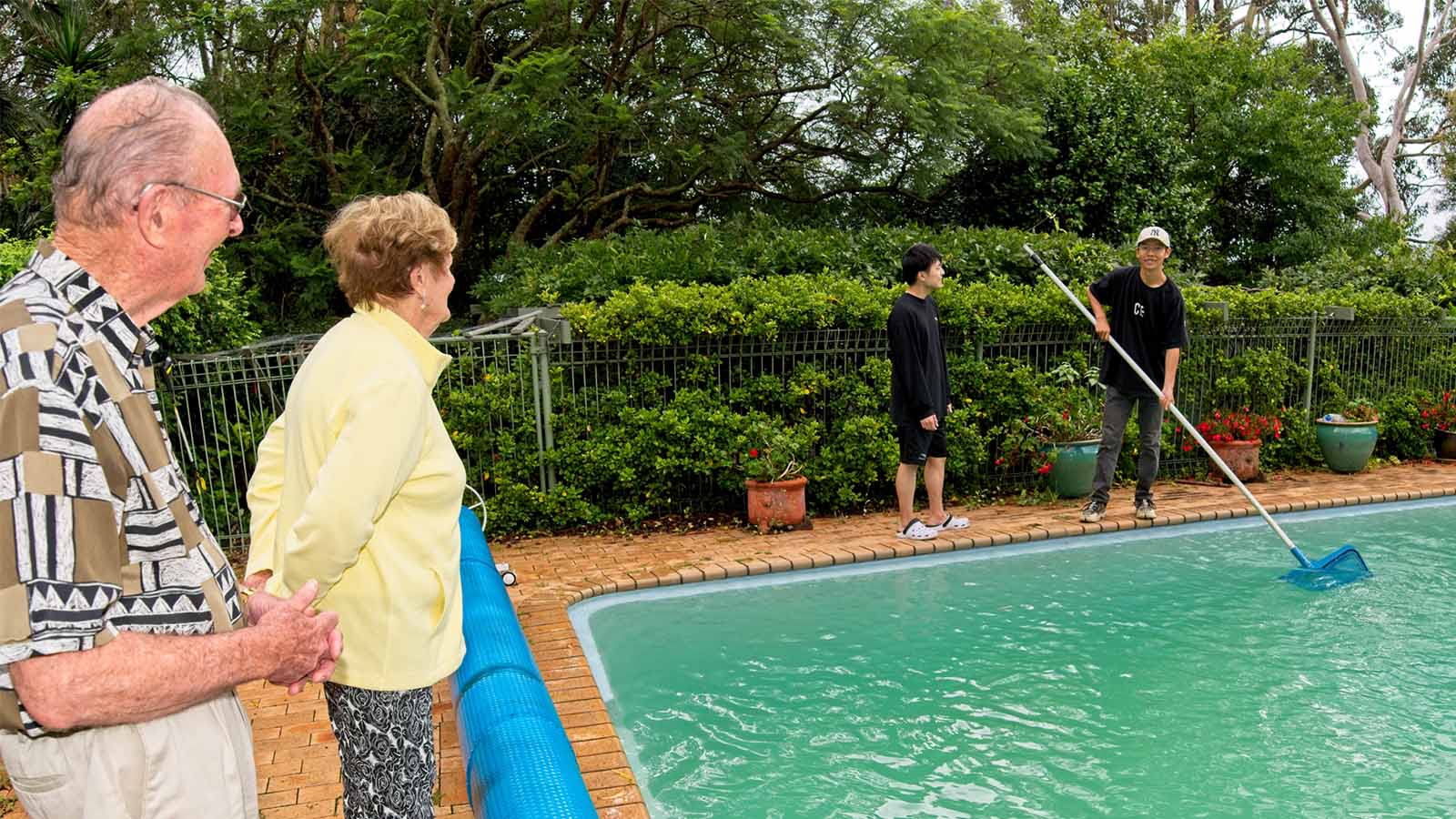 Lasting impact 
Mako Abe and Sulaiman Albalawau are current UOW Homestay program students and describe a close relationship with their respective host families, which come in all shapes and sizes. Mako currently lives with just her host mother in Wollongong. 
"She's like my mother or my friend. She is so kind. I sometimes eat with her friends, and we talk about my home country and university," Mako says. 
Sulaiman's cooking skills are slowly growing thanks to his host mum. He can now prepare several dishes and is eager to learn more. 
"I [have] told them that one day I will learn to cook and make them my traditional dish," Sulaiman says.
However, the life lessons are mutual, Jan explains. The experience has brought them happiness as their house is now filled with youthful energy and trinkets from their homestay children. 
"If you came to the home right now, you'd see lanterns hanging over the breakfast bar and a red tablecloth and placemats for Chinese New Year. If we are going to celebrate Christian things, we think it's only fair to celebrate theirs as well," Jan says. 
"When you're 75 plus, your world can become very small. But it has made our world one where we live in the current." 
Become a Homestay host
---
Earn extra income while helping international students find a home in Wollongong.