In celebration of World Teacher's Day (27 October), we spoke to UOW education student Bianca Walkerden, who is going above and beyond to instil a love of learning in her students through her successful tutoring centre.
---
It takes a special kind of personality to become a teacher whom their students love. One must be kind, patient and passionate, and Bianca Walkerden encompasses all three traits. Alongside studying education at the University of Wollongong (UOW), she is the young founder of a rapidly growing tutoring centre in the Sutherland Shire.
Although Bianca's path to teaching and tutoring hasn't always been linear. She began studying a Bachelor of Journalism at UOW in 2018 while also volunteering as a photographer for Scouts Australia and working various equine events. These experiences confirmed it wasn't the right path for her, so she returned to the drawing board.
Bianca turned to her mother's boss, a school principal, to help her decode what she enjoyed about her extracurricular activities.
"Everything came back to kids, so working with kids in various aspects," Bianca says.
Her decision was now clear. Bianca transferred to a Bachelor of Primary Education and took to it like a teacher to a whiteboard.
Starting her own business
Bianca initially began tutoring as a part-time side hustle until she saw the potential for it to become much more. She started looking for tutoring jobs and realised a demand for a different approach.
"I found there wasn't a holistic approach to tutoring. There wasn't really a centre that put the student's needs and individual learning style first," she says.
It was then that Miss Bianca's Tutoring was born, and it's since grown into a young and bubbly team of 11 staff and outgrown one commercial space.
Bianca describes her learning centre as a calm and safe space, considering every little detail to ensure the best learning experience for her students. She always stocks the reception area with different toys and activities, this week, it's Lego and a sensory tray, which she believes allows the children to relax and chill out before entering their session.
Inside the classroom, Bianca likes to use manipulatives, whiteboard tables, interactive and kinaesthetic practices to connect with her students in an engaging way.
"We try to create a passion for learning by drawing on kids' interests. We have a lot of soccer and AFL-crazed kids at the moment."
Bianca also prides herself on knowing every student in her centre and offers complimentary assessments to help allocate a personality-based tutor. These sessions help her to get to know the student's interests, giving insight on how to connect this back to learning.
"We value the kids for who they are."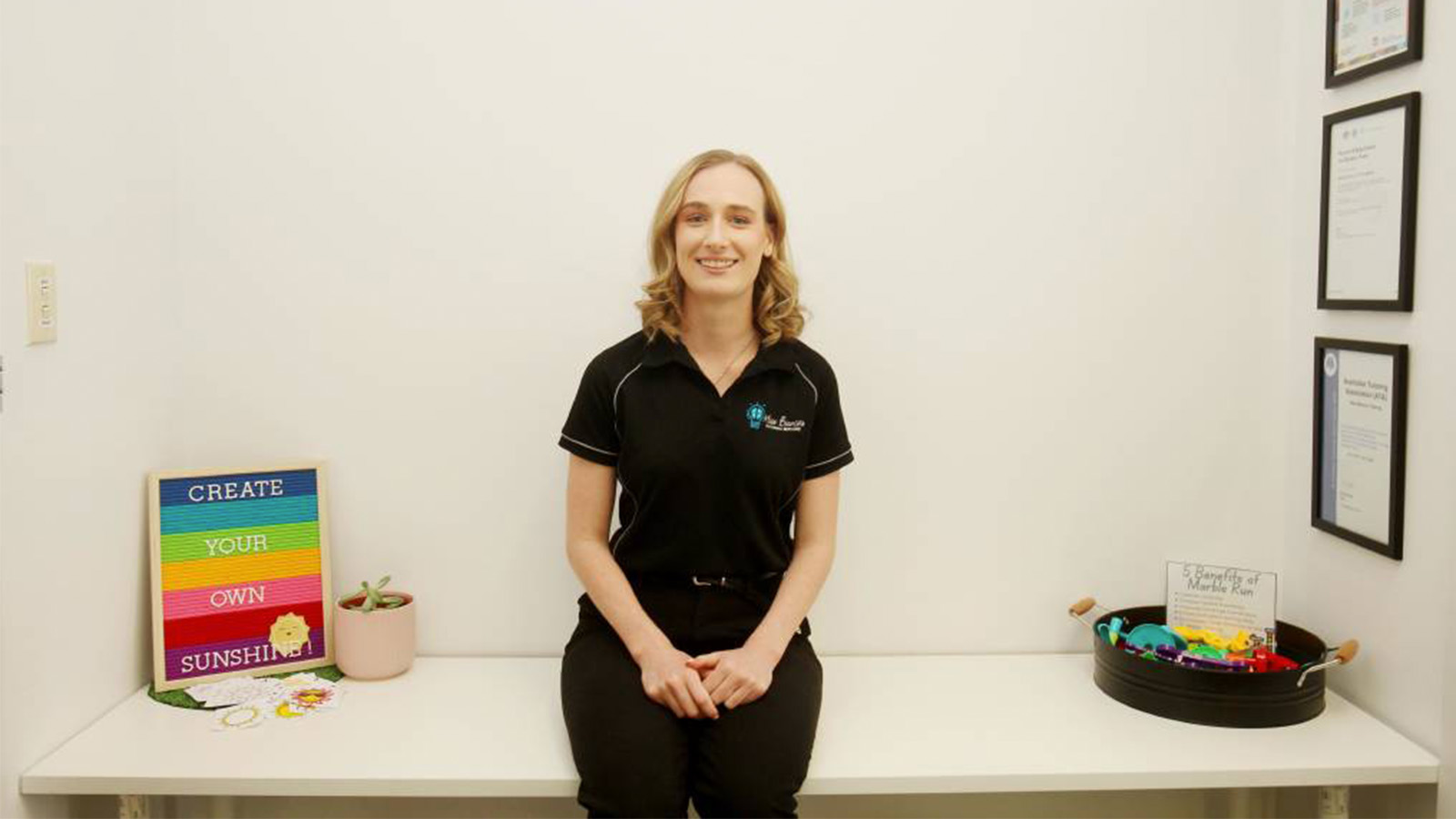 Bianca's Sutherland Shire-based tutoring company is thriving.
A juggling act
Running a tutoring business full-time while studying comes with challenges, but one advantage is applying what you've learnt in real-time, Bianca says.
"My practice and pedagogy, everything my tutoring centre is about, has come from my tutors and lecturers here at UOW," she says.
Bianca has staff from different university backgrounds, and she says even they have noticed the UOW difference.
"They have noticed that the UOW education degree is very holistic and backed by the latest research, which some of my staff haven't been exposed to in their education degrees."
"I am constantly striving to offer new personal development opportunities to my team. Our approach, a fun and calm environment, and the rapport we build with our students sets us apart."
The light bulb moment
Bianca is very passionate about tutoring and realises how businesses like hers can impact a student's confidence. However, she acknowledges that not all tutors apply the same compassion or care, admitting that some are in it for the money.
Local Sutherland Shire rates can range from $20 to $200 an hour, and with the industry currently being largely unregulated, there is little room for widespread change.
But Bianca's students remind her of the importance of her work, more times than she can count. She recalls a student walking into a tutoring session proclaiming, "I get why your logo is a light bulb because it just clicked. I had that light bulb moment, and now I get it."
"There have been so many moments that just make me proud of my students, and for me, the marks aren't as important as the confidence.
"Confidence and a growth mindset always come first in our tutoring centre because, at the end of the day, if they don't have their confidence, they aren't going to thrive."
Teaching the next generation



Despite being early on in her career, Bianca still has several goals for the future. She is eager to continue to grow her business and hopes to release broader community programs and partnerships to help families who can't afford such services.
She is also keen to master and finish her undergraduate degree and is looking to explore further education through a PhD or a specialisation in educational psychology.
If this wasn't enough to handle, she'd like to eventually collaborate with other allied health professionals to bring all these services under one roof.

"If students are seeing a tutor, they are also likely to see a speech or occupational therapist. This way, we are all on the same page," Bianca says.

However, day-to-day, Bianca strives to keep learning.
"Tutoring keeps me engaged as a university student. It allows me to learn more and dive deeper into my assignments because I know how it impacts my students."
"At the end of the day, as I say to my team, we are creating the next generation. We are empowering the future and teaching those students to love learning and thrive at school. It's that idea that nothing is impossible."
With a teacher like Bianca on your side, that rings true.
Thinking of a career in education?
---
Explore our range of teaching degrees, including early childhood, primary and secondary teaching.