Changing medical practice and procedure is usually based on the advice of practitioners with years of experience.
---
But medical students from the University of Wollongong are helping to make an impact on the way in which doctors practicing in regional and rural areas approach certain health issues.

For the past 12 years, many of the University of Wollongong Graduate School of Medicine students have been doing their own research into the health and medical needs and concerns of rural and regional communities. Since the inception of the UOW Medical Degree Program in 2007, over 1000 medical student research projects have been completed, with the proportion of those focusing on rural and regional health issues varying from between 25-70 per cent each year.

Academic Director of Research for the Graduate School of Medicine Professor Judy Mullan says the University of Wollongong was one of the first to introduce the program in which students take on a research project during their 12-month placement in a regional or rural area of NSW.
"Other medical schools are doing similar things but at UOW our focus is more targeted toward regional and rural communities."
"Our Research and Critical Analysis (RCA) curriculum is designed to encourage our students to undertake research that is relevant to the communities in which they are doing their Phase 3 longitudinal placements," she says.

"We believe that when the students engage with and find out about the community health needs, the community embraces them more. It also allows our students to give something back to their placement communities."

As part of the Research and Critical Analysis (RCA) curriculum, medical students undertake their research projects in one of the 11 UOW regional/rural training hubs in NSW.

"A lot of our students choose research topics that are relevant to their communities and many of them also focus on health priority areas such as cardiovascular disease, diabetes, cancer and vaccinations," Professor Mullan says.

By undertaking research relevant to their placement communities, "Research projects have raised the profile of our students in their communities and contributed to their learning about health priority areas," she explains.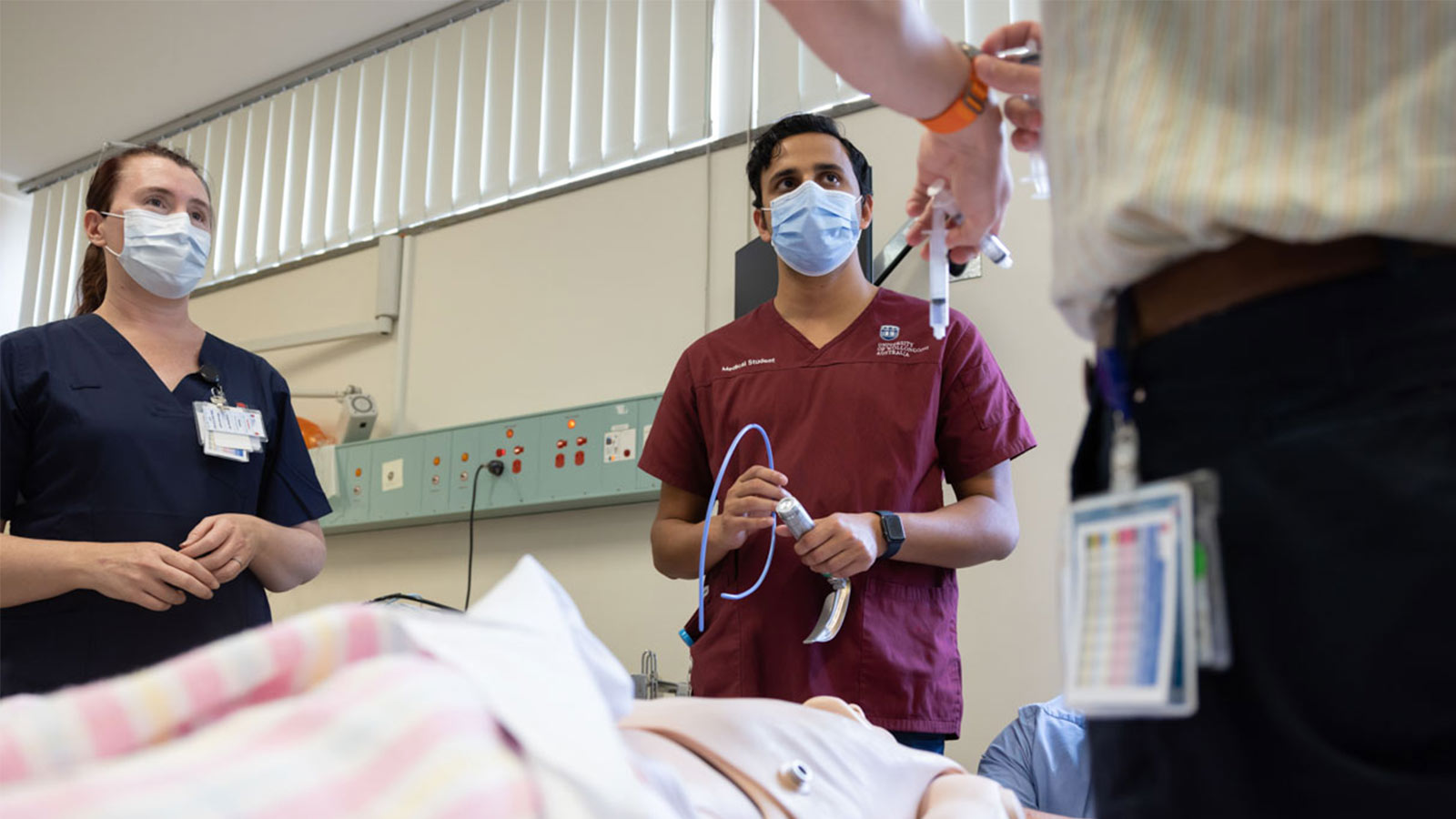 The research projects also have positive implications for the communities, which is why students are encouraged to share their research findings with their placement communities. Prof Mullan saysalthough they don't often hear about the translation of the projects into community practice, many of them have been integrated into the way in which certain practices and procedures are now conducted in those areas.
"For example, one project on knee surgery and post-operative care saw a change in the way in which surgery was done, while another resulted in a behaviour change among GPs in screening for osteoporosis.

"The findings of another project which investigated the number of opioid medications being prescribed after a hospital procedure, resulted in fewer opioid medications being dispensed on discharge from hospital."

The research projects also provide an opportunity for supervision and mentoring of the medical students by research experienced honorary clinicians affiliated with the medical school.
"Quite often in the communities we have honorary supervisors who have research experience skills and can help supervise our students. For example, the Broken Hill Royal Flying Doctors Service has experienced researchers, and they are supporting our students out there," says Professor Mullan.

As part of their research project, students must develop their own research proposal, prepare and submit research ethics applications (where applicable), collect and analyse data, write a journal-style research final report and prepare and present a conference-style poster.
Professor Mullan says a key component of the RCA curriculum is to improve the medical students' research and critical appraisal skills, and the research project aims to consolidate and expand upon these skills and provide the students with opportunities to delve a little deeper into a health area of interest.

"Prior to and after having completed their research projects, we ask the students to grade their research knowledge and experience on a scale between one (no knowledge/experience) and five (very good knowledge/experience) for 10 different research skills. We have repeatedly found that students have made significant improvements in nine of the 10 research skills, with no improvements in grant submission skills which is not taught as part of the program and acts as a control measure for our findings."

One of the other aims of completing the research project, explains Professor Mullan, is to introduce students to the field of research, and encourage them to consider it as an option later in their careers.

Data collected by the Medical Deans of Australia and New Zealand, suggested a surprising result More than 50 per cent of students who had completed a research project at UOW said they would like to do more research and less than 13 per cent said they would not consider it again.
"Our RCA program has successfully graduated medical students who are research-aware, research competent and able to practice evidence-based medicine."