Associate Professor Kelly Newell and Dr Katrina Green are dedicated to understanding the differences between the brains of people with and without mental illnesses.
---
The pair, from the School of Medicine Molecular Horizons, University of Wollongong (UOW) and Illawarra Health and Medical Research Institute (IHMRI), is investigating the root causes of mental illnesses in different populations and analysing the neurobiological differences between diseases.
"While other parts of the body may be impacted as well, at its core it is the disruption to the brain that triggers many of the symptoms and behaviours in mental illness. Examining the brain is so important to determine what changes occur in these disorders and identify possible new treatment targets," Associate Professor Newell says.
The pair uses human brain tissue, donated by individuals who lived with mental illness, to analyse at the molecular level. Associate Professor Newell says even a small specimen can help them better understand these conditions.
"It is amazing what level of detail we can obtain about brain function from such a small piece. We are so fortunate to have access to this resource which allows us to not only determine changes in these disorders compared to those without, but how they compare to blood-based 'biomarkers.' Using these samples, we can also begin to determine if there are differences between different groups such as male and female."
The researchers want to find a better balance in research when it comes to understanding the biological changes, as well as effects of treatment on different populations.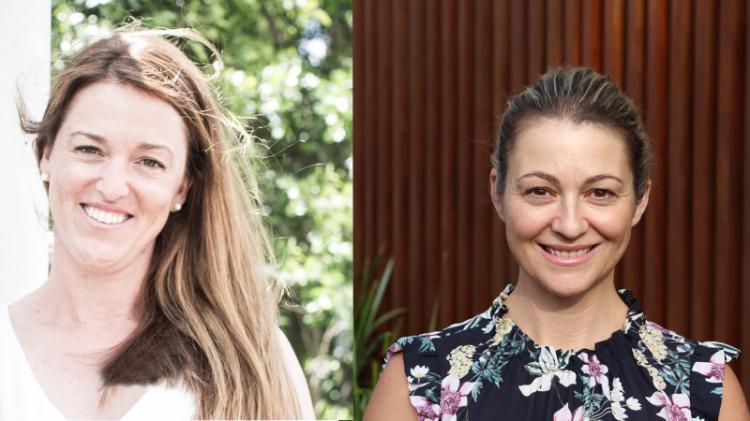 Dr Katrina Green and Associate Professor Kelly Newell
They say there is a gap in the research when it comes to analysing male and female brains – with up to 90 per cent of research papers only using male specimens.
"There is minimal representation of females in this type of research simply because historically it has been classed as 'too difficult' to include females due to the hormonal cycle and menstrual cycles, but it is essential that sex is included as a biological variable to understand male/female differences in psychiatric and mood disorders," Associate Professor Newell says.
Dr Green, who researches cannabinoid treatment for illnesses of the brain, says there are inherent differences in male and female brains that need to be addressed when testing and analysing drug treatments.
"Whether it's the menstrual cycle, neurochemicals, the immune system, there could be many reasons for differences in mechanisms of mental illness and treatment responses between males and females. There are also certain parts of the brain, for example the pituitary gland, in the female system that controls and is controlled by many hormones that will be different in men," Dr Green says.
"When a treatment is tested only in males and doesn't work, this doesn't necessarily mean it would not be effective in females. This is only half the story. We also need to test and compare any potential side effects between males and females."
Some funding bodies, such as the National Health and Medical Research Council, recommend that a male to female ratio is included in grant applications, however this is not mandated.
The work from Dr Green and Associate Professor Newell highlights the complexity of mental illness, that it is not just as simple as a diagnosis.
The researchers are not only trying to get at the root cause of these disorders but also taking the important step of testing novel treatments in some of their models.
Dr Green has shown that certain cannabis derivatives do hold some promise for the treatment of disorders such as schizophrenia, anxiety and depression; however, there may be sex differences in response.
"My work has shown that the benefits and side-effects of cannabidiol (CBD), a non-intoxicating compound in cannabis, can differ between males and females in a model of schizophrenia, while beta-caryophyllene (a fragrance and flavour molecule of cannabis) exerts varying effects on memory, depression and anxiety depending on sex," she says.
Associate Professor Newell, who has a research focus on antenatal depression, would like to see my research into mental illness and treatments in pregnant women.
"There are so many concerns and risks around pregnancy, which contribute to a lack of research in this space. During pregnancy, there are many physiological changes similar to those seen in depression, which may contribute to the greater susceptibility to depression. Understanding how the brain changes in antenatal depression and the effectiveness of existing and emerging treatments is essential."