It is research that is incredibly important for Yasmine, one of few dietitians globally who has been diagnosed with the disease.
---
Like many young university students, Associate Professor Yasmine Probst admits she was regularly "burning the candle at both ends". Combining a PhD in dietetics and partying with friends, at the time Professor Probst chose to ignore the warning signs of tingling fingers, feet and eventually sensations of numbness up to her knees. "I had my plans and wanted to be normal, but eventually my health had other plans for me," she says.
After finally visiting her GP, Professor Probst was quickly rushed to emergency to undergo a lumber puncture and MRI, with results confirming a diagnosis of Multiple Sclerosis (MS). To date, there is no known cure.
"I knew MS existed but I didn't know what it was," she says of the diagnosis that came in 2004. "I was in my early 20s and trying to do a PhD, so it was a bit of a backward step in my plans."
Cut to 2020 and Professor Probst is now an accomplished academic and researcher, as well as a mother to three. This year she will embark on a significant new study with the goal to create a comprehensive set of dietary guidelines for MS sufferers.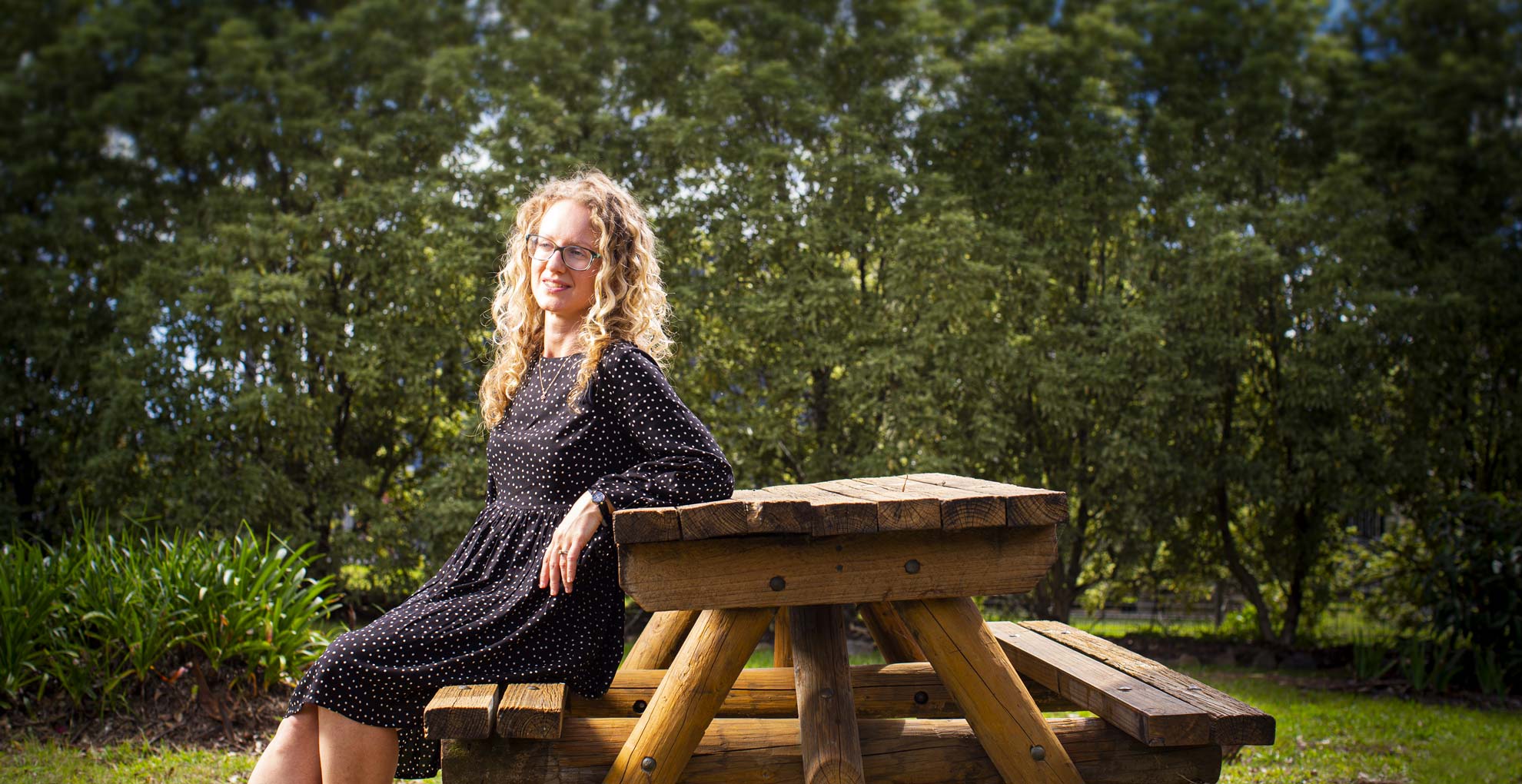 Associate Professor Yasmine Probst. Photo: Paul Jones
Professor Probst was in 2019 awarded an $24,969 Incubator Grant from MS Research Australia to develop a framework for assessing dietary intakes in clinical studies of people with MS.
She is particular interested in whether a balanced diet can reduce the symptoms of MS, and whether an increased intake of antioxidant-rich fruits and vegetables offers any benefits to people living with MS.
"There are a number of different people who have created their own diets, and I say that very loosely because in my opinion, they are not strongly evidence based. That's really been the driver for me in creating this program of MS and diet research at the University of Wollongong."
A condition of the central nervous system, MS interferes with nerve impulses within the brain, spinal cord and optic nerves, creating a form of 'sclerosis', a Greek word meaning scars. Affecting more than 25,600 in Australia and more than two million worldwide, it is also more prevalent in women aged 20-40 years, than in men.
"I thought, if I don't do something, I'm not going to be available and useful for my kids."

- Associate Professor Yasmine Probst
In the early years of her diagnosis Professor Probst alternated between heavy duty injectable steroid therapy and later, just healthy eating alone - with mixed results.
"The steroids left me hungry and exhausted and when I was pregnant I turned to just eating well. I didn't want needles lying around the house with young children. But I was again under quite a bit of stress, I had three children under three.
"I thought, if I don't do something, I'm not going to be available and useful for my kids. So, I went back to my neurologist, who I hadn't seen in seven years, and he got me back on to a new MS management pathway using low dose oral therapy, which I combine with healthy eating practices and daily exercise. I haven't felt better since."
Professor Probst is now looking for participants for her study - both people with MS as well as health professionals, who can review existing materials and design a better, more comprehensive set of guidelines for MS sufferers.
"There's evidence based on supplementation but there are very little food-based studies. We eat food, not nutrients, so in my opinion, we can't create useful guidance documents or guidance messages to people with MS if we're talking about nutrients. We need a food-focused approach."

Central to Professor Probst's journey has also been an acceptance of her disease and speaking publicly about the condition, particularly in her workplace.
"For over 15 years I kept it hidden," she says. "I didn't want to be different so only my close friends and family knew. But since I started talking about it openly, it's like a huge weight has been lifted off my shoulders. I really don't know why I kept it secret for so long. I guess it was just the process I had to go through.
"I would love to see nutrition accepted as a form of disease management by health professionals. It's really not an accepted space yet. There's some evidence coming through, but because it's so inconsistent, I think the preference is always to move that to disease management therapies, so basically forms of drugs to manage the disease. I truly believe nutrition can be a conjunct to that. So, done in parallel as opposed to as a separate piece. That would be my ideal."