In a world full of COVID-19 news, University of Wollongong student Lisa Hughes believes laughter is the best medicine.
---
What could possibly be funny about a global pandemic that has altered the very way we live our lives? In one fell swoop a virus has shut down almost everything. From international borders to footy to music to even human interaction. How could anyone possibly write comedy at a time like this?
Frank believes the best way to ward off the coronavirus is isolation and a good workout under the instruction of Richard Simmons on vinyl.
Willow says it's all to do with the opening up our chakras and building up our aura and inner spirits to help with the healing journey.
While Dee-Dee sees the coronavirus as a great opportunity to bring her YouTube variety show to fruition.
The bare-chested Frank looks me up and down.
"In these times mate, ya gotta remain positive. Franky always remains positive. If ya feeling down, grab ya self a couple of dumb bells and start working out to Richard Simmons mate, even if it's just one song a day! And by the way, what do ya bench press mate?"
Hey g'day mate. I didn't see you there. Frankie here. How are you doing? Pretty rough for us fellas who like to get down the gym and train hey? It's lock down. Yeah it's a bummer. Just started down at the Grill a bit. Oh it's a hardcore gym. Yeah some of the blokes, they take steroids but not Frank. Check this out. All natural. Been training for 20 odd years. Oh more my 30 years. That's where it all started with Richard. And so it's really important I got to keep my mind right. Got to keep the body in shape because, you know, when all this lockdown finishes
I'm going to be a new man. Yes Richard, not me.
Frank is just one of several personas a second-year University of Wollongong (UOW) student by the name of Lisa Hughes has created to bring a smile to online audiences around the world.
"Oh, Franky, he's a comical bloke with a few narcissistic quips. He's built like a brick sh#t house, is 43, single, enjoys training with the boys at the gym and having a drink," says the performance artist, whose sketches are clever, dry and whip smart.
History has shown that in times of crisis, when we are frightened and don't know what the heck is going on, we turn to comedy. Humour is humanity's coping mechanism. It's a medium that both distracts us from the horrors of the world while allowing us to get the best and worst thoughts out of our heads.
Lisa says that she just wanted to bring a little laughter to people's lives in a time that has brought out the worst in some.
"These are crazy times. When there are brawls over toilet paper, profiteering and finger-pointing, I just wanted to create something that people could laugh at, and connect with." - Lisa Hughes
With the sudden closure of university campuses across Australia there has been the necessity to deliver numerous internet-based virtual courses. Lisa has embraced the opportunity to start producing material for university assignments and include her online audience as well.
"Yes, our performing arts course has changed dramatically. But one of our lecturers came up with a novel way to address online learning. Everyday while we live in isolation due to the coronavirus, we have to make a two-minute video of ourselves and send it to her. The idea is, that at the end of this pandemic the class will produce a small video showcasing what we did doing our isolation days. It's history in the making."
Victoria Hunt, lecturer and director in performing arts in UOW's Faculty of Law, Humanities, and the Arts, believes her students, who would normally be dancing, singing, and acting on campus, have easily adapted to online learning.
"The students' academic performance and overall creativity and innovation is amazing. Some of the videos I've seen serve not only as personal well-being, but as public health announcements as well as entertainment," Victoria says.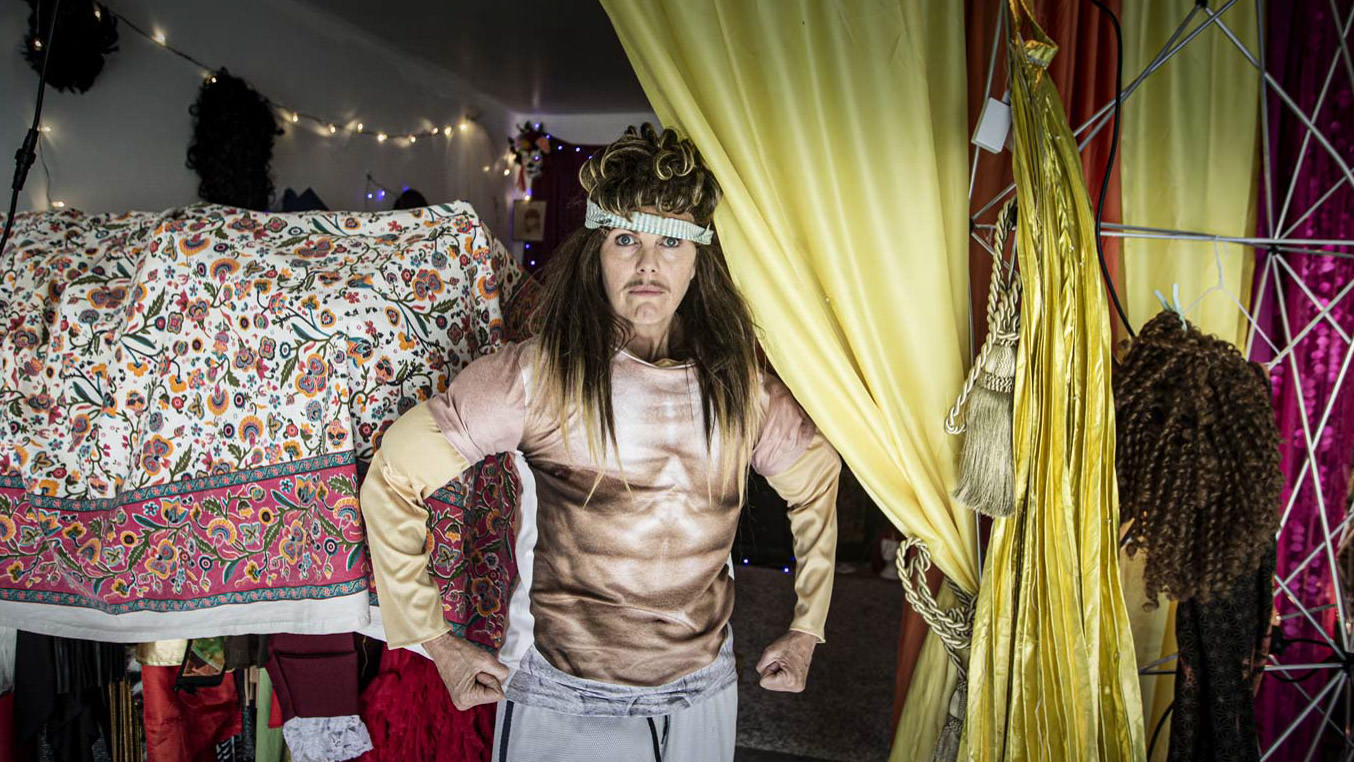 UOW creative arts student Lisa Hughes, in character as Frank. Photo: Paul Jones




The Maori dancer, director and educator says students are swapping notes on the transition to online learning, and the different approaches to schedules and lesson structure.
"In an online environment there is a potential for students to go off track. But I think lecturers have to think outside the box and produce high-quality online instruction and content that keeps those students engaged and on track."
According to Victoria, there has been teething problems moving from conventional learning to online learning in the midst of the coronavirus outbreak. But that is only to be expected given the speed at which universities have been forced to move all of their teaching online.
"The education system has been thrust into an e-learning experiment of unprecedented scale and scope," she says.
Meanwhile back online, Lisa shows off yet another of her created personas.
Willow is an alternative-living, alternative-thinking, and spiritually guided woman of the world.
Lisa is so convincing showing off her charactors that it is easy to forget that the transformation is just makeup and costume. She explains the characters' back story.
Willow is a 45-year-old Reiki therapist who works part-time at the local organic co-op. She loves a good chant, rides an e-bike, and runs retreats for women in alternative healing.
"I'm a free spirit!" says the incense-burning hippy. "You'll find me most days in the garden meditating and conversing with the Eastern Water Dragons."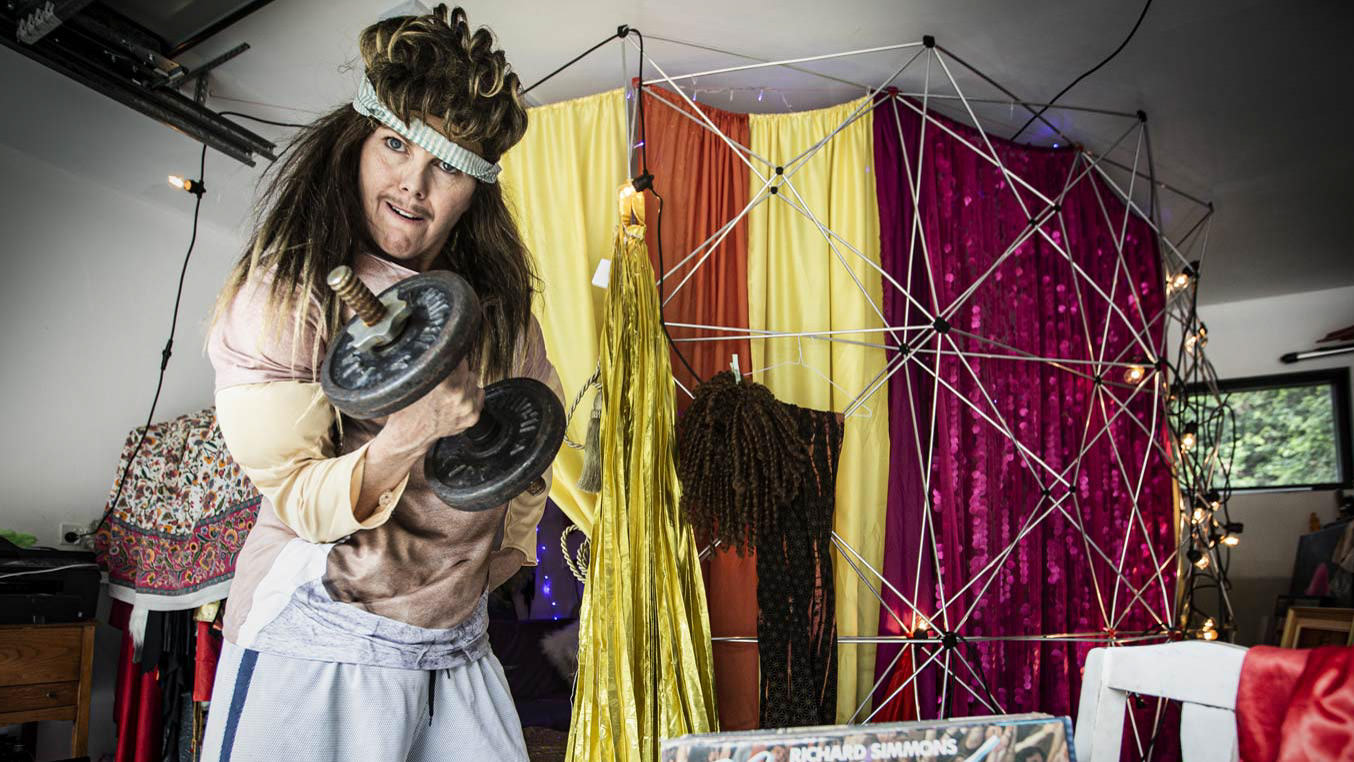 According to Lisa, in our current crisis, humour is everywhere because fear is, too. Laughter binds us together against a common enemy.
Yes, most of the jokes reflect the silliness of life locked away and absurd health concerns. The comedy reflects on exercise routines and video-conferences, the challenges of working from home, and, of course, toilet paper.
"As people are forced to turn to the internet for some kind of new entertainment, people like me, who are trapped indoors with no other way of performing, will keep that entertainment coming … for better or worse," says Lisa.
"What we are seeing via the internet is the power of satire and the innovation of fantastic performers. Often these short video pieces inform us, sometimes directly, and sometimes indirectly."
At heart, Lisa's characters are raw and honest storytellers.
"I think at this time, humour just makes us feel better about the ordeal ahead. It's definitely a lot better than looking at death graphs."