A mural in Sydney's South West tells a story of strength and determination about a young female student who is passionate about seeking justice for those without a voice, as a human rights lawyer.
---
If walls could talk, what would they say?
They hear so many conversations, hold so many secrets, dreams, and inner struggles, many of which never see the light of day.
But one particular wall in the South Western Sydney suburb of Liverpool is different. It does have a voice. It tells a story of human strength, courage and sheer determination to make a difference.
Adi Holmes is among the first cohort of students to study a double degree in International Relations and Laws at UOW's South Western Sydney campus. She has become immortalised in this 13-metre-wide by 28-metre-tall mural on a massive eight-storey façade, in the busy heart of Liverpool's Bigge Street.
Born and raised in Fiji, the mother-of-two's story is one of resilience and persistence, having repeatedly failed at her attempts to study medicine in Fiji - a career her parents wanted her to pursue.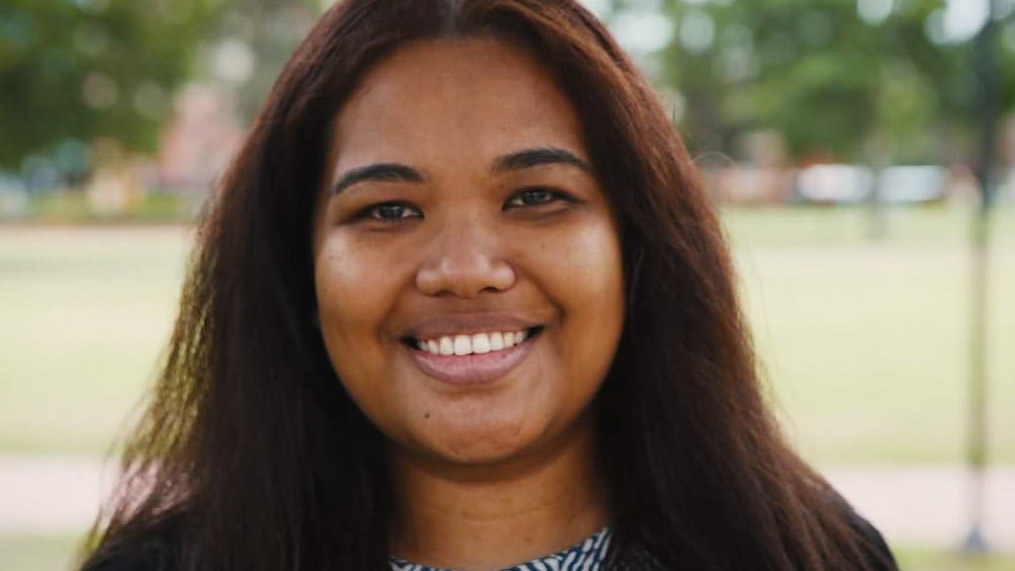 Adi Holmes, International Relations and Laws student at UOW's South Western Sydney campus.
Chasing a dream
But Adi's own dream to advocate for the Free West Papua Movement as a human rights lawyer has been percolating for years.
After moving to Australia with her family eight years ago, mother duties initially took precedence, however, her desire to become a lawyer once again bubbled to the surface. Adi bravely returned to university to add more clout to her advocacy work, bringing her one step closer to realising her dream.
As a Pacific Islander, the ripple effect of what was going on in the tiny West Papuan province on the island of New Guinea, was felt across the ocean and a connection to the people's struggle became deeply embedded in Adi.
When asked why she is driven to help the people of West Papua, the emotion is raw. Tears surface quickly and she goes silent. Her passion for the cause is palpable.
After a few moments, she finds her voice again and it's clear she knows what her future holds.
"My purpose is to bring justice to those in the world who are unfairly deprived of their human rights, particularly shining a light on the West Papuan people and their plight for freedom.
"I'm passionate about them because they have been oppressed and have been fighting for independence for so long," Adi shares. "There's a media ban on West Papua at the moment, so that's why I became passionate about it, it seems like nobody's listening to them."
"And I just thought when I was advocating, having a law degree behind me would be more helpful than just simply advocating," she affirms.
There is nothing egotistical about Adi. The pureness of her intention is instantly recognisable in her reaction to seeing her face on the wall.
"Looking at the mural makes me so emotional because not only is it a reminder of all the paths and struggles that have brought me to UOW, it also represents my purpose.
"Being selected as the subject means a lot to me and it is my hope that the story of my journey to university will inspire and motivate others to pursue their purpose regardless of frontiers," Adi says.


What's in a mural
Mural artist and UOW alumna, Claire Foxton, says her work was inspired by the special connection she felt when she met Adi Holmes.
"I chose Adi because she is just an incredible human. She has accomplished so much already and she's got this kind of strength about her. She's a strong female, and I think she is a really important role model for young women.
"I'm always drawn to the human condition and the way we are as people - the everyday humans that have interesting stories," Claire says.
Having painted more than 30 murals across Australia and New Zealand, Claire says this was quite literally her biggest challenge yet.
"The canvas was enormous. To give you perspective, each square on the grid measures about four by four metres which is huge. The width of one eye is about my height," she explains.
The artwork required more than 30 litres of paint which was rolled, sprayed and painted over nine days, while Claire was suspended from the giant north-facing wall in the blistering late summer heat.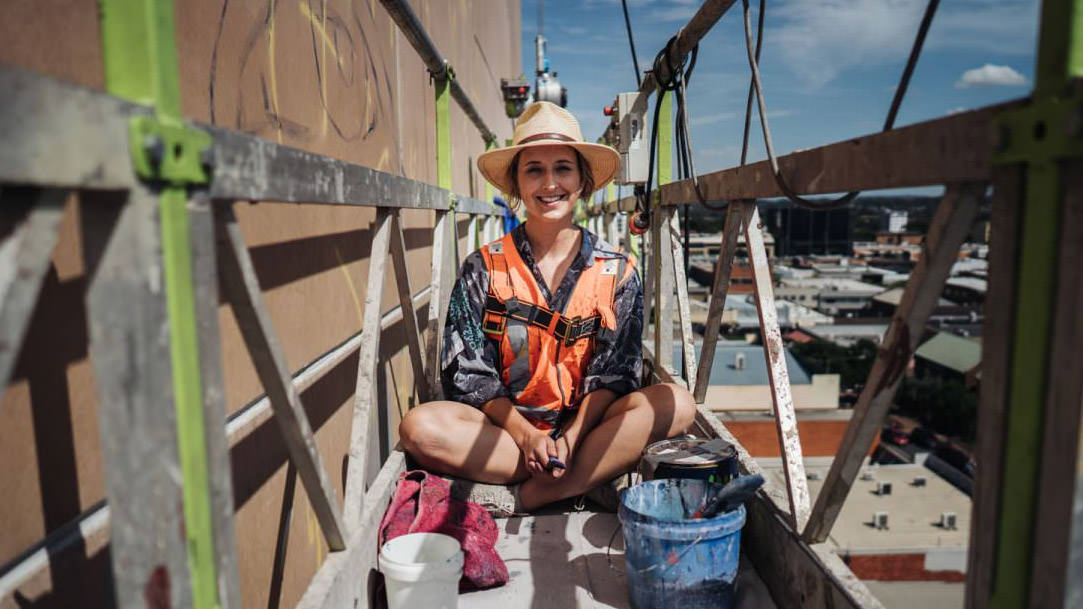 UOW alumna and mural artist Claire Foxton working on site.
Trials, tribulation and jubilation
Little did she know that this project would push her to her own limits, physically and emotionally.
"On a scale that big, you can't really look at it like an artwork anymore - it's a big puzzle you have to put together and sometimes there are pieces missing, or things are out of your control, like the weather. At least 50% of the time is spent internally solving problems and that can really take it out of you, mentally.
"I hit some snags that slowed progress, but the heat and all-day sun exposure was the biggest challenge. There were a string of 35 degree days which meant I had to pace myself physically. It also meant that the paint dried instantly so I had to innovate the way I worked to maximise my time.
"Being eight-storeys high, there's also a whole heap of serious safety measures to think about. Knowing the repercussions could be fatal, there was a constant stream of anxiety and adrenalin running through my veins. Being away from my personal support network - having to really trust my own decisions - can really take its toll emotionally too.
"It sounds crazy but it's probably why I love it, the hurdles can be so huge that when I jump over them, it's so satisfying," she shares.


Connecting a community
The mural is not just a symbol of strength but also a reminder of community connection and the opportunity to be empowered through education.
University of Wollongong Deputy Vice Chancellor (Health and Communities) Professor Alison Jones hopes the artwork provokes thought and wonder.
"I'm hoping that when everybody looks this mural, they will recognise this as a symbol of our hearts at UOW going out to community and inviting community in. This is all about a partnership with community and a visible demonstration of our commitment," she says.
Professor Jones hopes the wall encourages onlookers to step forward and grab the opportunities available to them in the South Western Sydney community. She acknowledges there is power in knowing what you want and going after it.
"I think strength is that beautiful quality of recognising why you get out of bed in the morning, what your focus is, staying with that focus and delivering with others to create dreams that people will live for in the future."
As someone who personifies strength itself, Adi Holmes hopes her story will resonate with others in her community.
"I hope that it would inspire other people to chase their dreams and know that anything is possible. My advice would be don't doubt yourself and pursue that dream, because if I can, anybody can," she says.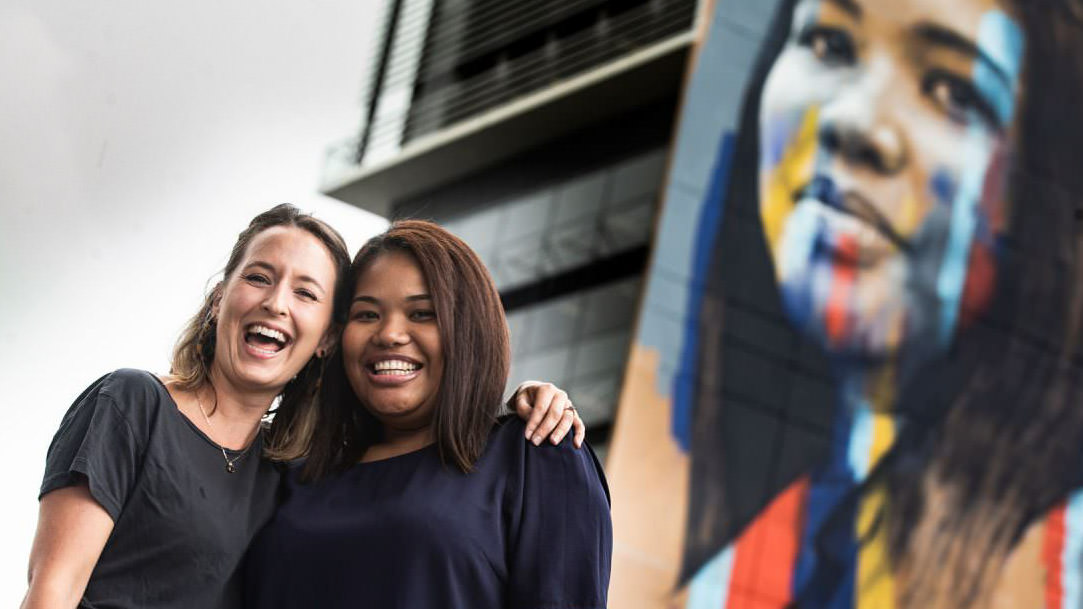 Claire and Adi celebrating the completion of the mural project in Liverpool.


00:04
Adi: My advice would be don't doubt yourself, be confident and just anything is possible. Pursue that dream, because if I can, anybody can.

00:13
Claire: I hope that the wall encourages people to follow their dreams and just get out there and keep pushing and doing what they really want to do.
I think the mural is a unique and powerful way to connect the community here in Liverpool with the South Western Sydney UOW campus.
Just the fact that there'll be someone painted so large on a building will really prompt people to look a little bit deeper and read the story about Adi and be so inspired.

00:34
Adi: I was told that it was going to be inspiring to other students and that it was going to motivate them. It makes me feel very proud and very content of where I am at the moment and where I'm going.